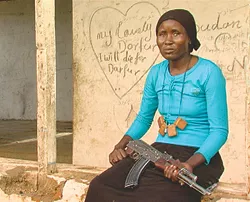 Darfur Now
Director:
Ted Braun
Screenwriter:
Ted Braun
Release Date:
2007-11-28
Website:
http://www.imdb.com/title/tt0988102/
Rated:
PG
Genre:
Documentary
Darfur now is not what it used to be, before Sudanese troops and Janjaweed militias killed more than 200,000 of its people and displaced more than two million others. (Anyone who thinks the Nobel Prize for Peace has nothing to do with global warming should consider how desertification contributed to slaughter in this region). "This is just so complicated and so big," says Luis Moreno-Ocampo, an international jurist appointed to investigate and prosecute war crimes in the western Sudan.
To reduce a big, complicated crisis to the dimensions of a commercial non-fiction film, writer-director Ted Braun focuses on six figures: Sheikh Ahmed Mohammaed Abakar, a leader within some of the 100 camps created for refugees from the massacres; Pablo Recalde, an official with the World Food Program who oversees the delivery of food and supplies to the dispossessed people of Darfur; Hejewa Adam, an anti-government rebel; Don Cheadle, who uses the celebrity he acquired as star of Hotel Rwanda to rally support for Darfur; Adam Sterling, a UCLA student who, after learning about the genocide, leads a campaign to divest California's pension funds from companies doing business in Sudan; and the prosecutor Moreno-Ocampo, who likens his attempt to assert the rule of law in Africa to the way his native country dealt with the aftermath of its "Dirty War" — "I believe in the law because I am from Argentina," he explains.
Titles summarize the history of the Darfur crisis, and refugees recount destruction, rape, and murder. But the absence of actual footage of the violence frustrates not only prurient interest in carnage but also legitimate curiosity about what is happening in Darfur now. "Sometimes you come up against something that you just cannot understand," says Cheadle, baffled by the enormity of the atrocity in Darfur. Determined to awaken the world's conscience, he enlists George Clooney in the kind of publicity campaign that gives Hollywood liberals a good name. In Geneva, Moreno-Ocampo manages to bring indictments against two Sudanese leaders, with no immediate prospect of arrest. A series of fragmentary snapshots, Darfur Now will do for now until the full catastrophe can be caught on film.
— Steven G. Kellman