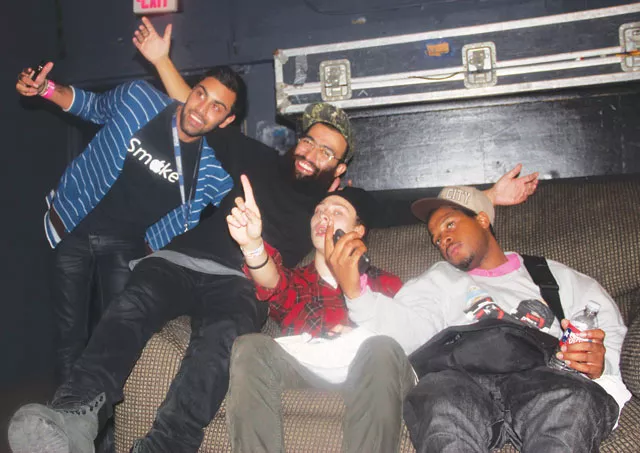 Photos by Natalia Ciolko
Fan poses with Das Racist's Victor Vasquez and guest rappers Lakutis and Houston's Fat Tony.
The half-full (or half-empty) space inside the White Rabbit felt all the more barren as the crowd refrained from dancing, or moving in general. Hip hop fans, despite their macho posturing, are usually more engaged than this. But then something magical happened: the reserved crowd made the band work that much harder, drawing better performances out of all the artists, save for the perpetually bored backing DJ and guest rapper Lakutis. Only a sparse group of people wore full costumes, but the pitch-perfect power couple of Kurt Cobain & Courtney Love (complete with syringes in her bleached out hair) had the best getups I've seen this year. After the show, fans mobbed rapper Himanshu Suri, who gamely posed for fan photo after photo and signed copies of the new SPIN Magazine featuring Das Racist on the cover.