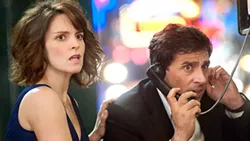 Date Night
Director:
Shawn Levy
Screenwriter:
Shawn Levy
Cast:
Steve Carell, Tina Fey, Mark Wahlberg, Taraji P. Henson, Jimmi Simpson
Release Date:
2010-04-09
Rated:
PG-13
Genre:
Film
Our Rating:
4.00
The leaden, lowbrow oeuvre of director Shawn Levy up to this very week reads as depressingly brain-dead and uninspired as a "Things to do on a date night" list by a sponsor-driven mommy blogger. Films like Just Married, the remade Pink Panther, and the remade Cheaper by the Dozen exist in the same edge-free, sexless space as suggestions for "spicing up" a stale marriage with scrapbooking seminars or a night at the local planetarium.
When his latest project, Date Night, was announced, then, Levy seemed like the perfect (and perfectly atrocious) choice to shepherd a broad set-piece comedy centered around a couple out spicing it up. One could almost write it in their minds: things go wrong, the suburban folks encounter black people and they taste just enough danger to stomach sleeping with one another again.
What a pleasant surprise the finished product turned out to be. Featuring inspired casting, gleeful performances and smoothly handled story transitions, Date Night employs Steve Carell's and Tina Fey's peerless knack for selling absurdist lines to deliver something resembling a comedy classic.
Carell and Fey play Phil and Claire Foster, a married couple that hasn't slipped that far from the path of wedded fulfillment. They participate, however lackadaisically, in a book club together, hang out with at least one other married couple (who are divorcing), and have found a reliable babysitter so they can enjoy a date night once a week. Add to that their obvious enjoyment of each other's wit and company and honest dialogue in the bedroom and they're verging on a believability problem when the script requires them to suggest unhappiness.
That pallor doesn't define their marriage so much as it lingers in the background. It's not that they don't spend quality time together, it's just that it runs along the lines of the aforementioned safe bets.
Phil and Claire recognize what's happening, and to their eternal credit, takes action. (See what I mean? They're almost too perfect.) They steal another couple's reservation at swanky Manhattan restaurant Claw (The hostess answers the phone, "Claw, you're welcome."), taking on the identity of the Tripplehorns. They quickly discover that the Tripplehorns have run afoul of a crime boss, and their lives are swiftly put at risk, leading them to encounters with a special-ops hunk (Mark Wahlberg, as the film's best running gag), the "real" Tripplehorns (James Franco and Mila Kunis as spot-on sleazeballs) and a couple of crooked cops.
If the setup sounds stale, that's because it is – on paper. But relative newcomer Josh Klausner (whose sole screenplay credit is beyond rare for films like this) and, yes, Levy, inject so much fun and self-awareness to the proceedings that it's easy to take their hand and let them drag you along. There's a heavy reliance on the actors and Levy does himself a great service by letting his exceptional cast off the leash just enough to ensure that most of the lines kill without the indulgence of Levy's last improv-heavy effects spectacular, Night at the Museum: Battle of the Smithsonian. In fact, there are moments, particularly with the dangerously brilliant and scene-chewing Kristen Wiig, where actors are cut off mid-sentence, creating an instant tease for the DVD extras.
It's not a perfect film; the corruption subplot is as insubstantial as soggy bread, as is the story behind their kids at home, and the ending is truncated to the point of satire. (Can studio comedies lose their copies of Jackie Wilson's "(Your Love Keeps Lifting Me) Higher and Higher" now? Just delete it from the bin.) But the chemistry between the leads and Levy's suddenly sure and steady hand delivers a superb, uproarious comedy.