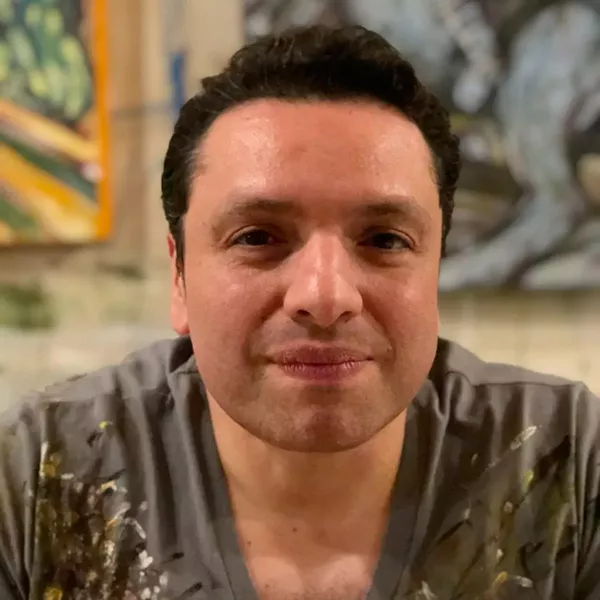 Visual artist David Blancas believes "the ultimate canvas is a public setting," which is why creating public art – like the vibrant Windows to Our Heritage murals on the underpass pillars of U.S. 90 and Presa Street– has become one of his greatest passions.
"Exhibits are fine, but they are ephemeral," he says from the historic Progreso Drugstore Building, part of the Guadalupe Cultural Arts Center campus on the city's West Side. Beyond illuminating the here and now, he feels creating public art is an opportunity to leave a lasting legacy. "Civilizations come and go," he says. "All that's left is the art."
For Blancas, 45, "engaging the community through public art" is more than a satisfying artistic endeavor. Working on the underpass murals was also an educational experience.
As he tells me about the area's indigenous peoples and less-well-known aspects of San Antonio's aviation history, as explored in the murals he painted for the city's Tricentennial, it occurs to me that Blancas has been on my radar for several years.
I first met him in 2010 at a World AIDS Day ceremony at Our Lady of the Lake University. In collaboration with the event's organizers, he displayed a painting that paid tribute to a friend who passed away in the earlier days of the AIDS epidemic. Eight years later, the painting is stored in his studio in hopes that one day it may "serve a greater purpose as a piece of public art."
When in "trench mode," Blancas "barely comes out of [his] studio." When he does take a breather, Blancas turns to his family tradition of playing the classical guitar. His father and grandfather were both musicians. In fact, his current Facebook profile photo shows him playing a guitar outdoors, under a crisp, blue sky. Growing up, he remembers how instruments were all over the house. "I was just better at painting," he says with only a hint of a smile.
Blancas started painting at an early age. When I ask him which discipline seems to inspire him more – music or painting – he replies, "To me, one inspires the other."
Part of a series of murals for the World Heritage Mural Trail, Windows to Our Heritage is a series of vignettes that share stories of San Antonio's South Side. The collaboration is between local mosaicist Oscar Alvarado and research gatherer George Cisneros of Urban-15. "When you work with someone else," Blancas explains, "there's a surrender."
Surrendering to the collaboration? I ask.
"Surrendering to the process," he says after a few moments. "They do their part – and you can't control that – and you do yours. Within that there's a new piece. You feed off each other. You ebb and flow off the other artist's aesthetic to reach that collaborative, unexpected result."
Blancas says collaboration isn't for everyone. "Some artists want to control everything," he says.
His openness to collaboration may have been encouraged when he began working with the Guadalupe's mural program. It gave him the opportunity to work with high-risk kids in the juvenile probation department over a decade ago. He left the center in 2011 because he says that, at the time, he "wasn't happy with the direction" the Guadalupe was taking. He seems pleased about his return because the little cultural landmark that could has "new blood" and, under the leadership of Executive Director Cristina Ballí, "a new direction," he says.
"All roads lead back to home," Blancas adds. "The Guadalupe is a safe space [for Latino artists] and it should be appreciated."
Born in Nueva Rosita, Coahuila, in northern Mexico, Blancas has always had "one foot on one side of the border [and] one side on the other." Unsurprisingly, conversations about immigration hit close to home, especially those insta-flammable exchanges on social media. He describes political conversations with friends as "a high-wire act."
He remembers in his twenties when he was "all private commissions." With higher visibility now, he observes that the more political one becomes in the art world, the more it could potentially hurt the "financial support" for certain projects.
"If you are an artist, use our platform now more than ever," he says. "It behooves you, if you're at a certain level, to keep those conversations going." One of those conversations is about immigration, which inspired him to paint "Separation," which depicts the divisive issue that will likely be remembered as the centerpiece of President Donald J. Trump's administration. It's the image of a kneeling mother holding her child. The arm of a gloved man looms over them.
"The climate is fragile," Blancas says. "It's too easy to fight right now. It's too easy to name-call. I want my work to reflect positivity. It's too easy to draw attention to yourself in the negative… just to be controversial. It's way too easy."
And he sees a lot of positivity in the stories and images that are being ignored in the digital age – stories of courage, faith and resistance.
Blancas wants the satisfaction that, in his view, only the creation of public art can bring. He hopes to follow up his past successes like La Musica de San Anto, a commemorative mural dedicated to the musicians of San Antonio, and Spirit of a Leader, his ode to a hand-waving Martin Luther King, Jr. on the East Side, in an effort to reach intergenerational and intercultural communities.
"Once you lay that last brush stroke, it's not yours anymore," he says. "It's the community's."
Stay on top of San Antonio news and views. Sign up for our Weekly Headlines Newsletter.