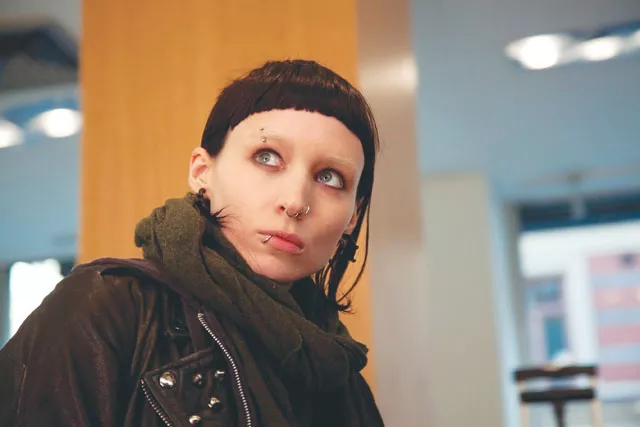 Courtesy photo
Rooney Mara ready to kick butt in The Girl with the Dragon Tattoo.
From the start of the opening credits two-time Academy Award-nominated director David Fincher (The Social Network) wants everyone to know the new adaptation of The Girl with the Dragon Tattoo, based on the first book of the widely-popular Stieg Larsson series, is a Fincher film. Borrowing from his music-video aesthetic, Fincher unleashes what can only be described as the melding of liquid metal and body parts. Trent Reznor and Karen O's cover of Led Zeppelin's "Immigrant Song" pulsates behind the glossy and fleshly images. The stylish and head-trippy kick-start is perfect for those who were pleased with both the brutal nature of Se7en and the experienced craftsmanship of Zodiac. Call it the third and most mature movement of Fincher's serial-killer symphony.
Never mind that Larsson's entire "Millennium Trilogy" received the Swedish treatment in 2009 by director Niels Arden Oplev, who packed some incredibly suspenseful scenes in his version of Tattoo. The blood inside Fincher's snow-white fantasy runs just a few degrees colder than its predecessor, which lends its unsympathetic Nordic setting to the English-language storyline. Fincher manages to match the seething temperament and sexuality of Swedish actress Noomi Rapace with an impressive Rooney Mara (The Social Network) as the anti-hero.
Said protagonist, Lisbeth Salander (Mara), an unsociable and troubled researcher and computer hacker, comes in a petite, punked-out package with short jet-black hair and pale features. She is directed to recently disgraced journalist-turned-investigator Mikael Blomkvist (Daniel Craig), who has taken leave from his magazine after losing a libel case, to help him solve the disappearance of a young girl named Harriet 40 years prior. Blomkvist is commissioned by Harriet's uncle and retired industrialist Henrik Vagner (Christopher Plummer) to revisit the cold case. With Salander on his side (and in his bed), Blomkvist begins to unearth clues that bring him closer to discovering the truth of Harriet's whereabouts. Will secrets hidden by the enigmatic Vanger family lead to some type of closure for Vagner? Have Blomkvist and Salander found evidence that a serial killer is responsible for Harriet's death?
Written for an American audience by Academy Award-winning screenwriter Steven Zaillian (Schindler's List), the narrative linked to the new Dragon Tattoo is not much different from Oplev's take. For the most part, all the pieces are present to hit the most important plot points. Also evident is the screenplay's overall lack of sentiment, which complements the story's cast of discomforting personalities. Getting too close to any of these emotional recluses wouldn't bode well for anyone, especially Mara, who spends much of her screen time proving just how merciless and vengeful Salander really is. It's a fearless turn for the actor, who pumps acid through Salander's veins so she can maneuver her way through a lonely life behind a computer much like Jesse Eisenberg's Mark Zuckerberg in Fincher's 2010 masterpiece The Social Network.
Despite the film's many parallels to its foreign counterpart, Fincher's fingerprints are all over this one. As a visual artist and director, not many can attain the muted look and distressing tone he serves up. A tangible threat is felt constantly throughout the film and Fincher is extremely conscious of the details he needs to exhibit to keep each isolated moment at a highly concentrated level, even when those moments aren't meant to be seen. Fincher makes it all feel effortless. With Dragon Tattoo, he has set a standard for filmmakers who want to improve on projects that have already set their own lofty bar. •
★★★★
The Girl with the Dragon Tattoo
Dir. David Fincher; writ. Steve Zaillian, Stieg Larsson; feat. Daniel Craig, Rooney Mara, Stellan Skarsgård, Christopher Plummer, Robin Wright, Steven Berkoff, Yorick van Wageningen (R)