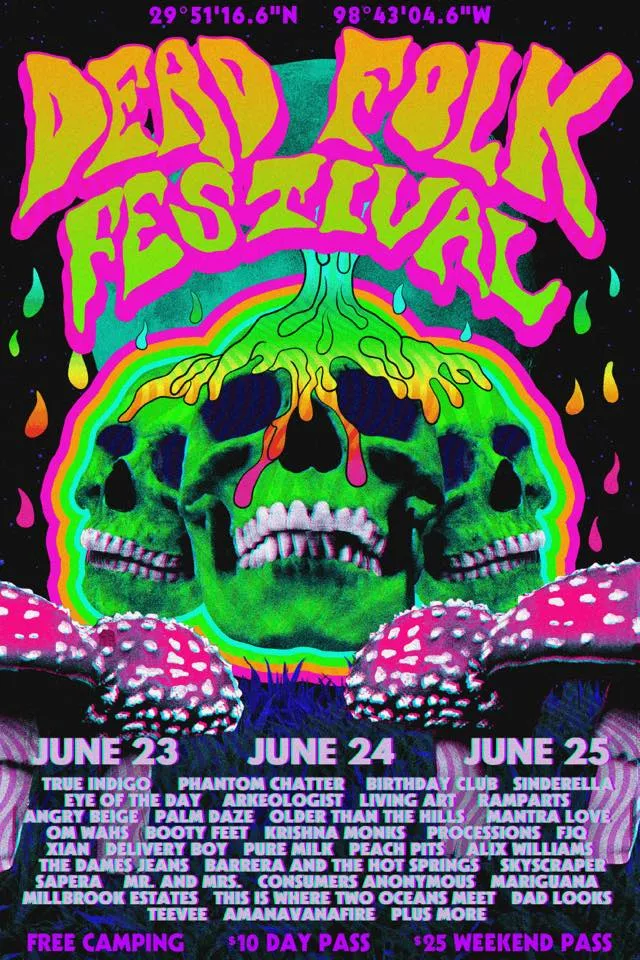 https://www.facebook.com/events/994390837331178/

Listed as "DIY arts and music festival at a sick ranch up in Boerne," the upcoming Dead Folk Festival aims to blend the best things about the DIY art community with all the outdoor communal fun of a music festival.

When we asked about the name, festival organizer Tyler McCradle joked, "I wanted to book a bunch of dark wave industrial bands, but goths just don't want to go camping." While the event's title does seem to suggest a gathering for fans of the macabre, McCradle says it actually comes from the San Francisco acid test parties that were thrown in the mid 1960s, where bands like The Grateful Dead were commonplace along with, well, acid.
Along with organizers Alex Frost and Triston Andrew, McCradle says he wanted to "bring the same kind of spirit" to San Antonio and mentioned Burning Man and Kerrville Folk Festival as other inspirations for the event.


Starting Friday, June 23, Dead Folk will host three days of live music, camping and even some guided meditation on a large ranch out in Boerne owned by Frost's family.


The Facebook event page elaborates: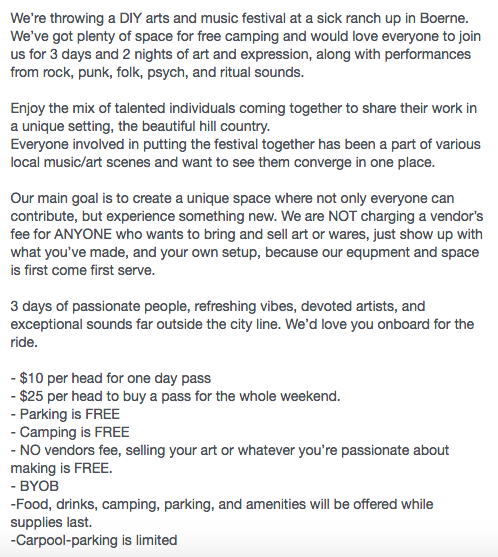 https://www.facebook.com/events/994390837331178/
A little bit off the beaten path for those expecting a more mainstream experience like Austin City Limits, Dead Folk Festival is a testament to the steady growth of DIY artists here in San Antonio, along with a community that is eager to support it.
$10-$25, June 23-25
, Boerne, Texas

For more information visit the
official event page
on Facebook