When I began my nonprofit blog at the
San Antonio Current
, one of the things I wanted to do was introduce my readers to some of the people behind the causes and nonprofits making a difference in our community.
So, let me introduce the current Board President of Alamo Area Partners for Animal Welfare (AAPAW), Deanna Lee. Lee is certainly one of San Antonio's most active and passionate animal advocates. Her personal love of animals and the motivation for her tireless work is best summed up in the phrase she uses as her email signature -- "Saving one pet won't change the world, but it will surely change the world for that one pet."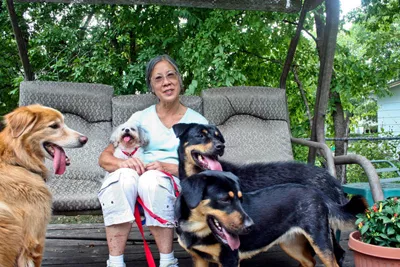 First, let me explain AAPAW. Formed in 2007, AAPAW is a coalition of organizations in the San Antonio area who have joined forces to help bring animal welfare organizations, veterinarians, and the community together in partnership to improve the lives of animals in the San Antonio area.
Working with San Antonio city officials, Animal Care Services (ACS) and the San Antonio Area Foundation, AAPAW is a large part of the animal no kill effort adopted in the strategic plan by ACS in August 2006. The all-volunteer AAPAW  attacks the issues of pet overpopulation, in part by facilitating low-cost spay/neuter opportunities and helping connect people and resources. But, what makes them unique among animal welfare collaborator groups are the multiple "mega-adoptions" held every year. Without AAPAW, these mega-adoption events would not take place. A very successful endeavor, I might add, as AAPAW was responsible for more than 1,000 pet adoptions in 2010 alone. Which means all those puppies and kitties were saved and placed in loving homes.
Lee, spent many years in the corporate world, but her last job was as a flight attendant. After traveling the world for a few years, Lee likes to think a series of serendipitous events, four years ago, landed her in San Antonio. "My life-long concern for animal welfare was greatly offended when I learned about the staggeringly high euthanasia rate of animals brought into San Antonio's ACS," Lee says. "I started volunteering in the foster program at ACS, helping to find foster homes for animals waiting for adoption. I 'flunked foster' because all four of my dogs were foster pets I helped bring back to health and fell in love with. I look at my dogs--each one would be dead if I had not had the chance to save them. Every companion animal should have that same chance."
Introduced to AAPAW during the planning stages, Lee, inspired about the prospects of a coalition of animal organizations which would work together to alleviate the number of animal deaths, was in from the beginning. She worked first with the education and adoption committees. Lee told me, "The organization had its growing pains. But, it was moving in the right direction by fostering an environment of information and efforts sharing; searching for solutions together, rather than many groups working separately."
Lee advanced to the helm at AAPAW in 2009. She concedes to working 60-80 hours a week for the cause, but, claims this is normal for her. In addition to the leadership role and day-to-day admin duties, Lee helps connect individual animal welfare advocates with others in the community. "Because, even though we've made good headway, there is still a lot of work to be done and many in our community are interested in helping us make San Antonio a good place for pets to live as well," Lee stated.
Unfortunately, the issue of pet overpopulation was not addressed in the Mayor's 2020 report. "We were dismayed," Lee said, "when we found out the issue of stray animals, and other issues related to creating a healthy pet population, was not included in the City's goals." As Lee wrote in an op-ed piece for the SAEN, "It is critical that the city offer a comprehensive and sustained program to educate the community about responsible pet ownership (especially throughout the inner city) and to reinforce the importance of spaying and neutering pets. The consequences of allowing intact pets to breed freely and not enforcing leash laws have all had a detrimental effect on our neighborhoods."
I know many of you agree with AAPAW and others who dream of a community in which no companion animal is euthanized due to lack of space and where all pets are spayed and neutered for a more healthy life. If you wish to volunteer, check out some of the projects and activities at AAPAW's website. Or, check out the resources on the "Talk About It" website.
For more from Laura Carter follow @LauraCarter on Twitter or visit A Small Blog