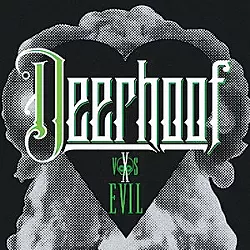 Deerhoof: Deerhoof vs. Evil
Label:
Polyvinyl
Release Date:
2011-01-19
Rated:
NONE
Genre:
Recording
Deerhoof have always been something of an art-rock superhero team (drummer Greg Saunier is practically a real-life Elongated Man behind the kit), and with their 11th LP, the excellently named Deerhoof vs. Evil, they're making it their mission to crush evil with their 1-2-3 punch of twee vocals, guitar pyrotechnics, and rapid-fire stylistic shifts. They've even got a theme song: "Super Duper Rescue Heads!" features singer-bassist Satomi Matsuzaki chirping, "Me! To the rescue!" over a synth-driven calypso beat occasionally invaded by the twin guitars of John Dietreich and Ed Rodríguez. It's the poppiest thing Deerhoof's done since 2007's Friend Opportunity flirted with a more mainstream sound, but the band is simply adding yet another style to their already sizeable repertoire. D v. E also touches on flamenco ("No One Asked to Dance"), classic riff-rock ("Secret Mobilization"), and even throws in an obscure cover from 1967 movie The Day the Fish Came Out (the hyperkinetic "Let's Dance the Jet"). Of course, there are also the requisite tracks that seem to have OD-ed on Deerhoof-brand crazy pills. "The Merry Barracks" opens with a mechanical bloop that ends up playfully at odds with the song's actual groove; "Must Fight Current" features call-and-response vocals that sound like they're from totally different songs. And I'll let you imagine what a track called "C'Moon" sounds like. Ultimately, the best songs on Deerhoof vs. Evil are the slightly more approachable ones. "I Did Crimes for You" features manic handclaps and a catchy hook, with Matsuzaki proclaiming "This is a stickup." Despite this larcenous twist, Deerhoof could never really turn over to the dark side — they're too much fun. Evil-doers beware.
Deerhoof vs. Evil is currently streaming as part of a 'Global Album Leak' at deerhoofvsevil.com, and will be released January 25.