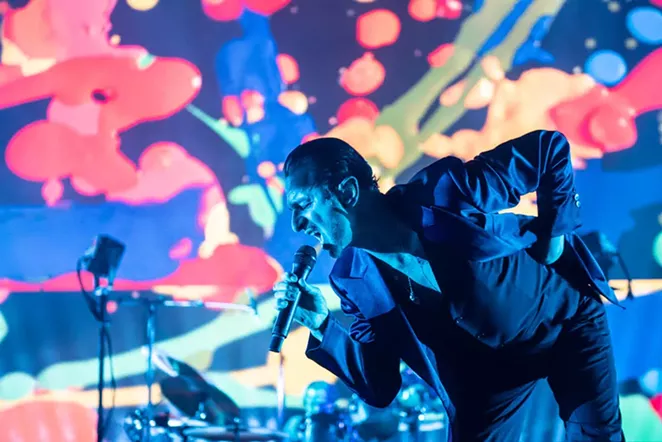 English electronic-rock pioneers Depeche Mode blew away the Alamo City last night, showing the crowd at the AT&T Center why they've enjoyed global success over the last 30 years.
The band stopped in San Antonio as part of the nine-date North American leg of their Global Spirit Tour.
Silhouetted against a giant two-tiered LED screen, singer Dave Gahan mirrored the darkness as he droned the lyrics of "We Feel Nothing Inside" – and the audience went crazy. Depeche Mode kicked off the set with "Going Backwards," a track off of their latest album and tour namesake,
Spirit
.
Throughout the night, the frontman strutted across the stage, mixing showmanship into the dark sensuality of his lyrics, and exuding confidence up and down the catwalk. Fans ranged from older diehards to kids who have embraced the band's moody introspection, worshipping them as early emo deities.
The heavy drum bass of "Cover Me" grew to epic proportions, capturing the tone of the evening. This and a handful of other songs were backed by the videos reflecting the poetry on stage. Martin Gore took front and center for two songs he'd penned a decade apart.
The entire band fed off the audience's energy, playing the synth-heavy songs play to the pleasure of the moment. The lyrics ran thick with the theme of revolution – a motif of the night prefaced by the Beatles' 1968 tune "Revolution," played in the intro tape.
Depeche Mode has maintained the defining essence of a rock sub-culture – and gained a following that welcomes
radical
change.
L.A. anti-establishment trio, Black Rebel Motorcycle Club, supported Depeche Mode as their opener, bringing their ever-evolving sound and debuting their latest album,
Wrong Creatures
.