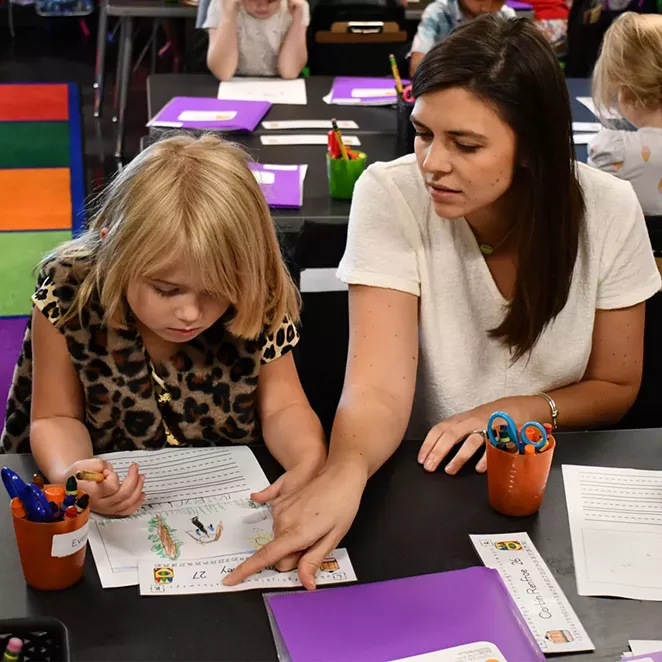 Something exciting is happening near I-35 and O'Connor Road in August 2020! The new BASIS San Antonio—Northeast Campus will be opening its doors to welcome its first cohort of students in grades K–5. BASIS San Antonio Northeast is the fourth BASIS Texas Charter School in the San Antonio area and will grow to eventually serve students in grades K–12.
If you are familiar with BASIS Charter Schools, you know that everything we do is centered on providing students with a world-class education through the accelerated BASIS Charter School Curriculum. Similar to how we maintain and improve our curriculum to best serve students' needs, we also design each of our campuses to maximize student learning and outcomes. This holds true for the new BASIS San Antonio—Northeast Campus, which comprises a newly remodeled 33,000-square-foot building surrounded by mature landscaping, a courtyard, and an outdoor play area. However, the real academic magic takes place inside BASIS San Antonio Northeast's 23 classrooms.
Laying a strong foundation

Going to kindergarten can be a nerve-racking experience for both children and parents. At BASIS San Antonio Northeast, we strive to make our kindergarten students' transition into a classroom environment as smooth as possible. To help with this, we have a dedicated kindergarten wing with four classrooms. Inside each classroom, caring and supportive teachers guide kindergarten students through our accelerated academic program as they work on mastering the basics—most of them excel to learn grade 1 skills by the end of the year. Our kindergarten classrooms are ideal for our co-teaching model, which places one Lead Kindergarten Teacher, an expert in early education, and one Teaching Fellow, who assists with lessons and learning, in each classroom. This way, Teaching Fellows can work with individual students to ensure their academic needs are met without changing the pace of lessons—greatly accelerating the learning process.
Building a framework for success

Classrooms for students in grades 1–5 are grouped together loosely by discipline. This is especially helpful in grades 1–3 while students continue with the co-teaching model. Although, they now have a Subject Expert Teacher, a content expert, and a Learning Expert Teacher, a pedagogy specialist who travels with the class from subject to subject. Students in grades 1–3 take a daily 85-minute Math and Science block and a daily 85-minute Humanities block. In grades 4–5, block courses are separated into individual subjects, students no longer have Learning Expert Teachers, and classes are designed to promote greater academic independence. For example, in English or History, teachers may assign a paper or long-term project that students will have to plan, research, and revise on their own. In science, students may work in pairs or groups while using the scientific method to make observations, formulate questions, predict outcomes, and formulate conclusions—laying the groundwork for an introduction to Biology, Chemistry, and Physics.
Reaching new academic heights

The specials offered at BASIS Charter Schools are unique in many ways. They connect and enhance what students learn in their core classes in a way that allows them to express creativity and ingenuity. The content of each specials class is designed with the diverse needs of the subject in mind. Students in grades K–4 take Engineering and Design, which integrates content from other classes with the engineering process. This course focuses on developing students' critical thinking and problem-solving skills through project-based learning rooted in real world issues. As such, the classroom reflects a collaborative setting, with space for students to build (and sometimes even test) their designs. We also believe that physical health promotes intellectual development. Students play games and sports that promote team building and cooperation—two very useful skills to have when working on group projects.
BASIS Charter Schools have a deep appreciation for the fine arts and recognize their value in enhancing the learning process. Our fine arts classes—Music, Visual Arts, and Performance Arts—foster creativity in a supportive environment that allows students to discover new talents and interests. In Music, students learn the basic elements of musical history and how to read simple musical notation. They also have performance opportunities throughout the year. In Visual Arts, students hone their creativity by learning different techniques, using a variety of materials and mediums, and making personal connections to their work. In Performance Arts, students are introduced to the various elements of drama and narrative. They also work with their peers to create and perform short dramatic scenes.
If you would like to see live updates about the BASIS San Antonio—Northeast Campus remodel, check out our
Construction Tuesday
video series on Facebook. Head of Operations Ersula Williams will be your guide as she details all the renovations taking place to make our campus a haven for learning and innovation.
BASIS San Antonio Northeast is still accepting
applications
for fall 2020!
To learn more about BASIS Charter Schools, the accelerated BASIS Charter School Curriculum, and the new BASIS San Antonio—Northeast Campus,
sign up
for an upcoming virtual event.
BASISSanAntonioNortheast.org