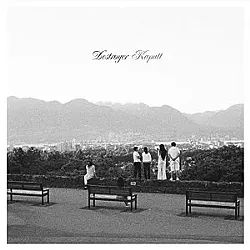 Destroyer: Kaputt
Label:
Merge
Release Date:
2011-01-26
Rated:
NONE
Genre:
Recording
Is the world really going to end in 2012? Let's check out the signs: Hundreds of animals spontaneously dropping dead every five minutes? Check. Sarah Palin still taken seriously as a potential leader of the free world? Check. The best record of 2011 (so far) is a straight-up soft rock album? … Uh-oh.
Seriously, though: Kaputt, the new album from Destroyer — brainchild of indie iconoclast and New Pornographer Dan Bejar — has no right to be this good. Bejar has crafted a pop masterpiece that effortlessly deconstructs the cheeseball sound of '80s soft rock while simultaneously embracing it. Granted, Bejar didn't get here first. Indie rock has been flirting with yacht rock for a few years now: Michael McDonald covered Grizzly Bear in 2009; Chromeo jammed with Daryl Hall (minus Oates); Christopher Cross performed "Ride Like the Wind" on Late Night with Jimmy Fallon, backed by The Roots — and McDonald, again (yah mo B everywhere lately). But Kaputt goes all the way. Are you ready for female back-up singers crooning "Ooh, baby" over a light disco groove? What about layered synth-strings and reverb-coated sax solos seemingly ripped from an episode of Red Shoe Diaries?
In the hands of your average, overwrought adult-contemporary crooner, this stuff would be a cheap nostalgia trip. But Bejar is the anti-McDonald. His thin, raggedy voice stays coolly detached, and the tension between song and singer is fascinating (and danceable!). Bejar's bemused delivery highlights the irony in singing a line like, "Winter, spring, summer, and fall / Animals crawl towards death's embrace" on a track titled "Song for America." In fact, much of the album centers on American nightclub excess, as if Bejar wants you to take a long, hard look at yourself in the mirror you've just snorted a line of coke off of. But he also tosses out oddly romantic, non sequitur lines like, "Your first love's New Order / Mother Nature's son / King of the everglades / Population: 1," and turns off-the-cuff phrases like "I heard your record, it's all right" into melodic hooks worthy of a Doobie sibling. Bejar's always been a gifted songwriter, but Kaputt is a new peak — an album that engages your higher brain functions while reaching around to finger your guilty pleasure button.