Henry (Brian McGuire) and Charlie (Sonja Kinski) in 'Diamond on Vinyl.'
The big selling hook of Diamond on Vinyl, the second feature film directed by J.R. Hughto (The Thin Time) is the co-starring role of Sonja Kinski, granddaughter of Klaus Kinski (Nosferatu the Vampyre, Aguirre, The Wrath of God) and daughter of Nastassja Kinski (Tess). Yes, she's as beautiful as her mother and as intense, in a much more subtle way, as her father. But she's only one solid third of this cleverly unconventional movie, available today on VOD and in select theaters in New York, Los Angeles and Boston starting December 7.
Without giving much away, let me warn you: if by looking at the trailer you think this is the usual voyeuristic erotic movie where skin takes a starring role and it all leads to the steamy scenes Hollywood loves so much, think again—Diamond on Vinyl couldn't be more erotic, but not in the way you expect.
Simply said, the plot involves troubled, obsessive vinyl nerd Henry (Brian McGuire, In Search of a Midnight Kiss) and his fiancée Beth (Nina Millin, Happy in the Valley), who kicks him out of the house when she discovered he recorded them having sex. When she's crying in her car she's consoled by a passersby named Charlie (Kinski, Dark Hearts). When Beth asks her to return the key to the hotel room, Charlie meets Henry and an intriguing game begins. But when you're dealing with a character like Henry, this is more than just a simple case of seduction; in this smart dialogue-heavy movie (also written by Hughto), Henry is the type that makes simple things complicated, and Charlie does her best to play along, and she does. Caught in the middle is Beth, who once she realizes what's going on she reacts the only way she could: with a nervous laughter shared by Charlie. It is a psychological roller coaster that grabs you and won't let go, even if at times things get a little, er, frustrating.
In less-talented hands, the movie would have fallen into the usual clichés we come to expect anytime two beautiful women and a guy get mixed up. Instead, and in spite of a fundamental, obvious plot point that no sane man would buy, Diamond on Vinyl is a master class on ensemble cast acting. Every single word, no matter how far-fetched, is believable, even if the actions (or lack of) are not. These are real characters speaking with real words and real rhythm, uttered by first-class actors who sound as if they were improvising every line.
With her role, Kinski proves to be a talented, intuitive actress ready for bigger, richer roles, while McGuire and Millin confirm their innate ability to excel while being part of a larger, glorious whole (he starred in Alex Holdrige's Sexless, the only movie to win both the jury and audience award at South By Southwest, and Millin was part of the 2009 Best Ensemble Cast award at the Monte Carlo Film Festival for Happy in the Valley, which won four awards total).
Too art-house cinema for a wide release? Probably. But give VOD a chance and watch this gem that's destined to become a cult favorite, if not more.
Beth (a terrific Nina Millin), upon discovering her fiancee's hobby.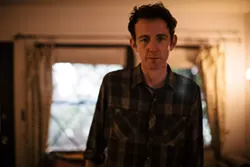 Obsessed vinyl nerd Henry (Brian McGuire) in between residences.
Charlie (Sonja Kinski) in the mood for some recordings, and I don't mean a song.