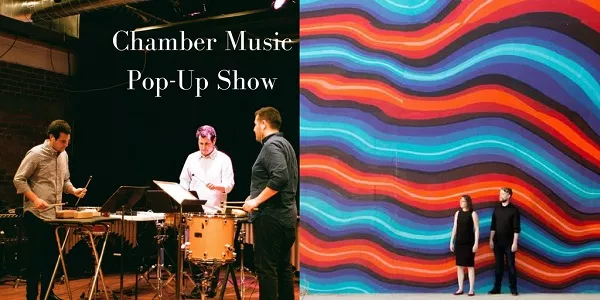 Courtesy
3G percussion (left) and the Peterson/Hayes Duo (right)
From the
Youth Orchestras of San Antonio's increasingly robust presence
in the music scene to
young composers pushing boundaries
in the realm of contemporary music, from the San Antonio Symphony's increasing forays into interpreting popular/film music to
touring shows that present video game music with orchestras
— it would seem that the appreciation and availability of classical music, in its myriad forms, is on the rise in San Antonio.
Often misunderstood as boring or overly academic, classical music, especially as it survives in the work of contemporary composers and performers, pretty much has a strain for everyone, even
all the metalheads
. On Monday, classical music devotees and initiates alike will have a chance to catch the latest exciting contemporary composition showcase, in the form of a chamber music pop-up show centered on percussion.
The concert, going down at Brick, will feature the ensemble
3G Percussion
(based out of Houston) and local percussion and flute project
Peterson/Hayes Duo
.
When reached by email this week, 3G Percussion's Sarek Gutierrez (who used to drum for
The Bolos
and
JungleNoize
) gushed that the show will be "Literally the coolest chamber music concert San Antonio has seen all year."
And cool it must be, to draw and hold an audience in a way that classical and experimental music has sometimes had trouble doing in SA. Gutierrez hopes to be a part of changing this city's willingness to engage with the more adventurous side of the musical spectrum.
Gutierrez says that Houston and Austin both host pretty active chamber groups that perform throughout their downtowns, and that he hopes that "San Antonio will soon catch on since [he believes] there is a lot of potential for growth."
As listeners realize that you don't have to be a scholar or a musician to enjoy this thought-provoking stuff, more and more may warm to classical and experimental music.
As far as what we, as a community, stand to gain from an increasingly active classical music scene, Gutierrez said that these events are important because they "are typically family friendly, intellectually stimulating," and serve to "enhance awareness of the arts and enrich the community through educational quality musical performances."
Listen/watch below for a little taste of what you can expect at Monday's show.

3G Percussion, Peterson/Hayes Duo
$10.00, 7:00pm, Mon, May 22, Brick at Blue Star, 108 Blue Star, (210) 262-8653, brickatbluestar.com.