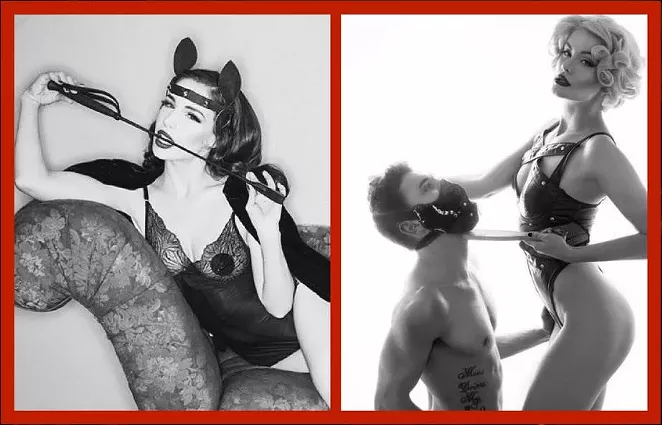 Courtesy of Sabra Johnsin (left) and Kimber Crimsin Fox (right)
While a mere mention of hospitals, examinations and even routine check-ups can be enough to scare the bejesus out of many of us, others get truly turned on by a variety of "medical fetishes" that go far beyond childhood games of "playing doctor." In his article "Sexual Healing: A Brief Examination of Medical Fetishism," British psychologist Mark Griffiths cites an array of related manifestations, including "genital and urological examinations (e.g., a gynecological examination), genital procedures (e.g., fitting a catheter or menstrual cup), rectal procedures (e.g., inserting suppositories, taking a rectal temperature, prostate massage), the application of medical dressings and accessories (e.g., putting on a bandage or nappy, fitting a dental retainer, putting someone's arm in plaster), and the application and fitting of medical devices (e.g., fitting a splint, orthopedic cast or brace).
Although it's unlikely that Friday's BloodFeast Medical Fetish Ball will involve such procedures, it's sure to include some of the subgenre's more common hallmarks in the form of risqué takes on nurse uniforms and blood-splattered lab coats. Hosted by DJs MiseryMachine and Boi of Doom, the adults-only evening invites "dirty doctors, naughty nurses, zombies and experiments" to feast their eyes on "sick and sexy medical fetish performances" by burlesque beauties Sabra Johnsin (Austin) and Kimber Crimsin Fox (Dallas), compete in a costume contest with a cash prize, take in "cage and dance floor action," get comfy on "dungeon furniture" provided by TexSwitch and shop for goodies up for grabs from Bloody Rose Boutique, The Cupcake Vixen, LadyAlchemy13, BrujaPuta and LNR Concepts.
For those drawing a blank on what to wear: the organizers suggest that "in addition to doctors, nurses, gas masks and red-and-white color schemes," other acceptable themes and costumes include "blood, gore, mutation, lab experiments, mad scientist, Frankenstein's monster, medical specimens, skeletons, etc., [but] lower genital nudity is not permitted." And since BloodFeast is intent on creating a safe space for the adventurous, DJ MiseryMachine warns that "disrespectful behavior/harassment will not be tolerated."
$5 (cash only; free for ladies), 9:30pm-2am Fri, Oct. 19, The Amp Room, 2407 N. St. Mary's St., facebook.com.


Get our top picks for the best events in San Antonio every Thursday morning. Sign up for our Events Newsletter.