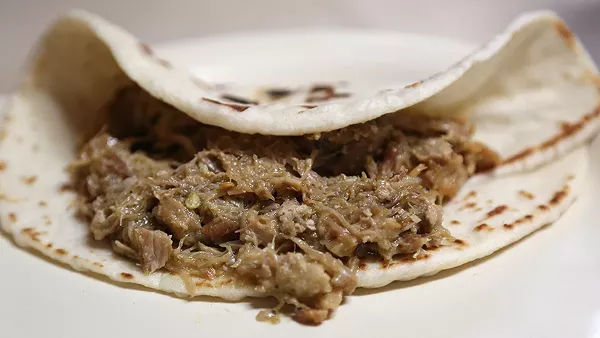 Ben Olivo
The chicharron prensado at Guerrero's, 1859 Rigsby Ave.
Reposted with permission from The Tacoist.
Driving down Rigsby Avenue on the east side, Guerrero's Mexican Restaurant beckoned. I'm sure it was its small stature and brick facade. This stretch of Rigsby isn't exactly the commercial hub that is W.W. White Road if you keep driving east. But it's lined with enough businesses, including a few Mexican restaurants such as this one, to hold its own. Next to Guerrero's is Rios Barbacoa No. 9, and next to it an AA meeting room. My buddy and I walked in and we ate tacos. But it wasn't until I was at the register that I realized the Mexican-ness of Guerrero's. There were actual signs. Listed on a hand-written menu posted next to the kitchen window:
birria
(stewed goat). Chilaquiles are served in salsas
verde
or
rojo
. A sign that leans against the facade advertises quesadillas with "Mexican taste." Before these discoveries, however, a new taco — the
chicharron prensado
. New to me, at least. I looked at the chicharron
prensado
on the menu like Picard would look with wonderment at an undiscovered planet. We asked about, because we had no clue. The young polite waitress said in Spanish that this taco was shredded pork with chicharron mixed in. Make it so, No. 1! The pork was indeed shredded and cooked seemingly in a light green sauce, but not you're typical salsa verde. To be honest, I couldn't detect chicharrones. There was no crunch. The skins were that cooked into the meat. The taste? Like nothing I've tasted — definitely salty and a strong meaty flavor. It wasn't my favorite, actually, of the six tacos we had. But it did not disappoint, either. I didn't know what I was tasting, is all. It's a must-try taco just to say that you've had a
chicharron prensado
. The flour tortilla the
chicharron prensado
was more than respectable. My buddy, however, thought they were a bit cold.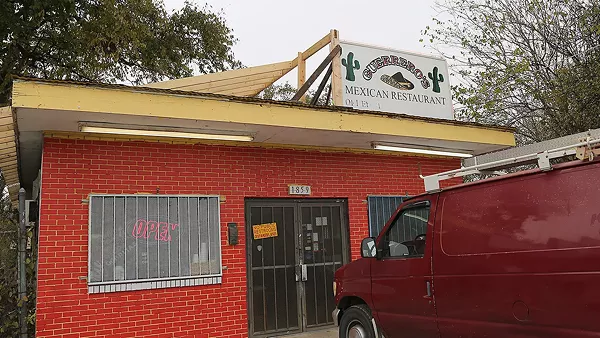 Ben Olivo
Guerrero's, 1859 Rigsby Ave., is a true Mexican restaurant rather than Tex-Mex.
We ordered six tacos, and the machacado and egg emerged as the best. The beef had good flavor and was not too dried out. Try the chile de arbol sauce, which enhances the beef flavor some. The papa a la Mexicana was also spot on with potatoes done just right — perhaps they could have been more crisp, but I know nothing. This taco was enhanced by the garlicky and extremely hot green hot sauce. This sauce kept me teary-eyed while paying the bill. The bean and cheese was on point — perhaps cooked in lard and with a nice mushy texture. The chorizo and egg was respectable — not excessively greasy, but not excessively flavorful. The carne guisada on corn was odd. It had zero depth of flavor, which resulted in a big thumbs down at the table. Upon reflection, however, maybe the flatness of the stewed beef was more of a Mexican preparation than that of Tex-Mex? We both liked the corn tortilla, which was thinner than normal. Guerrero's was intriguing enough that I will be back. (Seems like I say that about every other taqueria.) None of the six tacos were home runs for me, but enough skill was put into the machacado and the papa a la Mexicana that maybe the grand slam is there on the menu in plain sight — I just didn't order it. If not for the tacos, I'll return for all those intriguing non-taco items.
Guerrero's Mexican Restaurant, 1859 Rigsby Ave., (210) 333-2550


Visit The Tacoist for more snapshots of San Antonio taquerias.