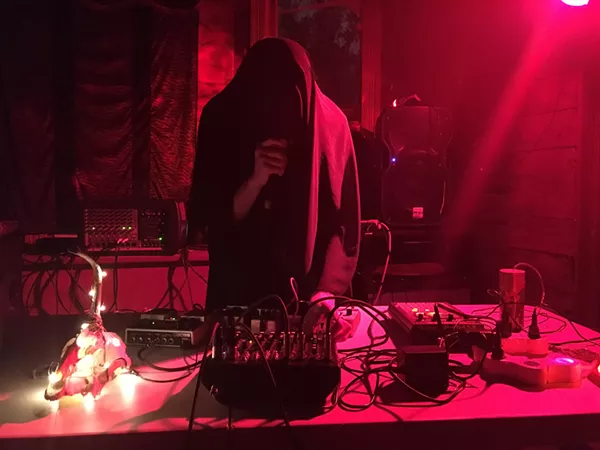 Chris Conde
Wolf Party performing at Filthy's West Coast Tour Kickoff show
The Oxford English Dictionary defines the word "noise" as a sound, "especially one that is loud or unpleasant or that causes disturbance," but also, "Irregular fluctuations that accompany a transmitted electrical signal but are not part of it and tend to obscure it." The latter might be a closer description of the art/music/experience/genre generally called noise.


The Art of Noises, a Futurist manifesto written in 1913 by Italian weirdo Luigi Russolo (who built big, strange noise-making contraptions), challenged composers to explore the sounds produced by the new urban industrial landscape. "The variety of noises is infinite," Russolo wrote. "If today, when we have perhaps a thousand different machines, we can distinguish a thousand different noises, tomorrow, as new machines multiply, we will be able to distinguish ten, twenty, or thirty thousand different noises, not merely in a simply imitative way, but to combine them according to our imagination."

There are artists right here in San Antonio applying the same concept, generating unconventional sounds that can be anything from loud, harsh and sporadic to droning rhythm- and melody-less soundscapes. So a couple weeks ago I dropped a lure in Facebookland looking for strange new San Antonio noises, and eventually I found Wolf Party, who let me know about a noise show happening not five blocks from my apartment.
Sound crescendoed off the wooden ceilings of a dusty living room as a cloaked being screamed into a mic and punched delay pedals. It sounded like glass breaking in slow motion, on repeat.
Gathered at that 5 Points-area house were Wolf Party (we don't even know his real name) and several other bands, including dark wave-punk band Filthy, which actually used the show to kick off their west coast tour.


Joel Hiller opened up the night with his droney and dark ambient project Echo-Curse. He and Rene Martinez (who performs in something called Bob Dole Shows Up Late For His Matinee) say they've been throwing shows for years, but only in the past few did they start booking experimental acts. Traditional venues complained that noise shows didn't draw enough people, so Joel and Rene say they pretty much rely on friends who open up their houses for performances.

Sure, SA's noise scene feels tiny and scattered, but its size is eclipsed by the quality of the art. They're weird, super friendly and loud as fuck, and if you're still reading this, check out a few notable SATX noise artists below and stay up to date on gatherings and upcoming releases on their community Facebook page, San Antonio Noise & Experimental Music.



Fierce Diety

(Industrial/ Harsh Noise)
Wolf Party
(Power Electronics/ Experimental Noise)

Echo Curse
(Experimental/ Dark Ambient/ Drone)

HVXVN

(Experimental/ Harsh Noise/ Dark Ambient/ Drone)

Steeplechase
(Wall Noise/ Power Electronic/ Ambient)