The unprepared imbiber doesn't know exactly what to expect as he or she descends from grotty (tarting-up in the form of a new hotel, among other improvements, is anticipated) Commerce Street to grotto-y Downstairs beneath the Esquire Tavern. The bar is speakeasy dark, the tone relatively hushed — except for that one guy whose voice carries. There's always one of those. You're offered a spiral-bound book, and it looks daunting — as it kind of is. Then you notice a folded insert. In contrast to the slick pages and reverential enumerating of esoteric product of the main menu, this one is hand-sized, comparatively rough. It is — cue a brief blast of mariachis — The Corn Menu, a paean to millenia of maíz in the Americas.
The menu is the brainchild of Esquire's Houston Eaves and Myles Worrell on the drinks side; artist and social-political provocateur Cruz Ortiz is responsible for the design through Snake Hawk Press, his "creative factory." Save the main menu for another time, and start leafing through this one. "Leaf" gives the impression of being an appropriate term as the pages have a corn-husk cast and feel, and the graphics suggest the leaflet look of early-20th century Mexican political propaganda — far different from Ortiz's barrio-inspired works and other commissions such as the Spurs-themed takeout box for Papa John's Pizza.
Turns out that Posada and propaganda are not far off the mark. Neither was the "leaf" impression. A conversation with Eaves revealed that they had put much of the Downstairs package together early on, but "hadn't focused on the creative part of the cocktail menu. It occurred to me," he says, "that we do a lot of work with San Antonio's arts community, and it's always a [welcome] challenge. Chris [Hill, the owner] said, 'Shoot, who do you want?' I had always enjoyed Cruz's authentic voice …"
So Ortiz, Eaves and Worrell got together, had some beers. "[Cruz] was super-excited about the revolutionary Mexican art of Posada and others, I had just spent six months working mezcal in Oaxaca where I met a lot of crazy people … corn came up, and we went with it," Eaves said. In every way, as it happens.
The folds of the menu are like opening a tamal, he points out; the menu leaves made from pulped hoja de maíz and corn stalk were inspired by the agave-fiber labels used by Vago, the mezcaleria he worked with in Oaxaca — and the handmade paper was actually created by the same artist. It can even be said to have a village designation: San Agustin Etla. (The Centro de Artes San Agustin, a renovated textile factory north of Oaxaca City now serving as an arts center and paper-making workshop, looks worth a visit.)
Aztec legend allegedly pays homage to the gods of drunkenness, known as Centzon Totochtin, or 400 rabbits. "Drunk as 400 rabbits" is said to have been a popular term, though how anyone knows this is hard to imagine. In any case, the first drink on the stack of riveted-in sheets is titled 400 Rabbits, and it's a two-fister consisting of a shot of elote-infused mezcal paired with another of lechita de maíz. Not having tasted the mezcal before infusion, it's hard to say that the corn has much of an impact — maybe on the finish. The "lechita," though, is emphatic in its fresh corn and onion tastes, and the two make for a bracing, mellow-sharp pairing.
Many of the drinks on the following sheets make political or cultural statements. Or both. All tell a story. The Fuck Monsanto uses non-GMO bourbon with fresh corn syrup and Mexican Coke bitters, and it also works as a creative riff on the Old Fashioned. Batman of Mexico pits high-proof, "bat-friendly" tequila (most agave is bat-friendly in that bats are prime pollinators) against corn, chile and lime to good, proof-y effect. Corn appears again both inside and on the outside of Big Corn Island, a tiki-like drink served in a tall glass wrapped in dry hojas de maíz. A small orchid is involved.
The political stance here has to do with the way sugar cane workers are treated in Nicaragua — hence the non-Nicaraguan rums. Two Jamaicans are used instead with corn milk, bottled tepache (fermented pineapple) and a hint of Campari. As much as I'm not a fan of drinks that require straws, the Big Corn Island turns out to be a worthy addition to the tropical-drinks canon. Suck it right up. Wear the orchid home.
There are several other drinks to go before getting to the bottom of the stack: Seeds of Life with pozole rojo, corn vodka and burnt tortilla salt ("Think bloody mary," said my server); Conquistador with Texas blue corn whiskey (gotta be Balcones), both dry and sweet sherries and lemon; Tejuino del Norte (tejuino is a beverage usually made from fermented corn masa) with piloncillo, sotol, pineapple and lime; and Sin Maíz no Hay País, a corn milk punch serving four to six. I didn't try them all because, well, I'm only one rabbit.
But I couldn't resist a cocktail called Land Race, a martini-like concoction with purple corn gin and vermouth infused with huitlacoche, the dark and brooding corn fungus. (Land Race has to do with
indigenous plants or animals that have survived and adapted through the ages without any intervention — which is to say screwing with — by man.) The corn gave the gin a pretty, violet hue that glowed seductively in the light of the table's lantern. But that's where it ended for me. Maybe the drink doesn't want to be a martini, and I had the impression that, unlike with the other cocktails, the creators simply stopped too early on this one, leaving the mushroomy huitlacoche to dominate without anything to counter it. Maybe chile, agave syrup, salt … Just me, of course.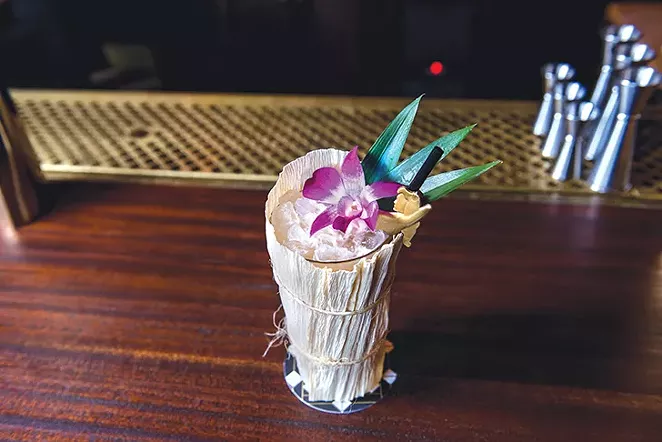 There isn't a snacks menu tailored specifically to the Maíz Manifesto (my term, not theirs), though chef Brooke's groaning board of cheese, charcuterie, olives and candied nuts, all but the cheese produced in-house, will frankly go with anything. Her head cheese is especially appealing. And yes, I doubt that fried maguey worms or chile-coated grasshoppers are likely to attract a huge following — though I'm willing to help skew the odds. But I do see a place for playing with the popcorn (of course, there had to be popcorn) that comes with all drinks. Maybe the huitlacoche goes here — along with some worm or grasshopper salt with dried chile. Nobody will know unless somebody tells them.
"Please join our curious exploration of this unique and indigenous grain," entreats the menu. One of my favorite categories of pre-Columbian art involves small-scale clay figures excavated from sites on the island of Jaina off the Yucatecan coast near Campeche. Maíz gods feature prominently. Pay them your respects.