Page 4 of 4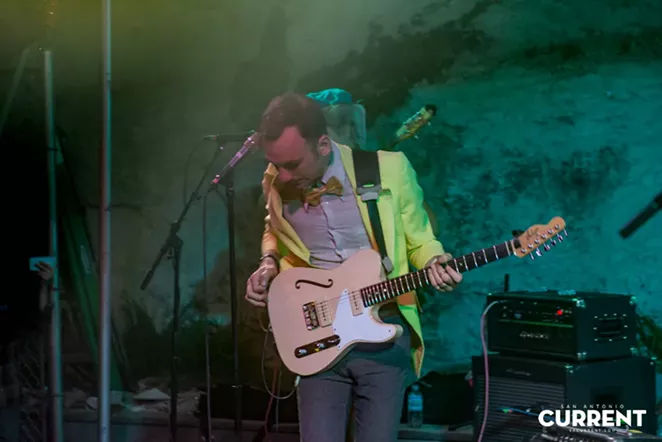 Jaime Monzon
I mean, it -is- a cool jacket.
Shannon and The Clams played Cheer Up Charlie's at 12:15am. With a name like this, surf rock is to be expected, though one also should expect matching mustard-yellow jackets. Everything about their set was fun and the encouragement to dance was well heeded, though mostly with head nods. Shannon herself noted the chillness of this crowd. "Yeah, really chill." There's a schtick here. I can see it, recognize it, hear it, dance to it with all its breaks and changes, but there's still something else here. Something deeper, more satisfying, something that goes further than schtick. This is a band bigger and more talented than its concept. They could totally be up there without the matching jackets, but I totally don't mind that they are.
Jaime Monzon
I -think- dude wanted to be here?
The night closed with Protomartyr's 1:00am set at Cheer Up Charlie's. The barely sung vocals and the drummer wearing a METZ shirt tells me all I need to know. It's like being 78% there is this group's thing. Maybe that's why there's only a five-man mosh pit. But a pit amassed because this still works, because this laconic punk merits it. It's straightforward and fittingly gloomy. It takes little excursions, but never too far, though the turns are still exciting. They didn't blow me away, but something must be said for everyone being very good all together at the same time while never quite being resplendent.