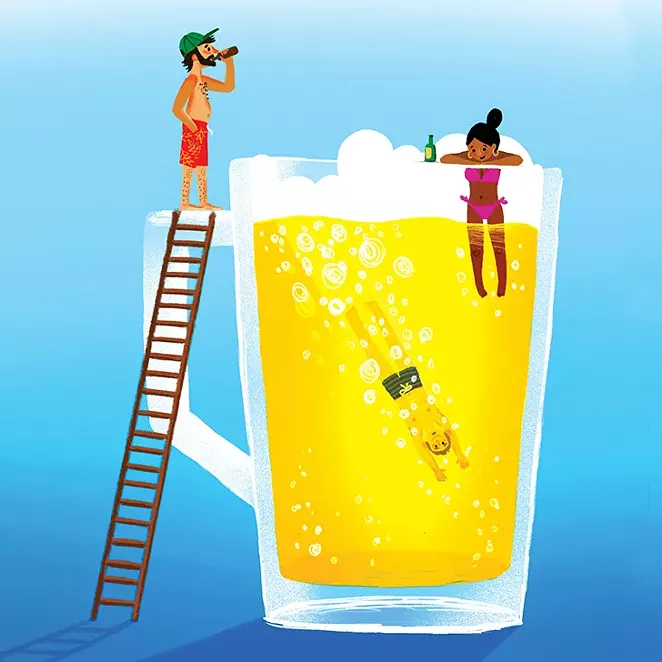 Illustration by Jess Blank
Congrats. You've finally, fully recovered from Fiesta — just in time to trade those cascarones for Cascade hops and parades for pub crawls. That's right, resilient drinkers: San Antonio Beer Week is upon us, and it's going to be a killer time.
Beer Week 2017, which officially kicks off at Main Plaza at 4 p.m. this Saturday, marks the seventh annual celebration of SA's cerveza scene. Despite some sad developments in recent months (most notably the ongoing restructuring at Branchline Brewing), veterans and newcomers alike are ready to toast a banner year for the city's craft beer community.
"We have more than tripled the number of area breweries represented at Beer Week, from just five in [2011] to about 18 this year," Jason Davis, a SABW board member and brewer at Freetail Brewing Company, told the Current. "One thing that hasn't changed is the enthusiasm and energy from the brewer participants — old school and new school alike."
Marcus J. Baskerville, head brewer at Weathered Souls Brewing Company, also cheers the growing craft beer market, seeing it as indicator of the flowering diversity of production in Bexar County.
"San Antonio is one of the largest cities in the US, but also one of the most under-saturated cities in terms of breweries per capita," Baskerville told the Current. "I think it's a great thing that breweries are starting to pop up around and in the city. It brings a few different things to the market, like creativity, competition and awareness."
Creativity and (friendly) competition are on abundant display during Beer Week. In addition to the official opening and closing ceremonies and a mid-week shindig at Frank's featuring blues-psych believers Lonely Horse, the beer dinners, brewer meet-and-greets, and steal-this-glass pint nights come courtesy of Beer Week sponsors (which include Big Hops, Hop & Vine, and Big Bend Brewing Company) and an assembly of breweries and beer-boosting social organizations. It's enough to keep SA buzzing (and no less than moderately buzzed) for seven days straight.
These twin principles are similarly exemplified in 2017's collaboration beer. Brewers from across the city pitched in to produce a witbier brewed with raw wheat and pils malt from Fort Worth malthouse TexMalt and a veritable garden of earthly delights — sage, honeysuckle, lemongrass, and other herbs. Several of these adjuncts come courtesy of the San Antonio Botanical Garden, which is hosting its semiannual Brews and Blooms party on Saturday, May 20; the witbier, of course, can be had at multiple locations every day of Beer Week.
There are other reasons for partiers to self-salud. San Antonio Beer Magazine joined SABW as its official media partner this year, hot on the heels of releasing their fifth issue this past Friday. Taken together with the SA beer movie, the SA beer book, and enough SA band-beer crossover to lead off a killer mixtape, San Antonio may be one of the best-documented beer cities around.
According to magazine founder and creative director, Harrison Civick, such extensive coverage has been a boost to the community's profile on both a local and state-wide level.
"I think it definitely helps validate and unify a scene that some people may have not known existed," Civick told the Current. "It really gives people a tangible product to kind of observe and feel connected with. It transcends the level of just existing, where every scene starts, and enters a realm of actually having a life and spirit."
That spirit has remained fiercely independent. Dallas and Houston have both seen Big Beer make their first acquisitions in Texas craft; at the time of this writing, every brewery participating in Beer Week is still completely under local control.
It is also the spirit that inspired Big Bend Brewing Company to come in from Alpine to host a hangout of their own on the afternoon of Saturday, May 20, posting up in the parking lot of their new building (located at 1310 Cornerway) to share some desert-brewed beverages and start to settle in to their second home. According to operations vice president Mahala Guevara, SA's welcoming, ever-ascendant beer culture is the perfect second home for a brewery founded by Steve Anderson, the godfather of Texas craft beer.
"There's so many interesting people doing such interesting things in SA," Guevara said. "The wider national culture may not have realized that yet, but it's just going to be a couple of years before they do. We'd like to grow our brewery and our business in that kind of vibrant, lively economy and culture."
SATURDAY, MAY 13
2017 Kick Off Party:
The party starts at Main Plaza with a DJ set by Gabe of Southtown Vinyl and classic country covers by The Texases, a pig roast by Swine House and The Saga by French artist Xavier de Richemont, and beer!
Free, 4-11pm, 115 N. Main Ave., sanantoniobeerweek.com.

The Three Bs:
Sponsor Hop & Vine invite folks out for a tasty start to festivities with a special on burgers. $20 gets you a burger, fries, turtle bacon and a beer.
4-11pm, 5619 W. 1604 N., Suite 109, (210) 878-4071.

SABW Tapping:
Get your first taste of 2017's collaboration beer at Big Hops Bitters and The Bridge. Both will feature a tapping and commemorative San Antonio Beer Week glassware.
No cover, 5pm, 306 Austin St., (210) 320-1470 and 226 W. Bitters Road, (210) 437-3588.
SUNDAY, MAY 14
Mother's Day Brunch:
Mom's love beer, too. Freetail Brewing Co. will team up with Renegade Foodie for brunch fare, Witmosas and a screening of 2016's Bad Moms starring Mila Kunis and Kristen Bell.
Prices vary, noon-3pm, 2000 S. Presa St., (210) 625-6000.
Paints & Pints:
Let's call this one Pilsners Palette, shall we? Seguin Brewing Co. welcomes Matt Wagner of Personal Touch Paint Parties who will guide participants through an art session.
$25 per person, 2-4pm, 111 W. Gonzales St., Seguin, email info@seguinbrewing.com for availability.


MONDAY, MAY 15
Freebies:
Rugged beers call for rugged snacks. The guys at New Braunfels' Ruggedman Brewing Co., which opened this January, will be dishing out free hot dogs and brats along with their $1 off specials on pints. Stop in for their staple brews or check out the night's special release.
Prices vary, 2-8pm, 7600 S. Old Bastrop Hwy., New Braunfels, (830) 632-2104.
Credit Union for Kids:
Alamo Beer Co. will be the backdrop of this year's "BBQ & Brew" fundraiser. Help the kiddos by purchasing your ticket, which includes a keepsake pint glass with two beer refills, a Bill Miller barbecue plate and a tour of the microbrewery.
$35 per person or $60 per couple in advance, $40 per person at the door, 6pm, 202 Lamar St., santarosa.wufoo.com/forms/credit-unions-for-kids-bbq-brew.
TUESDAY MAY 16
Drink With The Brewers:
Sample this year's collab beer — an herby witbier — with the makers themselves or try beers from across the city from one of GS 1221's taps.
6:30-8:30pm, 1221 Broadway, (210) 251-3184.
WEDNESDAY, MAY 17
7th Annual Golden Age of Homebrewing:
Beer writer Jeremy Banas, Alamo Beer Co. owner Eugene Simor, the San Antonio Cerveceros and Bexar Brewers host this celebration of the homebrewer. The event will feature a look at the brewing process, samples from homebrewers, a homebrew competition, food trucks and music all on the Hays Street Bridge.
Free, but RSVP is required through eventbrite.com, no minors allowed, 6-9pm.
Pre-Release:
Ranger Creek will tap its new release, Mission Trail, slated for June, early with several tastings throughout San Antonio Beer Week. Hop on the trail at the brewery and learn how it's made.
No cover, 5-9pm, 4834 Whirlwind Drive, (210) 775-2099.

THURSDAY, MAY 18
Lonely Horse at Frank:
Know what pairs with great brews? Great songs by local band Lonely Horse at 10:30 p.m. The night includes specials from 10 local and surrounding breweries, swag stations, raffles and giveaways.
Prices vary, 7:30pm, 1150 S. Alamo St., (210) 265-5292.
FRIDAY, MAY 19

Flight of Floats:
San Antonio Girls Pint Out will team up with Guadalupe Brewing Co. for a night of stout floats. Pack the Lactaid and drink up these sweet and hearty creations.
$18, 7-10pm, 103 Gattuso Road, Suite 110, New Braunfels, (512) 878-9214.
SATURDAY, MAY 20
5 Pint Brew Crawl:
Jump on board with this brewery tour that includes a pint glass, light breakfast, lunch and dinner and stops along five of the city's beer makers.
$85, 9am-6pm, Appliance Liquidation Outlet, 500 Carolina St., 5pintcrawl@gmail.com.

Brews & Blooms:
The semiannual event returns with more than 30 craft beers available to sample from local and regional breweries all throughout the flourishing San Antonio Botanical Garden. Admission includes eight drink samples, a souvenir glass and shuttled parking.
$15-$60; premium admission includes additional drink samples, catered food and early admission, general admission starts at 6:30pm, 555 Funston Place; tickets are available through eventbrite.com.

SUNDAY, MAY 21
Closing Ceremonies:
We won't judge you if you bust out your finest German garb for this finale bash at Beethoven Maennerchor. Admission includes six 4-ounce tasters, a sampler plate of traditional fare, German music and a commemorative San Antonio Beer Week glass.
$30, noon-4, 422 Pereida St, tickets through eventbrite.com.