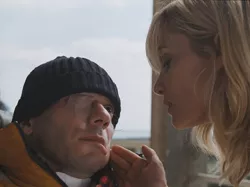 My Left Eye: Mathieu Amalric communicates with Emmanuelle Seigner with the blink of an eye.
The Diving bell and the Butterfly
Director:
Julian Schnabel
Screenwriter:
Julian Schnabel
Cast:
Mathieu Amalric, Emmanuelle Seigner
Release Date:
2008-01-16
Website:
http://www.thedivingbellandthebutterfly-themovie.com/
Rated:
R
Genre:
Drama
With sincerest apologies to the very, very good film I've been asked to review, I must dispose of a nagging, inexcusable tangent.
Two-thousand and seven, besides being one of the very best years for film in recent memory, may well also go down as the year the dong finally broke through. And not just the dong — the slack, off-duty, not-ready-for-Primetime dong. Witness: Starting Out in the Evening (Frank Langella), Walk Hard:The Dewey Cox Story (unnamed male extra), Eastern Promises (whole lotta Viggo), The Simpsons Movie (Bart "Eat My `doffed` Shorts" Simpson), The Diving Bell and the Butterfly (Mathieu Amalric). From broad comedy to action to contemplative drama, '07's audiences found themselves comparably awash in a generous, multi-genre Niagara of tweedly peeners. Throw in the knob's contributions to the stage — my wife and I were, er, lucky enough to catch Daniel Radcliffe's much-gabbed-about turn in Equus and Sir Ian McKellen's cloak-shedding King Lear (of the latter, let me just say: "Come not between the dragon and his wrath," and add a "yikes") — and the year, at least for me, was more or less a startling phantasmagoria of weiners. Not that I think it's a problem or anything — this all amounts to an infinitesimal portion of what you ladies endure, in terms of per-capita naughty-bits sightings — I just happened to notice a spike in, um, you know. Dicks. Was 2007 the Year of the Unfettered Flaccid Wang? If it wasn't, it'll do 'til the Year of the Unfettered Flaccid Wang gets here.
Thanks for the indulgence; I'm sated.
Putz parade aside, Julian Schnabel's Le scaphandre et le papillon (The Diving Bell and the Butterfly) ranks among the most affecting and exquisitely rendered tales in a landmark year for such things. Adapted from the memoir of the same name, the film presents the astounding account of Jean-Dominique Bauby, former fast-living editor of Elle who, in 1997, was laid low by locked-in syndrome, a rare neuromuscular condition that leaves its afflicted incapable of speech and virtually all voluntary muscle movement — yet entirely conscious. Initially exasperated and despondent, Bauby gradually learns to use the last vestige of body-control left him — his left eyelid — to not only communicate with the inhabitants of his drastically altered world, but (and this is positively mind-boggling for a viewer) to dictate the very story we're watching.
Sometime painter (and erstwhile U of H Cougar) Schnabel's canvas-and-color instincts are on display here, and serve him admirably — Bauby's world, seen largely in first-person (a stylistic choice that could have easily come off as gimmicky but is instead absorbing) is impressionistic and beautiful in that watercolor way that makes one (me, specifically) wish words like "haunting" and "dreamlike" weren't so frequently used. Cinematographer Janusz Kaminski, already double-fisting Oscars for Saving Private Ryan and Schindler's List, might do well to start dusting off his "Really? Me?" face. But the irrefutable power of Diving Bell rests with its performances. Soon-to-be Bond villain Amalric is breathtaking (in deceptively little "true" screen time), as are Emmanuelle Seigner as his long-suffering mistress, the Naomi Watts-ish (and remarkable in her own right) Marie-Josée Croze as an attendant nurse, and the rightly venerated Max von Sydow in a brief but heartbreaking turn as Bauby's father.
Schnabel's third film is, let's be frank, a masterpiece. It may move a bit slowly for some, but Diving Bell is the sort of elegant, contemplative, enduring picture that might well be rediscovered and fawned over every 20 years. •