Falooda, one of the drink options from Bombay Salsa Co. at this year's Diwali
Raise your hand if you've ever tasted falooda. Unless you've traveled extensively throughout South Asia, chances are you've yet to taste the wonders of this layered dessert that's making its rounds across the U.S.
San Antonians will get a chance to sample the beverage that combines a combination of vermicelli noodles, syrups, chewy basil seeds, tapioca balls, jellies and more during Saturday's eighth annual
Diwali SA
celebration at La Villita. Hosted by Anuja San Antonio, a 501(c)3 non-profit organization created in 2011 to promote the Sister City relationship between San Antonio and Chennai and the city's International Relations Office, Diwali (which technically fell on October 30) is known as India's festival of lights, which celebrates the triumph of good over evil.
And as La Villita expects to host anywhere from 15,000 to 20,000 attendees, 11 food vendors are readying to serve up Indian fare from several regions. Expect to find Pavani Express, Spice Fine Indian Cuisine, Bawarchi Biryani Point, Biryani Pot, Cafe Bahar, Mangoes (Indian-Mexican Fusion), Bombay Salsa Co., Mustafa Restaurant, Royal Cuisine/India Chaat, Hyderabad House and India Oven. A far cry from the four vendors that catered the inaugural event in 2008 and sold out in 45 minutes. These days, organizers are prepared.
"No one knew what to expect," said Kausi Subramaniam. "We told them to plan for 1,000 attendees, and 5,000 showed up. Obviously, they ran out of food."
It's no secret that a lot of people turn out to Diwali for the food. We want the dosas stuffed with potatoes, we want chaat, we want chicken tikka masala. But as the festival hosts another 15,000 attendees tonight, we couldn't help but wonder why no Indian restaurants exist inside 410 (Simi's is technically inside, but it's on the cusp):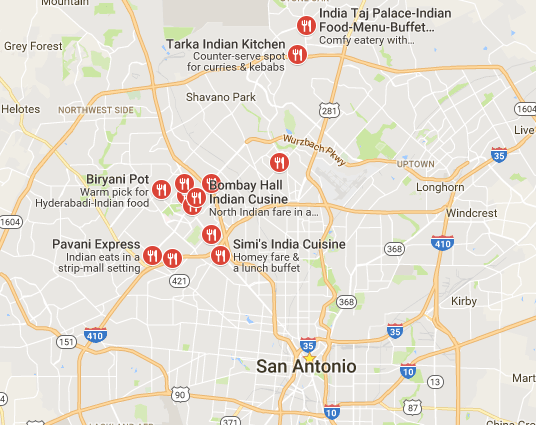 For Subramaniam, one of the organizers through Anuja San Antonio, the answer is simple. The majority of people of Indian descent live in the city's North Side near the medical center, and a number of Indian restaurants are owned by USAA employees.
"It's not that the local community at large can't support an Indian restaurant — I think it can — it's just that people who are opening them up haven't been thinking along those lines," Subramaniam said.
"Maybe as the food becomes more mainstream, it'll start moving into areas where the Indian community doesn't live in," she went on, while citing the tater tot chaat at Hot Joy as one of the dishes inside Loop 410 with Indian flavors.
For Hitish Nathani, co-owner of
Bombay Salsa Co.
, the reason might be a little more layered. He opened Bombay Salsa Co. first as a catering service in 2013 before branching into a food truck in 2014, but he only recently started dabbling in downtown stops within the last year, with appearances at Alamo Street Eat Bar and the Trinity Market on Saturdays.
Nathani serves a combination of traditional Indian food fused with Mexican flavors, which means you'll find a Biryani burrito or Bombay tacos using buttery paratha as a tortilla. He also dabbles in more authentic street food not commonly found in the area such as pav bahji, a potato curry he serves on buttered French bread.
"If I'm serving that, I'll be out in 2 hours. Indians will hunt me down on the North Side," Nathani said. "Inside the loop it's not as much of a hit."
Trying to appeal to the masses that are accustomed to Americanized Indian food usually involves a "5-minute spiel" according to Nathani, but his fusion dishes likely help sell them on it. He mentions the Southtown Bean and Cheese, which combines six types of beans with Indian spices, cheese and pickled carrot kimchi as one of his hits.
Though Nathani at times feels like he's catering to two different demographics, between those inside 410 and those in the Medical Center area, he's amassing a solid following at The Trinity Market, which he sees as an educational opportunity — 5-minute spiel or not.
For tonight's Diwali at La Villita, the truck will feature falooda, the aforementioned dessert drink with noodles, syrups and tapioca along with pav bhaji and ragda pattice, potato patties smothered in a yellow pea chili. Sales from the night's event will serve as a fundraiser for the
Shirdi Sai Baba Temple
which suffered extensive fire damage this October.
Can San Antonio's inner city support an Indian restaurant? I'd wager a solid yes based on tonight's Diwali attendees as they swarm La Villita looking for all manners of chaat and tandoori bites.
And heed Subramaniam's advice: "Get there early."
418 Villita St., 5-11pm.