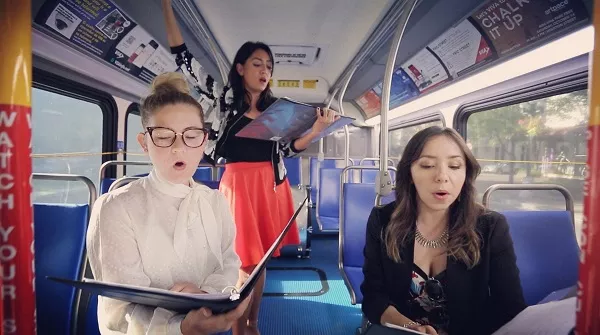 Courtesy
From Those Who Follow the Echoes members practicing on a VIA bus.
Nathan Felix, a recent transplant from Austin who locals might remember from his old band
The Noise Revival Orchestra
(which went on indefinite hiatus in 2010), is up to some exciting things with his DIY choir From Those Who Follow the Echoes. A large collective of singers and musicians, From Those Who Follow the Echoes (FTWFE) is something of a guerrilla operation, bringing pop-up choral/classical concerts to unconventional spaces, often with little warning.
Felix, who spoke to the
Current
last week, says that there are really two things he's focused on doing with FTWFE: "bringing unique contemporary choral/classical music performances to San Antonio establishments" and providing inventive, engaging classical music experiences to "new and underserved listeners." The musical group has been active for just under a year.
With FTWFE, Felix has found a unique way of combining the punk DIY approach/aesthetic of his younger years with the classical music composition/performance that has consumed his imagination (and considerable talents) of late.
For him, this classical music focus came in a kind of flash of inspiration. One evening, when Felix was on tour with one of the punk bands he played in back in the early-mid aughts, tensions were high and bickering ensued. Looking to calm his cantankerous compatriots, Felix put on a classical music station. To his surprise and relief the music stopped the fighting and put everyone to sleep. Thus, he became intrigued by the power of classical music. It was that moment, in essence, that started the journey that led him to start the Noise Revival Orchestra and, eventually, FTWFE.
In honor of
Museum Month
, Felix and company have teamed with Blue Star Contemporary, San Antonio Museum of Art, the McNay Art Museum, and VIA to present a progressive opera performance right on the 11a culture buses (see
VIA website
for exact scheduling).
The performance, inspired at least in part by unconventional, public/street performances that Felix experienced during time spent in Los Angeles and throughout Europe, will feature upwards of 25 members of the loose collective that is FTWFE. Felix told the
Current
that the subject of the opera is "a lost spaceman from the past who has landed in San Antonio and, not knowing what era he has arrived in, gets on a bus to try and sort thinks out."
Eventually, the space/time traveler comes to grips with the fact that he can't go back to his old reality. In a sense then, the opera deals with a common human challenge: overcoming nostalgia and longing in order to live fully in the present.
Felix hopes that the use of VIA buses as venues of a kind will "help more people see the value of riding the bus" and allow them to gain experience with riding. In addition, viewing our city as in the midst of a creative renaissance, Felix hopes to inspire fellow creatives to embrace new adventures that look to engage the broader public in the value of the arts and of having a strong artistic community.
You'll be able to catch this one-time performance in full if you get on the bus at Blue Star or the McNay at approximately 1 pm. However, you can also pop in anywhere on the route for a choose your own adventure kind of effect.
From Those Who Follow the Echoes presents VIVA VIA Cultural Adventure: Opera on the Bus
Free (with bus fare), Saturday, October 21, 1-3pm, McNay Art Museum (6000 N New Braunfels Ave), San Antonio Museum of Art (200 W. Jones Ave.), Blue Star Contemporary (116 Blue Star), (210) 824-5368, mcnayart.org.