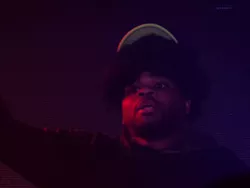 (Photo by Lauren Martin)
LOS ANGELES, April 5 — San Antonio DJ Donnie Dee, representing the South, had a solid performance at the 2013 U.S. Red Bull Thre3style finals Friday night in Los Angeles, but failed to make the top three of the competition. Chicago DJ Trentino (Midwest champ) was the winner and will go on to represent the U.S. in November's world finals in Toronto. DJ Scene (West Coast) was second, and DJ PHSH (East Coast) came in third.  (No results were provided for the other three DJs)*
The finals, held at the Hollywood nightclub Lure, pitted the finalists from regional competitions held across the country against one another, challenging them to prove their skill in "the art of party rockin'." According to Red Bull's definition of party rockin' (and who else's definition would you possibly accept?) that means that each DJ had to incorporate at least three musical genres into a 15 minute set while being judged on stage presence, audience response, creativity, and track selection. These judges, by the way, were DJs Jazzy Jeff, A-Trak, and Z-Trip.
In other words, Donnie Dee took the stage following an hour of some talented and flashy DJs showing off for a packed upscale L.A. club and the approval of some big names.
(Photo courtesy of Red Bull)
By the time Donnie Dee began scratching, the audience had already heard "California Love" more than once, watched multiple DJs lip-sync to their own pre-recorded shit talk, and at least eight or so people in the crowd had waved American flags during a portion of a mix that incorporated a speech given by Barack Obama.
Miami's DJ Konflikt had lived up to his name by pulling out a handmade T-shirt calling  Trentino "predictable." Las Vegas's DJ Scene (the closest to having home field advantage) had already received such a prolonged, loud response following his set that the hosts practically begged the audience to stop so that the contest could continue. The standard DJ moves had become very familiar by the time Donnie Dee came onstage. Dee, who chewed gum and wore a hat that said "Let's Get Fucking Weird" atop an Afro wig for part of his set, offered something different at a point where different seemed like the best possible thing to be.
Other DJs mouthed the lyrics of the songs they used; Dee jogged in place. Other DJs talked shit and pandered to the local crowd; Dee managed to do both by appropriating the most vulgar chant from "Fuck Wit Dre Day," then transitioning into the riff from Guns 'N Roses' "Sweet Child o' Mine" over a blow-the-speakers bass line. The other DJs tempered record collector rarities with Top 40 hits; Dee filled the first several minutes of his set with mostly instrumental sections of unrecognizable songs mixed together in a compelling way.
Maybe those differences explain how he held the audience's attention through to the second part of the set, creating tension that got people moving at the first piece of a recognizable song. If you think that's a dumb theory, then you come up with a better explanation for why a roomful of club goers in 2013 get dance-crazed upon hearing  Montell Jordan's "This is How We Do It." Blur's "Song 2" transitions into Michael Jackson's "Beat It," which Dee lets ride for a while as he scratches a record in time. While Dee doesn't deliberately show off insane technical prowess, his every move is calculated, practiced, and necessary. His calm, cool vibe might have been what ultimately screwed him though.
The winner, who will proceed to the International Championship in Toronto, Canada in November, was Trentino, who went sixth, frequently spun around, turned his tables with his back turned, and used individualized diss tracks for each of his opponents to showcase his technical skills, which were unbelievable — his live chopping and screwing of "Tom's Diner" was a jaw-dropper — but not particularly easy to dance to.
The DJ sets from this competition's regionals are available for download at mixcloud.com.
(*) (A previous version of this story erroneously reported that Donnie Dee had qualified fifth out of six competitors; he was just the fifth DJ to go onstage)