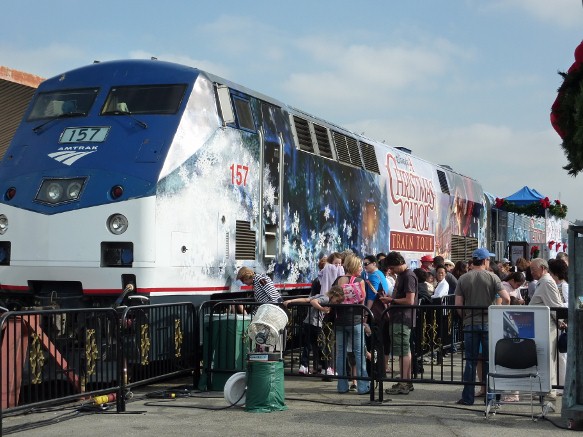 Don't hate the people in the above photo. On Friday, August 14, you too will have the chance to pretend it's anywhere near time to get in the Christmas spirit while you're waiting in line at the Amtrak station on a South Texas August afternoon.
That's right: Disney's Christmas Carol train is coming to town. The press release quoted below should let you in on everything you need to know, save one crucial detail: The forecasted high for Friday is 101. As an added bonus, all those who show up bundled in authentic Dickensian period winter clothing will die a quick and horrible death. Tiny Tim can kiss my hot swampy ass.
Train Tour rolls into San Antonio August 14th, offering visitors an exclusive sneak peek from the movie as well as a behind-the-scenes glimpse of the making of the movieâ??with artifacts and character designs housed in real train cars. The fun family event is totally free. City representatives, local media and other San Antonio VIPs will welcome the train to town and kick off the tour's San Antonio stop.
Sponsored by Hewlett Packard and AmTrak, the Train Tour will travel more than 16,000 miles and pass through 36 states. Amidst a winter wonderland of snow with holiday décor and Christmas carolers, visitors will also see footage from "Disney's A Christmas Carol". Visitors can also check out the cutting-edge technology behind the film, as well as artifacts from the Charles Dickens Museum and interactive games. Radio Disney will invite kids to enter for a chance to become a Movie Surfer representing their hometown. Each Hometown Movie Surfer will get a chance to appear on Disney Channel by filming their very own Movie Surfer's segment! The whole experience is free.