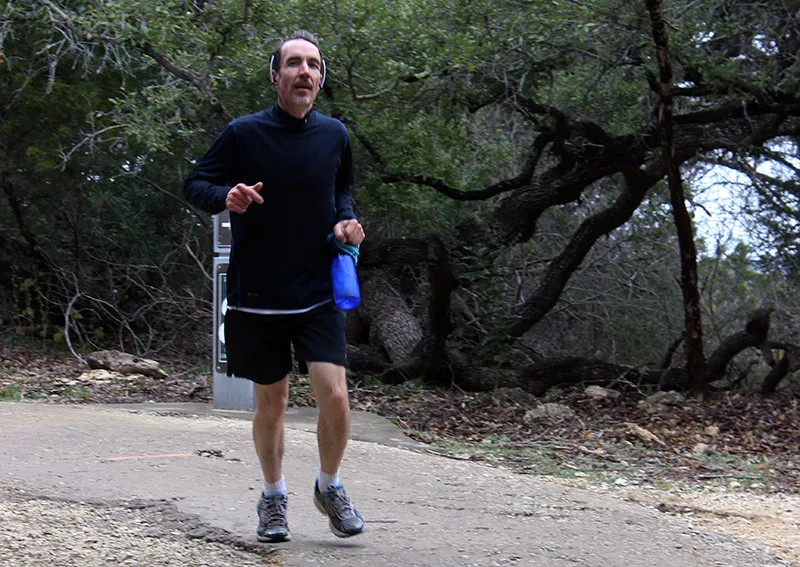 Adriana Ruiz
Are we safe on city trails? Some high-profile violent crimes prompted one city leader to call for new measures to beef up security.
From security cameras to blue light beacons, a new greenway trail security proposal has San Antonio park and fitness enthusiasts buzzing with support.
But over the last decade as the city has greatly expanded its emerald ring of trails, no "direct and proactive strategy of prevention" has existed to protect people from crime, according to City Councilman Ron Nirenberg.
In addition to cameras and emergency beacons, Nirenberg wants to expand trail-watch programs and launch a public awareness campaign.
"We want to make sure that as we expand the linear creek-way system that we're also building a safety strategy," he said.
The trails, however, are not lawless dens of criminal enterprise. The greenway trail system is patrolled by the San Antonio Police Department, Park Police and by neighborhood watch groups.
At O.P. Schnabel Park last week, a Park Police officer made rounds through the winding trails on a four-wheeler – the same trail where just over a year ago, a random act of violence sent shockwaves through San Antonio.
In December 2013, a passerby found the body of 24-year-old Lauren Bump lying in a pool of blood on the trail. A convicted felon, just a few months out of jail, was accused of stabbing the graduate student to death.
It could be seen as an unusual, one-time crime, but it still lingers in Michael Lopez's mind. Lopez, who works at nearby YMCA, said many people still run with one earphone in and one out.
"Especially after all that happened," Lopez said. "I think any security upgrades are beneficial because I'd rather be safe."
Joy Davis, a former San Antonio resident who was enjoying the park while visiting family, said she never felt danger when biking through the trails, but she backs the move to beef up security.
"I think in certain places cameras would be good, but not all throughout the trails," Davis said, suggesting that upgrades should focus on crime hotspots.
Murder in the greenways made headlines again last year. In May, the body of Russell McKinely, 29, was discovered in Salado Creek. He was killed at his apartment and dumped in the creek, which sits next to the trail. And in October, a man was found shot to death along the Medina River Greenway Trail System.
So there's definitely sufficient malfeasance along the city's growing trail system, but police said violent encounters are not the norm.
"The most predominant is petty crime," said Javier Salazar, San Antonio police spokesman. "I don't mean to downplay it. When it happens to you it's the most important time in the world."
But he did clarify that by and far most police reports from the trails and parks areas are filed under the small property crime category.
Edgar Gonzalez, who owns We Run San Antonio, a fitness store and running club, said he most often hears stories of car break-ins at trailheads when people talk to him about crime in the greenway.
"One of our runners didn't lock her car door and she had everything stolen," he said.
That's why a nuanced public awareness campaign is needed, according to Councilman Nirenberg. He saw that as the most important measure of all ideas to increase security.
Gonzalez definitely embraced the idea, noting that the campaign should remind people to lock car doors, keep valuables out of sight, enjoy the trails with a group or companion and try not to be a target by being discreet with valuables.
It may seem obvious, but many people seem to overlook it or think they don't need to bother because nothing will happen to them.
"The less appealing you are, the less of a chance there is to be a victim," Salazar said.
The effort is definitely in its nascent stage. Nirenberg has yet to even offer an estimate of how much his proposal would cost and how it would be funded.
"I wanted to make sure that I didn't jump to any conclusions as to what that safety strategy should look like so that we can get robust public input on ideas and get feedback from public safety departments about what works and what doesn't," Nirenberg said.
To come up with a price tag, the councilman said he's having his staff look into what other cities have done, such as New York City with its iconic Central Park.
Salazar said crime prevention measures are always positive but at the end of the day, taxpayers should have a say on whether they feel this is a good use of their money.
"You have to weigh bang for the buck. Most things have a price tag," Salazar said.
Nirenberg said if voters choose to pay for continued linear greenway development in a referendum in May, some of that money could be put toward security.
"But we need to do some things immediately up front," he said. "I've talked to the city manager and believe that during the mid-year budget adjustment, we should have some options to look at."
A committee will consider the proposal and determine if it will go to city council.