Gordy Grundy might make your day with a cheeky paean to the joy and necessity of membership
Fortune is a difficult concept in a world in which so few control so much wealth. As a causal agent, it's been used to explain away injustice for centuries, but not everyone believes lighting candles to our ancestors will make a difference. The Jesuits earned Rome's enmity for suggesting to their Latin American followers that perhaps the meek wouldn't inherit the earth. And who in post-Depression American can deny the power of positive thinking? If you can imagine yourself the satisfied and satiated member of a fortunate class, a go-getter who (as a David Mamet character once said) goes and gets it, you might very well become one.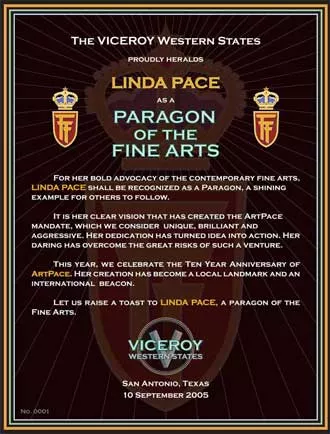 Artist Gordy Grundy will present his "Paragon of the Fine Arts" award to Linda Pace during Sala Diaz' First Friday open house, October 7.
In a society ruled simultaneously, but hardly peaceably, by the "freedom" of contract and Maslow's hierarchy of needs, men and women have often relied on membership to boost themselves through the ranks. Membership, in short, is a way to make luck. In Fortuna, currently on view at Sala Diaz, California artist Gordy Grundy raises the irony of concepts such as membership, authority, and fortune in a purportedly democratic society.
The two-room installation consists of several framed prints, each bearing a logo or more elaborate image from Grundy's inventive Fellowship of Fortuna, which claims the organizing principle of "Chance." Like many of his peers, Grundy is a conceptual artist who uses graphic design and marketing slogans to articulate ideas (he also writes a humor column, "Genuflect," for the art 'zine Coagula). The Fellowship's figurehead is the Viceroy of the Western States, and in the well-executed watercolor etching, "The Viceroy at Sea," ships looking suspiciously like the Niña, Pinta, and Santa Maria sail below a Chevron-style "V." On the related website, fortunanow.com, Grundy makes reference to European values, and falcon wings spread behind the the Fortunates' crest (which also includes a crown worthy of Westminster). The falcon is a traditional symbol of regal authority, and the bold, looming wingspan is also suggestive of World War II-era fascism.
Gordy Grundy: Fortuna

By appointment

Through Oct 9
First Friday reception: 9pm Oct 7
Free

Sala Diaz
517 Stieren
389-3121

But whimsical fun permeates the website and the Sala Diaz installation. "Hello Friend!" is an encomium for the two-finger and thumbs-up waves practiced by drivers on county roads everywhere. "Luxury" repurposes a classic haute-couture logo design to promote "Awe and Appreciation." "Our luxury accessorizes with any handbag," the print declares. Joy and sincerity seem to radiate from the posters, which makes one wonder how seriously to take the "Paragon of the Fine Arts" award that the Viceroy will bestow on Artpace founder Linda Pace in a special ceremony October 7. Pace might be said to have had both good luck and tragically bad fortune, but the good luck she has had, she has spread around, making her the definition of a paragon: a model to follow. On the other hand, obsequiousness, however cheeky, still almost rhymes with queasiness.
In the corner of many of Grundy's prints, stamps from the Ministry of Feeling Good, the Ministry of Fine Art, and the Fellowship, along with "Luxury," recall a time when logos more commonly represented labor and service associations than consumer brands, and promoted substantive values such as fair wages, eight-hour days, and the five-day workweek. And, in a less egalitarian mode, "members only."
"We all have luck. Some good. Some bad," announces the fortunanow.com welcome page. But "luck" is just a more acceptable way of saying "fate," a proposition democracy, when it works, is bound to undermine, especially while we still have the freedom to associate. •
By Elaine Wolff