Documentary filmmaker Catherine Scott (right) follows Australian sex worker Rachel Wotton in the film "Scarlet Road." Wotton serves clients who are disabled.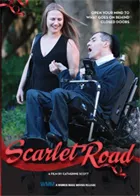 In the film The Sessions, Oscar-winning actress Helen Hunt (As Good As It Gets) plays Cheryl Cohen-Green, a professional sex surrogate who specializes in servicing clients with disabilities. The film is based on the true story of Mark O'Brien, a paralyzed journalist, who decides to hire Cheryl so he can lose his virginity. O'Brien's story was also told in the 1996 documentary Breathing Lessons.
The subject of sex surrogacy is also examined in filmmaker Catherine Scott's 2012 documentary Scarlet Road. In the film, Australian sex worker Rachel Wotton – like Cheryl in The Sessions – works exclusively with disabled men, most of whom have never experienced any kind of sexual pleasure. In Australia, prostitution is legal and regulated. Last year, Wotton celebrated the 10th anniversary of Touching Base, her nonprofit organization that believes "people with disabilities have an intrinsic right to sexual expression" and that it is practical for sex workers to be the ones who facilitate these encounters.
The Sessions is currently playing at the Bijou and Palladium Theaters in San Antonio. Scarlet Road can be purchased on DVD by visiting here.
Rachel, what is it about your job as a sex worker working with the disabled population that is fulfilling to you as a person?
Rachel Wotton: It's a wonderful occupation. It's about making someone feel good about themselves. People deem sex workers and our clients as horrible people, but when you shine a light on it, my whole job entails giving pleasure. Everyone would like a girlfriend, but the reality for some people is that they are not in a position where they can get picked up at a pub and go home and have wild, passionate sex. We're not advocating that every person with a disability needs to see a sex worker, but it is one of many options just like every able-bodied person.
In America, there are a lot of stigmas associated with your line of work. Why don't we hear more about what you do as a sex worker and less about the seedier side of prostitution?
RW: A large part of it is because of the media and Hollywood. The preferred terminology for me is "sex worker." Prostitute has such a negative, loaded connotation to it. We explain this to journalists, but then they go and say whatever they want. They'll use a shadowy photo of a woman bending over on the street looking into a car window. No one ever talks about the home-based sex worker like me or those who work in collectives.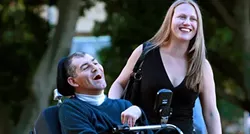 Rachel spends time with a client in "Scarlet Road."
Catherine, when did you meet Rachel and what motivated you to make a film about her?
Catherine Scott: I met Rachel about 12 years ago. Obviously, being a documentary filmmaker, we talked about making a film at some point. I knew Rachel was open about being a sex worker. Even in Australia, not all sex workers are open. Even if it is decriminalized, some sex workers don't want people to know because there are social stigmas and discrimination. But even at parties, if someone asked Rachel what she did for a living she would tell them, "Oh, I'm a sex worker." It was fantastic. I wanted people to know about the great things she was doing.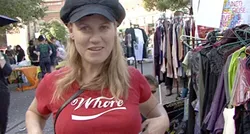 Rachel says she refers to herself as a "whore" because she feels it helps her take back control of the word.
A word that is used a lot in the film is "whore," but all the sex workers seem to embrace it. Why is that?
RW: It's a bit like how the gay community has brought back words, like "queer." We have International Whores Day to celebrate the sex industry. It's all about taking out the punch of those words. But we feel like if you're going to call me a "whore" we're going to assume you're a sex worker.
CS: It's sort of like reclaiming the word and taking back the power. It's taking a word that is used against you and using it as a banner instead of getting hit with it like a bat. It's the same with the word "slut." There are a lot of "slut walks" around the world right now because women are getting raped and people are defending the rapists because others are saying the women were dressed like sluts. That's been a very impressive thing for all of us girls.
Rachel, when you work with disabled men, is there ever a fear they will fall in love with you?
RW: We get this question a lot from parents and support staff at Touching Base. The reality is sex workers are very good at negotiating our boundaries and explaining to everyone that this is a job. That's why we get paid. If someone is getting attached to me, usually I call them a "regular." Some people go to the same coffee shop every day and no one ever worries about them. I treat all my clients as consenting adults.
Rachel during a session with a client in "Scarlet Road."
There are some surprisingly emotional scenes in the film. Catherine, was there anything that took you aback as a director?
CS: It was all unexpected, but at one point Rachel came to me and said that Mark (one of the disabled clients in the film) wanted her for an overnight booking. Mark had already agreed to be in the film. When I spoke to him he said it had always been his dream to wake up next to someone. I thought, "Oh, my God. This is something we just take for granted." It's just one of those things that make documentary films so special. In the film you see it: Mark and Rachel in the shower together, Mark's parents preparing the room for them. Everyone has the right to have that moment. It's so much more than just having sex. It's about being seen as a person.