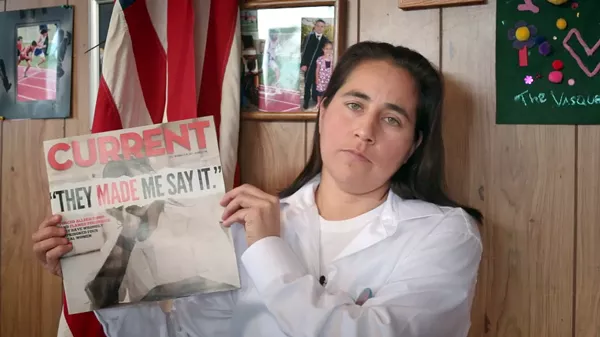 Motto Pictures and Naked Edge Films
A still from the documentary film Southwest of Salem of Anna Vasquez holding a 2012 issue of the San Antonio Current featuring a cover story about the case of the San Antonio Four.

After five long years, Austin-based filmmaker Deborah S. Esquenazi has completed her first feature documentary. Southwest of Salem: The Story of the San Antonio Four will make its world premiere at the Tribeca Film Festival this week. The film tells the story of four Latina lesbians – Elizabeth Ramirez, Kristie Mayhugh, Cassandra Rivera and Anna Vasquez – who were sent to prison for more than a decade after being accused and then convicted of sexually assaulting two of Ramirez's nieces in 1994. After one of the alleged victims recanted her testimony and new evidence was presented that proved their innocence, all four women were released from prison, although they have yet to be fully exonerated by the court system. Currently, Vasquez is out on parole and Ramirez, Mayhugh and Rivera are free on bond.

In late February, Bexar County District Attorney Nicholas "Nico" LaHood told the San Antonio Express-News he didn't "believe pursuing these cases would be in the interest of justice."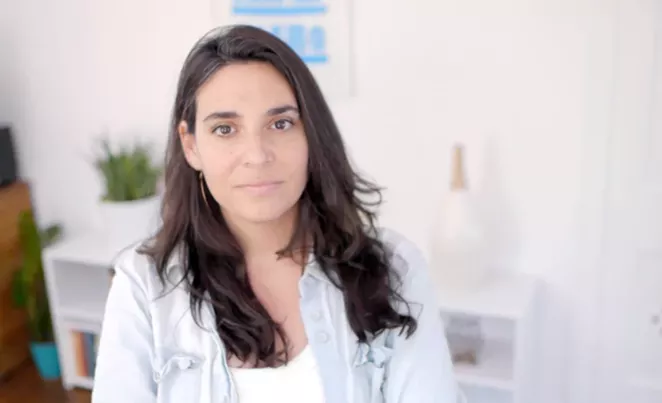 Courtesy
Filmmaker Deborah S. Esquenazi
During an interview with the
Current
earlier this week, Esquenazi talked about what she hopes
her finished film can ultimately do for the San Antonio Four and shared her
theory on why the judicial system is having so much trouble labeling them "innocent."
She also talked about what it has been like as a filmmaker watching her project
evolve over the last five years and the emotion she felt when she witnessed the
women finally released from prison.


You held a work-in-progress screening of this film at Our Lady of the Lake University in 2012. How does it feel getting ready to premiere a finished film at the Tribeca Film Festival?


It feels crazy! I can't even describe it. I'm very excited
and also incredibly nervous. Getting here has been incredibly challenging, but
amazingly enriching. In the process of making a film, you find your voice and
you find yourself. I'm thrilled. Tribeca is a pretty magical place for us. We're
going national and then we'll be international. Suddenly, the women will really
get a platform to talk about their history and their case.


All four women are out of prison now and they're waiting to see if they're going to be tried again or if their cases will be dropped. Do you hope this film can ultimately help the women finally be identified as completely innocent?


I hope so. It's my plan. That's the reason I'm doing this. I
won't stop until that's the truth. We can't accept defeat. Their case
represents so many other intersectional realities. Their case is not just about
the San Antonio Four. It's about gay rights. It's about women's rights. It's
about Latino rights. Their case represents something so much bigger. They
really are the perfect voices and the perfect vehicle to tell this story about
these challenges facing people of color.


Senior District Judge Pat Priest ruled that the women deserve a new trial, but that "proof of actual innocence falls short of the mark." With all the evidence presented, why do you think he could not exonerate them completely?


That's probably a better question for [Director of the
Innocence Project of Texas] Mike Ware. I mean, I have my theories.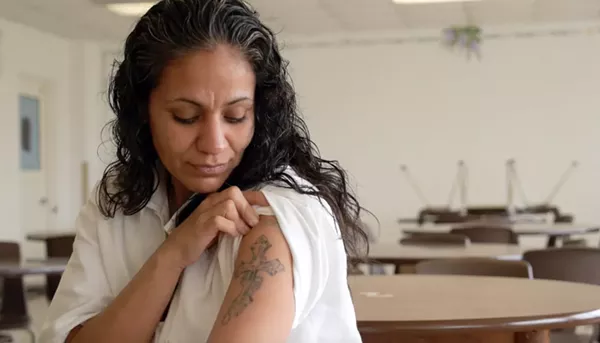 Motto Pictures and Naked Edge Films
Cassandra "Cassie" Rivera showing off her tattoos.
Can you share some of your theories?


I'm not a lawyer, so it's hard for me to understand how you
can present all of this evidence and still have questions about their innocence.
The film really lays it all out. We never question their innocence. We always
came from the perspective that these women are innocent, so let's get them out
of prison or let's get them exonerated. I think, ultimately, when we get to the
criminal court of appeals, I feel confident we can get those nine judges to see
that. I think [Judge Pat Priest], who was the judge that sat on their case 20
years before, would've had to admit that he was wrong. As Mike Ware says in the
film, it would've taken a pretty remarkable person to do that. That's all I can
say.

[Priest] is a cog in a larger wheel. If he's not going to say it, then we're
going to get the criminal court of appeals to say it. If they're not going to
say it, we're going to get the court of public opinion to say it. These women
deserve to be exonerated.


As a filmmaker, how much responsibility did you feel taking on this project, especially with the access you were given?


A huge responsibility! The issues of agency and
representation are really important ones when you sit behind the camera. I don't
know if you've ever read anything by [late American writer] Susan Sontag, but
she talked a lot about photography in the form of sublimated violence and how
the camera has a certain kind of power to it. It doesn't change the nature of
things.

So, when you're sitting on my end of it – when you're in a position of privilege
– and telling somebody else's story, you have to approach it with great care. There
is a level of responsibility and it is scary. I did make it from a place of
being very obsessed with their case and also believing that their case meant
something bigger about issues that go beyond San Antonio and Texas in the '90s.


What was it like for you to watch your film evolve over the years and turn into something you didn't know it would become when you first started?


There were two narratives happening in the film. There was this
legal story and then there was the social and cultural story. I feel like I was
always kind of a step ahead of understanding the way the case was evolving
because I was also filming the Innocence Project. I had anxieties about the end
of the film. What would be the moment when I knew I was done? When I let go of
that fear, it just happened on its own. I knew we reached our end when the
women were released and I was able to spend several months with them until we
got to the hearings. Right after the hearings, I knew that was the end for me
and the film, but not the fight. I feel the film is like I'm handing over the
torch to the public now.


Motto Pictures and Naked Edge Films
Southwest of Salem: The Story of the San Antonio Four will premiere at the Tribeca Film Festival April 15, 2016.
What did you learn about yourself as a filmmaker and storyteller during this entire process? How did you change over these last few years?


I feel like I really found that the deeper the
themes – the more complicated the issues are on race and gender
and economics and sexuality – the more interested I am in tackling it. I do
believe that's where there is a rich kind of story complexity. If you are able
to capture all the little nuances and all the textures within those things,
then there is a real opportunity to be incredibly creative and find the power
of the story. I feel like for me to keep going where I want to go, I almost
want to get father into that wormhole. I'd love to push that form a little
more.

In fact, we're going to be making a much more stylized short film based
on just Liz's trial. Her trial was heavily sexualized. The issue of gender and
sex and all those things were really disturbing, but very interesting. We didn't
put them into [
Southwest of Salem
]
because this film was more of a true-crime investigative film. It covers a lot
of ground. Now that I've laid the framework, I want to go back and revisit those
moments Liz endured on the stand in what I think is some of the most pernicious
cross examination from the prosecution. I feel like I want it to go farther and
really stretch myself as a creator.


Speaking of going farther, did you ever think this film could've been done as a documentary series like Making a Murderer? I mean, there is a lot you're not able to get into because of time limitations. Would you have wanted to create something as sprawling as a 10-part series?


We were indie all the way here. This is a story about several
moments in time – about four women and their experiences. If I had been given a
platform to tell a 10-part series on this case, yeah, I'm sure it would've been
gripping and we would've gone much deeper in certain moments. I mean, we could've
gone much deeper into the recant and the women's trials, but this is a platform
that does have its limitations.


Describe what it was like to be there in person and watch the women finally get released from prison.


I was filming it. I was behind the camera as it happened. It
was one of the greatest moments of my career. The film helped release those
women. Everything we dreamed of happening happened at that moment. It was
incredible. It was a very emotional night. I woke up the next morning and sort
of felt like I was part of a dream.


Southwest of Salem: The Story of the San Antonio Four
premieres at the Tribeca Film Festival on Friday,
April 15 at 5:30 p.m. at Regal Cinemas Battery Park. Encore screenings take place Sunday,
April 17 at 7:30 p.m. at the same theater and on Monday, April 18 at 3:30 p.m. and
Wednesday, April 20 at 8:30 p.m. at Bow Tie Cinemas Chelsea. For more information
visit tribecafilm.com.