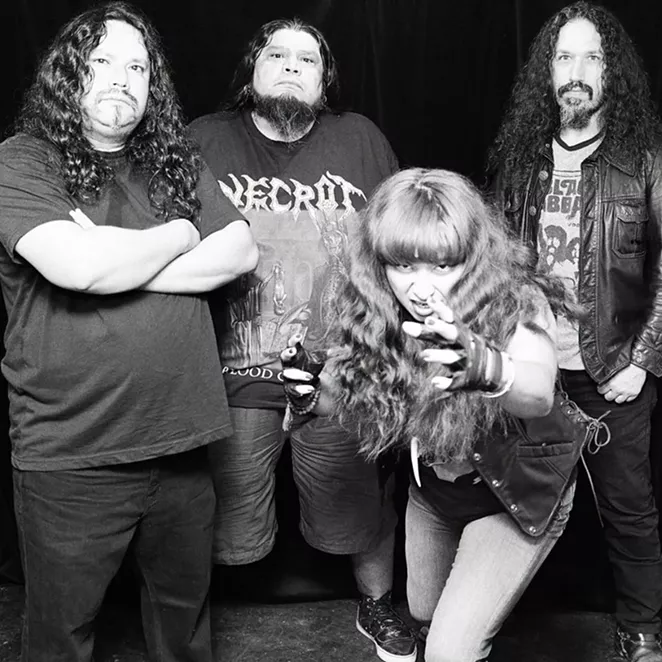 There's just something heavy as fuck about doom metal, separating itself from it's often faster-played sister genres thrash metal and death metal.
Drawing listeners from across a hellish metal landscape into its bosom, doom is like watching a slow-moving rain cloud about to release a flood over an unsuspecting town. Or watching a tornado rip into a neighborhood in slow motion. Not that we've ever watched that happen, it's just the sort of imagery evoked by the heavy guitar sounds and dragging chord progressions, which makes the music so enticing.
Hailing from Louisiana, Forming the Void mix elements of stoner rock and prog for a casserole of doom that actually anyone not familiar with the genre could definitely dive into. Lucky for you, the band is ready to bring it to The Mix on Friday, February 1.
Also on the bill is Witchcryer, an Austin-based outfit led by Suzy Bravo who have drawn influence from the likes of Black Sabbath, Deep Purple, Uriah Heep and Blue Oyster Cult.
Along with Houston's Mr. Plow, who sort of sound – dare I say – like a doomier Alice in Chains, this is sure to be a night any fan of the genre is not going to want to miss.
Free, Fri Feb. 1, 9pm, The Mix, 2423, N. St Mary's St.

Get our top picks for the best events in San Antonio every Thursday morning. Sign up for our Events Newsletter.