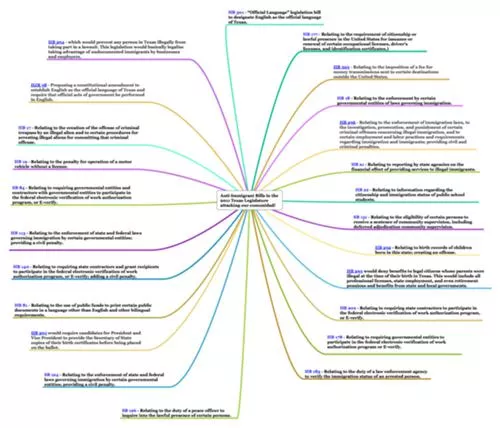 Educator and DREAM Act supporter Felipe Vargas says Texas is striving to outdo Arizona when it comes to immigration legislation (Check out "Out-Arizona-ing Arizona" by Nicole Chavez when it hits stands and this site in the a.m.). We spoke with Vargas this week to get his take on numerous anti-illegal immigration bills that have been filed for the upcoming session of the 82nd Texas Legislature.
Vargas broke the information down, creating a mind map (above) that he shares with community groups whenever possible in an effort to raise awareness about the racially biased discrimination that the proposed legislation could cause.
To take the community meetups a step further, Vargas and former SA city councilwoman/DREAM Act supporter Maria Berriozábal are currently developing a pro-immigration campaign that would involve local businesses.
Vargas said the group plans to ask local businesses, elected officials, and community members to think of immigration as an asset. If a business fills out a petition in support of pro-immigration policies they will get a sticker for the window of the business that reflects their stance.
"This way, people of the community are going to be able to patronize those businesses that love us and put economic pressure on those that don't," said Vargas. "As consumers in a capitalist structure, we have to organize ourselves collectively and use the power that we have when we vote with our money and our force."
We'll have the details as soon as they're released.