First off, don't call what they're flying across the state out of the Texas State University's River Systems Institute "surveillance." Sure they're peeping at stranded fish and counting birds and deer from above with an eight-pound Unmanned Aerial Vehicle, but "'surveillance' has sort of law-enforcement connotation, which is not what we do," said RSI Chief Science Officer Thom Hardy, who first started working with UAVs as the associate director of Utah Water Research Lab before being recruited to San Marcos three years ago. "We wanted to be able to develop at low cost, a remote-sensing platform to assist in agriculture and natural-resource settings." Hardy's purposes are a world away from more
Minority Report
ambitions of the
Houston Police Department
, which launched a UAV in 2007 with dreams of spying into car windows over interstates before they were busted by a curious TV news crew with resulting public furor. But it's nice to know the buzz on droning just the same. Or what little of it we do. According to documents released to the Electronic Frontier Foundation, among a slew of military and military contractors approved for drone flight, there are currently at least three active licenses in Texas with research - rather than police/military surveillance - agendas. When the
Current
got wind in late April of the Electronic Frontier Foundation successfully litigated open records request with the FAA for
records of drone operators across the country
, we were more than a little envious. We'd been batting about with the FAA over a similar (though strictly Texas-centric) request since early 2010 (federal law, it should be noted, generally allows the agencies 20 working days to produce the records — not, uh, years). Needless to say, we tore into the list of Texas operators released to EFF with glee. It appears several recent attempts by state and local law enforcement to hoist eyes into the skies (Houston Police Department, Texas State Highway Patrol, Emergency Services in Hays County) have come with fumbles. Highway Patrol had maintenance issues with the one-pound systems they had spend $300,000 on. They haven't flown since test flights back in 2010, according to the EFF. But research drone operations at Texas State and Texas A&M are considered "active," and their operators are happy to gush. Hardy's UAV, for instance, has already aided the Texas Parks & Wildlife Department in a rescue mission for fish. The team used the device to locate Guadalupe bass that had been stranded in pools along drought-depleted stretches of river during last year's monstrous dryness. And a second UAV is on the way. "Our version two going through field trials now will weigh 17 pounds and be able to fly longer. It has a heavier instrument package. One version could be used for sampling ozone and particulates," Hardy said. That'll come in handy for sniffing oil and gas development across the state, something they're already exploring with the battery-powered 8-pounder, as well as tracking how habitat destruction that goes along with new drilling pads and oil roads affects native wildlife. Down in Corpus, meanwhile, A&M PR informs us of more research-based drone activity:
The first airborne science missions using unmanned aircraft over the Gulf of Mexico were successfully completed during the week of Oct. 10-17, 2011. Scientists with the Unmanned Aerial Systems (UAS) Initiative at Texas A&M University-Corpus Christi and representatives from American Aerospace Airborne Systems Group completed six flights of the RS-16 Unmanned aircraft system that originated on a remote stretch of beach on the Padre Island National Seashore. The RS-16 System utilizes 13-foot wingspan unmanned aircraft that can stay aloft for up to 12 to 16 hours on less than two gallons of gasoline.
You can check their video here: The third civilian license is held in Texas is at A&M's Texas Engineering Experiment Station where John Valasek teaches aerospace engineering. More on that to come... But our fight — like that of the EFF — should be able to shed more light on the military and military-contractor side of the jet stream. Emphasis:
should
. Check out the list released on this bunch. Where are they flying? For what purpose? There are a lot of proper names, but otherwise it's
tierra incognita
.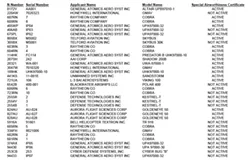 The
Current
first starting asking for those records back in March of 2010. We were told we were the first to request it (and that it would take a while, as the FAA's office over UAV activity was brand new and there were legal arguments to consider). Honestly, there were any number of excuses made, repeatedly. And regrettably the recently created Office of Government Information Services charged with assisting in open-records quagmires across the federal lexicon of agencies wasn't any help. In short, we're still high and dry. The EFF is still frustrated by the FAA's partial response to their hunt for information. Two lists released show for the first time how many groups in the U.S. are authorized to fly drones (a
Certificates of Authorizations
(COAs) list from which the Texas research efforts were extrapolated, and the
Special Airworthiness Certificates
(SACs) list above), but there is much still to be learned. Writes the EFF:
Unfortunately, these lists leave many questions unanswered. For example, the COA list does not include any information on which model of drone or how many drones each entity flies. In a meeting with the FAA today, the agency confirmed that there were about 300 active COAs and that the agency has issued about 700-750 authorizations since the program began in 2006. As there are only about 60 entities on the COA list, this means that many of the entities, if not all of them, have multiple COAs (for example, an FAA representative today said that University of Colorado may have had as many as 100 different COAs over the last six years). The list also does not explain why certain COA applications were "disapproved" and when other authorizations expired. We raised these questions in our meeting with the FAA today and were assured the agency will release additional records with this important information soon. As we have written before and as Congressmen Markey and Barton (pdf) stated in their letter to the FAA today, drones pose serious implications for privacy, and the public should have all the information necessary to engage in informed debate over the incorporation of these devices into our daily lives.  However, while we wait for additional information, these lists help to flesh out the picture of domestic drone use in the United States.
In anticipation.