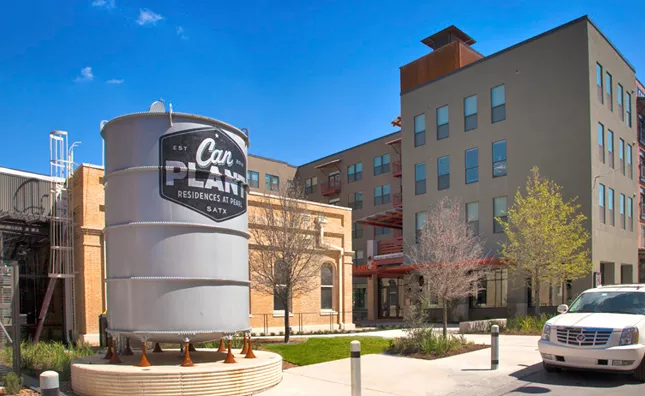 When 29-year-old Lindsay Bira began job-hunting last year after earning her doctorate in Miami, she kept an open mind as to where to move — provided the place at least offered her a good career opportunity.
San Antonio, to say the least, was not on her list of potential destinations.
For Lynn Knapik, 68, the question was where in the Alamo City to move, looking for a change after 16 years on the North Side.
Though they're two generations apart and with presumably widely different tastes and interests, Bira and Knapik chose to live in downtown SA — in particular, the growingly popular Pearl Brewery enclave.
They couldn't be giddier with where they now call home.
"I've been blown away," Bira, originally from Dallas, told the San Antonio Current. "I had a job offer and I hesitated but I came to check out the city and as soon as I saw the Pearl, I said, done deal, I'm accepting the job."
The duo represents the two-pronged driving force for the resurgence of downtown San Antonio as a residential hub composed of new high-end apartments. Millennials and Baby Boomers are the ones by and large gobbling up these new living spaces, in the process throwing the culture and identity of the city into a tizzy.
Core Momentum
For years, the rise of luxury living in San Antonio was mostly kept to new homes in the city's periphery, particularly the far North Side — spots like The Dominion and Stone Oak.
And some high-end apartments have been around for years, but also removed from the city's core.
Not anymore.
Beginning five years ago, fueled by the urban revitalization push from former Mayor Julián Castro's SA2020 plan — the "Decade of Downtown" — as well as the city's incessant population growth, developers opened up their wallets.
And, apparently, they realized they were playing catch-up.
"San Antonio's late to the urbanization game," explained Bill Shown, real estate manager for Silver Ventures, the main architect of the Pearl's renaissance. "So we're still in the early stages — we haven't even scratched the surface."
When SA2020 kicked off the city started with 3,100 new apartments in and around the five-square-mile downtown core and, since then, 4,300 more have been added to the market, according to Lori Houston, director of San Antonio's Center City Development and Operations Department.
The goal is to reach 10,000 units for the decade, she said. But even then, there'd still be plenty of room for growth, according to Shown, who estimated the downtown area could easily take in 30,000 apartments.
No matter the figure, it's all happening thanks to the city. Its leaders, starting with Castro, crafted the blueprint for downtown revitalization — and opened the door for developers through tempting tax breaks and other incentives.
All well worth it, the city determined.
"Prior to 2020, downtown was thought of being just a place for tourists and 9-5 for employers," Houston told the Current.
And it's not like the city's going to keep giving developers handouts forever, she pointed out. For-sale signs are already going up around downtown and eventually the city will be able to back off and let the market take over, she added.
Who Benefits?
Some longtime downtown area residents and their advocates would prefer if the city had let the market run things from the get-go.
They lamented that the new luxury development is turning them into SA's latest casualties of gentrification.
"That's all cool if it's all a matter of private investment," said Graciela Sánchez, executive director of the Esperanza Peace and Justice Center. "But not if they're spending $54 million of our tax dollars."
Houston maintained that, unlike other cities such as Austin, SA has actually gone about planning new housing in a smart way.
Many of the new apartment developments offer affordable units, such as those earmarked for college graduates. Other measures include requiring that 10 percent of units go for the same rent year after year.
Even then, low-income renters who have lived in or near downtown — many who keep the local hugely profitable service industry afloat by taking low-paying grunt jobs — said they can't afford to live in these new apartments.
"It's great to see this renewed activity but there's still a need for the city to offer more affordable options," said Heather Monroe, president of the Downtown Residents Association. "We're still very tourist-based and it's very hard for service industry workers to afford $2,000 a month."
Some of these residents are being forced to pack up due to skyrocketing rents or having to ship out to make way for new developments being built where they've been living.
Case in point: Residents of Mission Trails Mobile Home Park.
To make room for a new $75 million luxury complex, the mobile park had to go — so did its 300 residents.
The place had offered a humble but decent life for Oneyda Pérez, who lived there for six years and worked as a kitchen assistant at a restaurant nearby.
Forced to move, the only thing she could afford was a place in SA's outskirts.
"Now it's more difficult for me because there are a lot of other costs coming and also lots of work," Pérez told the Current at the property in February. "Here in the city is where I have all my work, so it's going to be more difficult to start again."
Anti-gentrification groups like the Esperanza Center argued that the forced displacement of people will further split up an already class-divided city.
A study unveiled in February by the Martin Prosperity Institute listed San Antonio as the third most economically segregated large metropolitan area in the country.
"It's not just that the economic divide in America has grown wider," concluded Richard Florida, the report's author, "it's that the rich and poor effectively occupy different worlds, even when they live in the same cities and metros."
Inevitable Change
Some established downtown area dwellers who are better off economically may not have to worry about getting kicked out à la Mission Trails, at least not for the foreseeable future. To them, concerns stemming from new high-end apartments all around them focus on the impact on quality of life and lack of adequate infrastructure.
Mahncke Park residents are seeking historical designation for their neighborhood as a means of protection from new encroaching developments up and down Broadway.
Gabriel Shelton, president of the Mahncke Park Neighborhood Association, said he and his neighbors are concerned about out-of-control traffic and basic service problems because the area may not accommodate rampant population growth.
An engineer by trade who has experience in land development, Shelton clarified he's not about "making it difficult for people who have a vision" and who want to invest in new luxury apartments.
It's how they go about implementing that vision that makes all the difference.
"Change is not bad," said Shelton. "But development for development's sake is not good. Let's just slow down a bit and do things more intelligently."
It's a similar call being made by homeowners in the King William neighborhood.
The area has traditionally been seen as south of downtown, but its commercial and residential boom has essentially turned it into an extension of downtown.
Yet there's no turning back, according to Harry Shafer, president of the board of directors of the King William Association, established in 1967.
Shafer said the area has already reached "critical mass" with parking shortage and new apartments will put further strains on basic service needs.
But, he said, there's no point in fighting developers and the city — better to negotiate with them.
"Whether we embrace it or not, it's going to happen," said Shafer. "Change is inevitable, so we have to address it in a way that benefits both us and the city."
Worth The Money
Just about everybody who sees the high-end apartment boom as a boon for San Antonio, from city officials to business owners, developers to tenants, all reach the same conclusion: It has been awhile in the making and there's real demand.
"This is not coming out of the blue," explained Allyson McKay, president of the San Antonio Apartment Association. "We're just bringing a product people are looking for — and willing to pay the price."
No kidding.
The boom has brought about truly unprecedented rents, for SA standards. Folks up I-35 in Austin may be used to seeing these kinds of numbers, but not here.
We're talking easily over $1,000 a month for small studios and pushing $2,000 for one-bedroom units. And it goes up from there.
Shown, the developer behind the resurgence of the Pearl, said the next project currently underway, the 10-story The Cellars next to the future Hotel Emma, will feature 122 luxury condos expected to rent at about $3,000 a month on average.
Over at the Agave Apartment Homes, under construction in King William, leasing manager Emily Lucero said rents will range from $1,135 for a studio to $2,625 for a two-bedroom.
But it seems that people are indeed gobbling them up. Overall occupancy rate for the city stood at 93 percent for the first quarter of this year.
So, who are these people willing to fork over this kind of dough?
Renters like Bira and Knapik.
To them, and countless others, the price is simply worth it.
Knapik was so dead set on making a turn for urban life that she rented two units. The fourth floor of the Culinary Institute of America building at the Pearl, commonly known as CIA, is all hers.
She pays $1,946 a month for the two-bedroom she calls home and $1,595 for the one-bedroom she uses for her real estate office.
So her work commute is three steps down the hall. And she's got everything else she wants as soon as she walks out the door.
The only downside, she said, is that she'd much rather own the units than pay rent. She's working on that, trying to convince the owners to sell.
"It's just the price you pay to live downtown," she said. "Honestly, in all my years in San Antonio, I've never felt like I lived in a neighborhood until I came here — you have something in common with everybody."
Luis Muñoz couldn't have said it better himself.
He's an internal transplant, moving from his house out by SeaWorld to take over a brand new $1,300-a-month one-bedroom unit at River House Apartments on the River Walk, behind the San Antonio Museum of Art.
To the 37-year-old former local TV executive producer and current consultant and bar owner, the downtown resurgence is putting San Antonio on the national map, beyond just a tourist destination.
"It all feels like a new SA," said Muñoz. "It's putting us in a different kind of spotlight. People are now saying we're a cool spot to live."
Alamo City Chic
Many of the expensive, trendy apartments, lofts and condos are being taken by locals like Muñoz, who feel they've been finally given a reason to ditch the periphery for the core.
But without much fanfare, San Antonio seems to be quickly becoming a top draw for people from other Texas cities and even from those out of state, for whom $1,500 a month for a brand new high-end apartment smack in downtown is, well, a steal.
"The phenomenon we're seeing is somewhat familiar to what took place in Austin,"explained Lloyd Potter, demographics professor at the University of Texas at San Antonio who doubles as official Texas state demographer.
"It's led by two dominant groups: Millennials choosing location and lifestyle over career and high-income Baby Boomers who no longer want the house with the yard," Potter noted.
According to the most recently available U.S. Census figures, the largest influx of out-of-towners came from Houston, with 4,207 permanently making the drive down I-10 between 2008 and 2012.
In that same time period, 3,381 moved down from Austin.
And many Californians opted to make the Alamo City their adopted home — 1,423 from Los Angeles, 1,075 from San Diego and 722 from opulent Orange County.
Curiously enough, 1,212 people traded the island paradise of Honolulu for our heat and humidity. And an additional 581 left their desert homes in Phoenix.
"When you're getting tourists and conventioneers talking about living here and not just coming back to visit, you know something has changed," Potter said.
Culture & Tradition
The underlying current, the concern bordering on fear on the mind of many locals, is how long will this high-end living boom last and whether it will end up gobbling up more than just land.
Could it also usher in a permanent culture shift? Could San Antonio no longer be San Anto? Are we destined to actually become the next Austin?
The leaders of the boom readily affirmed there's nothing to worry about. Sure, there may be some demographic shifts, but change is coming about with the city's longstanding Mexican-American culture and tradition in mind.
"It's all about balance," said Houston, the city's point-person on downtown development. "We've done a great job of maintaining our authenticity as we've grown, and we don't intend to change that."
Yet activists said it has already changed and their goal is to try to prevent further loss of culture.
Sánchez, the Esperanza Center's director, cited her own parents as an example. They stopped going to the River Walk years ago because they were made to feel that it wasn't their place to be.
"You'll always have pockets of Mexican culture but people keep being pushed out and all these new people coming in don't have a clue," Sánchez said. "I'm afraid of what will become of our city."
Apparently, it's a palpable fear shared by none other than by the man who came up with the vision for downtown renaissance — former Mayor Julián Castro.
A year ago, Castro and the rest of city council faced a crucial decision: whether to approve a zoning change green-lighting construction of new luxury apartments at the site of the Mission Trails Mobile Home Park.
The council approved the measure by a 6-4 vote. Castro, despite being the leading cheerleader for his "Decade of Downtown," saw that there had to be some limits and development couldn't be done willy-nilly.
So he voted against the move.
"We need to be smarter about how we handle the issue of gentrification in this city," he said at that meeting.
Then he added: "We move mountains to create jobs in the city, we move mountains to preserve our aquifer, we move mountains to save bats, we move mountains to save historic buildings — and we need to move mountains for people."
Instead, the city moved mountains for developers and business interests. What will leaders decide next time a similar vote comes before them?
There must be a balance between pushing progress and denying change. San Antonio is at that juncture. Nothing short of the city's identity is at stake.