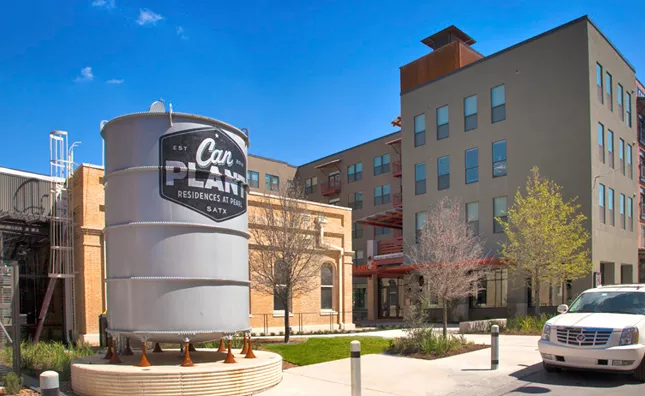 When 29-year-old Lindsay Bira began job-hunting last year after earning her doctorate in Miami, she kept an open mind as to where to move — provided the place at least offered her a good career opportunity.
San Antonio, to say the least, was not on her list of potential destinations.
For Lynn Knapik, 68, the question was where in the Alamo City to move, looking for a change after 16 years on the North Side.
Though they're two generations apart and with presumably widely different tastes and interests, Bira and Knapik chose to live in downtown SA — in particular, the growingly popular Pearl Brewery enclave.
They couldn't be giddier with where they now call home.
"I've been blown away," Bira, originally from Dallas, told the San Antonio Current. "I had a job offer and I hesitated but I came to check out the city and as soon as I saw the Pearl, I said, done deal, I'm accepting the job."
The duo represents the two-pronged driving force for the resurgence of downtown San Antonio as a residential hub composed of new high-end apartments. Millennials and Baby Boomers are the ones by and large gobbling up these new living spaces, in the process throwing the culture and identity of the city into a tizzy.
Core Momentum
For years, the rise of luxury living in San Antonio was mostly kept to new homes in the city's periphery, particularly the far North Side — spots like The Dominion and Stone Oak.
And some high-end apartments have been around for years, but also removed from the city's core.
Not anymore.
Beginning five years ago, fueled by the urban revitalization push from former Mayor Julián Castro's SA2020 plan — the "Decade of Downtown" — as well as the city's incessant population growth, developers opened up their wallets.
And, apparently, they realized they were playing catch-up.
"San Antonio's late to the urbanization game," explained Bill Shown, real estate manager for Silver Ventures, the main architect of the Pearl's renaissance. "So we're still in the early stages — we haven't even scratched the surface."
When SA2020 kicked off the city started with 3,100 new apartments in and around the five-square-mile downtown core and, since then, 4,300 more have been added to the market, according to Lori Houston, director of San Antonio's Center City Development and Operations Department.
The goal is to reach 10,000 units for the decade, she said. But even then, there'd still be plenty of room for growth, according to Shown, who estimated the downtown area could easily take in 30,000 apartments.
No matter the figure, it's all happening thanks to the city. Its leaders, starting with Castro, crafted the blueprint for downtown revitalization — and opened the door for developers through tempting tax breaks and other incentives.
All well worth it, the city determined.
"Prior to 2020, downtown was thought of being just a place for tourists and 9-5 for employers," Houston told the Current.
And it's not like the city's going to keep giving developers handouts forever, she pointed out. For-sale signs are already going up around downtown and eventually the city will be able to back off and let the market take over, she added.
Who Benefits?
Some longtime downtown area residents and their advocates would prefer if the city had let the market run things from the get-go.
They lamented that the new luxury development is turning them into SA's latest casualties of gentrification.
"That's all cool if it's all a matter of private investment," said Graciela Sánchez, executive director of the Esperanza Peace and Justice Center. "But not if they're spending $54 million of our tax dollars."
Houston maintained that, unlike other cities such as Austin, SA has actually gone about planning new housing in a smart way.
Many of the new apartment developments offer affordable units, such as those earmarked for college graduates. Other measures include requiring that 10 percent of units go for the same rent year after year.
Even then, low-income renters who have lived in or near downtown — many who keep the local hugely profitable service industry afloat by taking low-paying grunt jobs — said they can't afford to live in these new apartments.
"It's great to see this renewed activity but there's still a need for the city to offer more affordable options," said Heather Monroe, president of the Downtown Residents Association. "We're still very tourist-based and it's very hard for service industry workers to afford $2,000 a month."
Some of these residents are being forced to pack up due to skyrocketing rents or having to ship out to make way for new developments being built where they've been living.
Case in point: Residents of Mission Trails Mobile Home Park.
To make room for a new $75 million luxury complex, the mobile park had to go — so did its 300 residents.
The place had offered a humble but decent life for Oneyda Pérez, who lived there for six years and worked as a kitchen assistant at a restaurant nearby.
Forced to move, the only thing she could afford was a place in SA's outskirts.
"Now it's more difficult for me because there are a lot of other costs coming and also lots of work," Pérez told the Current at the property in February. "Here in the city is where I have all my work, so it's going to be more difficult to start again."
Anti-gentrification groups like the Esperanza Center argued that the forced displacement of people will further split up an already class-divided city.
A study unveiled in February by the Martin Prosperity Institute listed San Antonio as the third most economically segregated large metropolitan area in the country.
"It's not just that the economic divide in America has grown wider," concluded Richard Florida, the report's author, "it's that the rich and poor effectively occupy different worlds, even when they live in the same cities and metros."