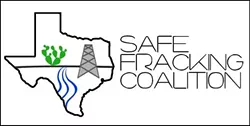 How does one shatter dense rock thousands of feet below ground with a toxic slurry and suck up the oil and gas in a environmentally responsible manner? Is safe "fracking" of oil shales even possible? Among those that aren't so sure, count the EPA, France, and states of New York, West Virginia, and Arkansas.
Yeah. There's that whole issue of massive water use. Judging from what North Texas and Arkansas have experienced, earthquakes may be on our horizon in South Texas, too. There are toxic chemicals to consider and the migration of methane itself as we crack the earth. Big issues requiring a statewide panel of impartial experts, one would think, as the South Texas Eagle Ford Shale explodes with oilfield activity.
Texas Railroad Commissioner David Porter set up an Eagle Ford Task Force earlier this week, charged with ... doing ... something.
He announced the task force in the same breath he blamed a contentious relationship with residents in North Texas on a poor communications job by the RRC and industry (as opposed to arsenic, barium, selenium, and lead in the drinking water). The Houston Chronicle quoted him as saying, "We weren't out front talking to community groups.
There was a perception out there that the (Railroad) Commission wasn't doing much of anything, and the oil companies were doing anything they wanted. That wasn't reality, but it was the perception."
South Texas should now expect a serious press in the media related to the boom potential of the Eagle Ford Shale (and we don't mean exploding houses) as Porter suggested happen ... as if our local paper weren't doing enough already.
While the American Natural Gas Alliance praised the "diversity of interests" represented on the panel, the Laredo-based Safe Fracking Coalition is highly critical of the body's makeup.
We went looking for diversity, and found 12 of the 22 members to be straight out of the oilfield and oilfield services side of the equation. Two members very unlikely to challenge the allure of jobs. A TCEQ rep (enough said?), a mixed bunch of politicos, but only four members that likely have cleanliness at the top of their to-do list.
Here's the breakdown:
OUT-AND-OUT INDUSTRY REPS
Kirk Spilman – Marathon Oil, Asset Manager Eagle Ford, San Antonio
James E. Craddock – Rosetta Resources, Senior Vice President, Drilling and Production Operations, Houston
Steve Ellis – EOG Resources, Senior Division Counsel, Corpus Christi
Brian Frederick – DCP Midstream, Southern Unit Vice President for the East Division, Houston
Stephen Ingram – Halliburton, Technology Manager, Houston Business Development & Onshore South Texas, Houston
James Max Moudy – MWH Global, Inc., Senior Client Service Manager, Houston
Trey Scott – Trinity Minerals Management, LTD, Founder, San Antonio
Mary Beth Simmons – Shell Exploration and Production Company, Senior Staff Reservoir Engineer, Houston
Terry Retzloff – TR Measurement Witnessing, LLC, Founder, Campbellton
Greg Brazaitis – Energy Transfer, Vice President, Government Affairs, Houston
Susan Spratlen – Pioneer Natural Resources, Senior Director, Corporate Communications & Public Affairs, Dallas
Paul Woodard – J&M Premier Services, President, Palestine
LIKELY JOBS-FIRST MEMBERS
Glynis Strause – Coastal Bend College, Dean of Institutional Advancement, Beeville (training oilfield employees)
Leodoro Martinez – Middle Rio Grande Development Council, Executive Director, Cotulla (jobs)
MEMBER OF ONE OF THE WORST REGULATING BODIES IN THE NATION
Erasmo Yarrito – Texas Commission on Environmental Quality, Rio Grande Valley Water Master, Harlingen
POLITICOS: A MIXED BAG
The Honorable Jaime Canales – Webb County Commissioner, Precinct 4, Laredo (who missed a very important meeting recently)
The Honorable Daryl Fowler – Dewitt County Judge, Cuero (who has been making his meetings)
The Honorable Jim Huff – Live Oak County Judge, George West: Who appears to have made his position clear on a recent Facebook post...
CLEAN ENERGY/ LAND&WATER
Chris Winland – Good Company Associates; University of Texas at San Antonio, Interim Director, San Antonio Clean Energy Incubator, Austin/San Antonio
Teresa Carrillo – Sierra Club, Executive Committee Member – Lone Star Chapter, Treasurer – Coastal Bend Sierra, Corpus Christi
Anna Galo – Vice President, ANB Cattle Company, Laredo
Mike Mahoney – Evergreen Underground Water Conservation District, General Manager, Pleasanton
We'd love to be wrong in our pessimism, but here's how the Safe Fracking Coalition sees it:
Commissioner Porter and the Task Force have come under strong fire from local public health advocates and environmentalists concerned that the group of appointed members is tantamount to putting the fox in charge of the hen house.

"Commissioner Porter's misguided decision to load the Eagle Ford Task Force with oil and gas company insiders and cheerleaders is unsettling from a public health and environmental standpoint," says Laredo-based Safe Fracking Coalition (SFC) co-founder Daniel Monahan.

"Unfortunately, despite the potential for catastrophic public health and environmental consequences associated with hydraulic fracturing in the Eagle Ford shale play, those who may bear the brunt of the negative consequences of fracking will not have a seat at the table."

Of the 22 task force members, Porter failed to appoint a single public health expert, toxicologist, air quality specialist, water quality specialist, or hazardous materials specialist.

In May, Porter announced his decision to form the Eagle Ford Task Force in South Texas, in response to public backlash in some North Texas communities during the drilling boom of the Barnett Shale. The goal of the new task, Porter explained, is to overcome a "perception problem that no one was regulating the oil and gas industry."

"It's a fine line we walk at the Railroad Commission, between protecting public health and safety and promoting the industry," Porter told the Houston Chronicle in May.

Yet, why does Porter appoint a task force that values profits first, and environment second? This new task force appears to be a public relations effort to put a pretty facade on a questionable practice that should receive strong scientific and public scrutiny. It should not be glossed over. Water and air are too important for our future.

Will the individuals on this task force be knowledgeable enough to address the serious health and environmental risks posed by this activity that are woefully ignored? Or will they sit-back, trust the status quo, and allow our scarce natural resources to be exploited and mismanaged?

The public cannot trust these members to speak freely and ask the hard questions if most are representing their personal, financial or political interests.

The Railroad Commission, itself, proudly boasts a drilling permit processing time of one to three days. It is questionable whether this is enough time to assess environmental and safety risks. As for the elected officials, how much time do they actually spend researching the environmental concerns associated with oil and gas extraction, versus the amount of time they spend being lobbied by oil and gas companies?

The Railroad Commission of Texas has proven to citizens, once again, that it is incapable of making decisions that put public health, the environment and safety before profits. It's a sad day in Texas, indeed.

— Signed, SFC Steering Committee: Bernice Ballesteros, Armando Cisneros, Tricia Cortez, Dr. James Earhart, Able Flores, Cordelia Flores, Fabiola Flores, Viky Garcia, Victor Hugo, David Hunt, Alex Iadipaolo, Santos Jimenez, Austin Martinez, Juan Mendive, Dan Monahan, Virginia Palacios, Jesus Quiroz, Jeremy Thompson.