A friendly reminder that democracy requires participation, so get your vote on. Early voting for the joint primary election in Bexar County starts Tuesday, Feb. 18 and runs through Friday, Feb. 28. Primary election day takes place March 4. For a list of all early voting locations in San Antonio, check out this handy map
via Nowcast SA
 or
this map
straight from Bexar County.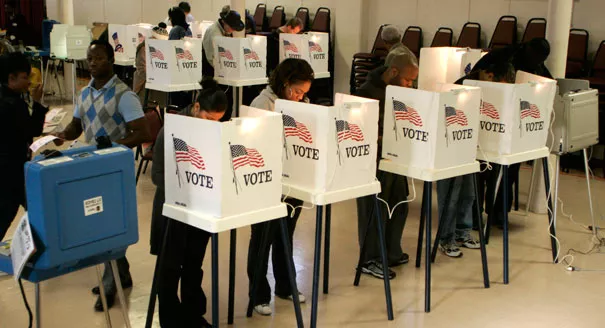 via Creative Commons Images
The ballot will include county, city, state and federal candidates as well as party referendums. Here's an example of the Republican Party ballot and a Democratic Party ballot. As a Texas voter, you can vote for either party but once you've picked a party you can't waver (so no voting for a Republican in a possible runoff election if you've already voted for a Dem in the primaries.)
And remember, thanks to the new voter ID law, only certain forms of identification will be allowed at the polls and others—like a student photo ID alone—won't cut it anymore. They include a Texas driver license issued by the Texas Department of Public Safety (DPS), a Texas concealed handgun license, a U.S. passport, a U.S. military ID with photograph and a U.S. citizenship certificate with photograph.
If you're aiming to be radical this election cycle and abstain from the whole voting thing, think again. Texas is known for its abysmal voter turnout compared to other states and Bexar County is no different— in the last gubernatorial primary less than 13 percent of registered voters showed up at the polls and when it came to the 2010 election less than 35 percent cast a ballot, according to County elections department data.
Sadly for us, voting is the alternative trend. So, if you really really want to be a rebel—go vote.