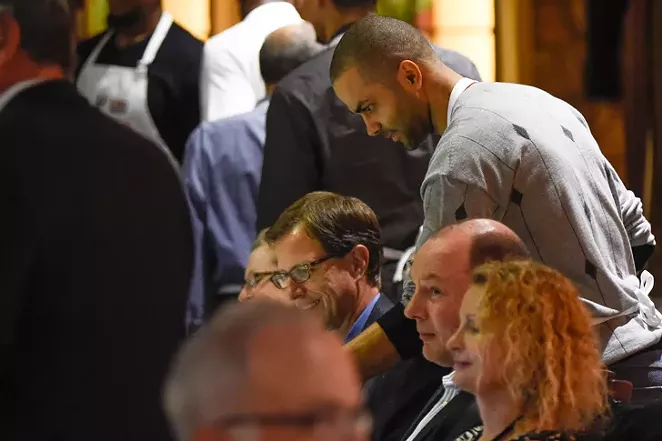 Andrew Patterson
Tony serving guests during the San Antonio Food Bank's Champions Against Hunger fundraiser at the Grill in Leon Springs.
This should literally come as no surprise, but Spurs point guard Tony Parker is a full-blown gourmand. So when he's not touring wineries in
Bordeaux
, or leading
cooking classes
in H-E-B commercials, or helping raise funds for the San Antonio Food Bank with the rest of the squad during
Champions Against Hunge
r, the 33-year-old enjoys home-cooked meals as prepared by his personal chef, Cliff Chetwood.
Last week, Parker and Chetwood announced the upcoming launch of
Crème de la Crème
, a new French food truck that'll help us all eat like No. 9 — sans the pressure to help the Spurs get another championship, of course.
The
San Antonio Current
chatted with Parker post-shoot around to learn why he committed his own dough to the cause and what we should expect out of Crème de la Crème. Read more about chef Chetwood in Wednesday's print issue and online.
I guess let's start at the beginning, how did you turn into such a food-driven player?
Basically when I was 27, 28, I wanted to do something with my food. I wanted to try to eat better and I thought it would be a good time to hire a chef. I wanted to eat more healthy, and so I hired my own chef. I looked in San Antonio. I wanted to take someone that I could train and customize to the stuff that I like basically. I found Cliff, who was born and raised in San Antonio and I wanted to give him that chance. He started working for me doing lunch and dinner and then I sent him to my favorite restaurants in Los Angeles and others around the U.S.
When I went back in the summer to France, I brought him with me. He stayed for two months in France and then I sent him to Paul Bocuse and Michel Troisgros and asked them if they could train him so he could get better. He trained with them for two, three weeks each and then worked my foundation dinner, he was able to see how people work when you have 100 people at a dinner. He got all that knowledge and then he was great. He came back and kept working for us. After six years working for me and my family, he asked me "Can I do a food truck? I would love to share my knowledge with the people of San Antonio."
What'd you say to that?
Why not? I thought it was a good idea and that's why I decided to give him the money to start a food truck. Then it's all him. It's not my food truck, it's Cliff's. I just wanted to help him out. I love his work ethic and I think he deserves to have his own thing and to share it with the people and community of San Antonio. I won't make any money on it.
What was it about Cliff's work ethic? What made you want to invest so much time on someone?
He's reliable. When you start something in your house, I think trust is very important. He's going to see your whole family, your kids, my mom, my dad, my brothers. He's always here, he's never sick, he's always on time, and the food is great. He works hard and that's all I can ask when you hire an employee. He just got better and better after sending him to those places in LA, Lyon, and he wanted to work hard. For me, it was so rewarding to see him work hard. It made me want to give him the money to start a food truck — he deserves it.
Facebook/The Point Park & Eats
Chef Cliff Chefwood in front of Crème de la Crème.

What items from the truck are you most excited about?
He did the menu with everything that he learned in France. I think people will enjoy the croque monseiur and the madame. I think the goat cheese salad is good, it's very typical French. I think the menu is very good. It's a total of 10-11 items. I think the crepes will be very successful for dessert. That was the whole idea behind it. Giving him a chance and helping someone from San Antonio. I'm proud of him for starting from scratch and I think it'd be a good idea to put some French flavors in the community of San Antonio.
Is there anything he can't cook for you at home?
No. I give him freedom. With my wife it depends, especially right now since she's pregnant, she's craving a lot of stuff, a lot of fruit salads. Some nights we just tell him to do whatever he wants and be creative.
What would you say to the San Antonio audience that might not be so familiar with French fare?
I think for the food truck we tried to keep it simple. Obviously, we tried to stay authentic, but we didn't go too deep. We're not going to have foie gras or stuff like that. I think that's like really, really French. We have to stay adapted to the San Antonio community.
What do you eat during the off-season?
I eat everything. I have no preference. I love to eat, I just eat everything.
Are there any restaurant or chefs in town you're a fan of?
I like Bistro Vatel with Damien, obviously. I like Tre on Broadway. Silo sometimes. We don't go out that much to be honest, because we have our own chef at home, so it's like being in a restaurant. We like going to food trucks too because since we have kids it's great. The Point has the food trucks, and the bar and the little playground for the kids to play. It's good for playdates with our friends.

You can dine at Crème de la Crème this Friday, March 18 starting at 3 p.m. at The Point Park & Eats (24188 Boerne Stage Road, 210-251-3380). The truck will park at The Point Thursdays from 5 to 10 p.m. after the opening.