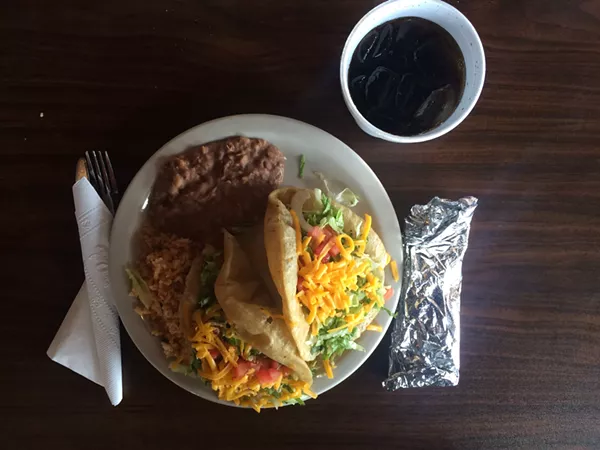 The Puffy Taco Plate at Teko Molina ($6.99)
Even at Teka Molino's relatively new location on Rittiman, it's easy to see why the restaurant is a San Anto mainstay. Friendly, quick service and affordable prices make the Tex-Mex staple easy to love, but it's the puffy tacos, fried cheese tacos, and enchiladas that have made believers out of locals for more than 70 years.

Teka offers daily lunch specials, three of which are enchiladas. Whether it's beef, cheese or green chicken ($6.99), the plates come with a generous portion of beans and rice, in addition to chips and salsa, a cookie and regular tea.

Go on Thursday, get their famous puffy taco, and cancel all other Thursday lunch plans for the rest of your life. The plate offers two freshly fried tortilla shells, inflated, buxom and tanned to gold, each of which can be filled with chicken, beef, bean, or guacamole. The shells are delicate and will collapse quickly under even the best conditions. Whether it's drippings from the succulent beef or the juice from fresh, spicy salsa, it's only a matter of time before the vessel becomes saturated and begins to question its structural integrity. Eat quickly so you can savor the dish at its peak, and behold a puro all-star in all its glory.

Other options, such as the chicken flautas ($7.35) or chile relleno ($9.45), are solid choices as well. The flautas, which are rushed from the fryer and thus snappy crisp, come with a medley of salsas, guacamole and sour cream, allowing the salty cylinders to find their delicious balance.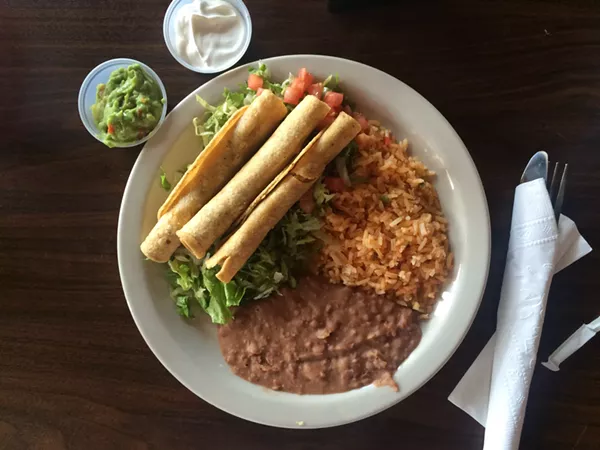 Teko Molina's Chicken Flautas ($7.35)
Go with the relleno (or better yet the mole for $9.45), and
you'll really see the chops of the kitchen. The restaurant excels in
affordable, quality food, but anything involving a sauce — enchiladas, guisadas,
chile con queso — reveals how rich the restaurant's recipes have become over the
last few decades, steeped as they are in tradition, trial and error, and the
gradual attainment of near-perfection. From the highest mole to the lowliest
salsa, any and all toppings are executed with a skilled hand. Try their carne g
uisada and see for yourself.
1007 Rittiman Road, (210) 257-5514.
Follow Mark on Instagram and Twitter for more.