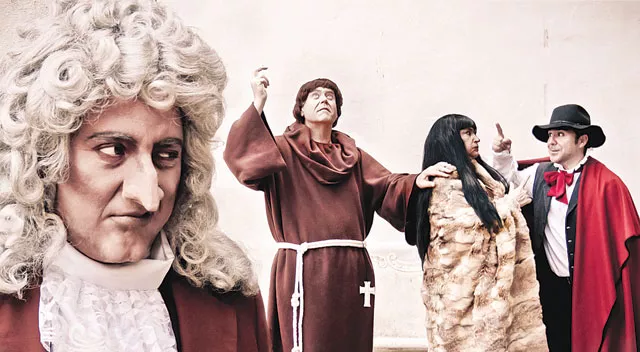 Photo by Troy Wise
Elijiah Rios, Kevin Murray, Pamela Dean Kenny
Three things that no sane adult would want to go near throughout this season of institutionalized jollity: a shopping mall, a bowl game, and A Christmas Carol. "Bah, tonterías," says Ebenezer Scrooge in a Spanish translation of his derisive dismissal of Yuletide sentimentality. And the prospect of a Latino-inflected version of the Charles Dickens story might lead even those ignorant of entomology to cry: "Humbug!" Yet what Kim Corbin, Robert Rehm, and Chuck Squier — three members of the Jump-Start company — have concocted for December multicultural merriment is less Dickensian than Shakespearean. Ebenazio does follow the trajectory of its title character from miserly misanthropy to loving generosity, but the spirit and structure of this self-described Winter's Tale is more akin to A Midsummer Night's Dream than A Christmas Carol.
The time is 1731, in the weeks leading up to December 25. The setting is the slice of North American wilderness that would later be called San Antonio. One character refers to it as "this God-forsaken, hellacious hellhole." Four groups are struggling to coexist: Los Indios (Payaya Indians who inhabit the original site they call Yanagauna); Los Soldados (a militia commissioned by the Spanish king and led by a captain named Ebenazio); Los Franciscanos (a group of monks whose mission is to spread the Christian faith in the New World); and Los Isleños (recent arrivals from the Canary Islands). Like a typical Shakespeare play, Ebenazio follows four plots that, defying Euclid, both parallel and converge.
The giddiness ensues from the beginning, when a saucy wench named María Cristina (Marisela Barrera) speaks flippantly to the audience about the story in which, as mistress to Captain Ebenazio, she plays a nimble part. Early on, in one of the production's most effective scenes, three Franciscan friars become progressively plastered from what they belatedly realize is consecrated wine — i.e., the blood of Christ. "My bad," apologizes cross-dressing lesbian Brother Barbara (Crystal Don). As Padre Paddy, an Irishman with a mellifluous brogue improbably leading a Franciscan mission in 18th-century Texas, Kevin Murray is a fountain of mirth. He instructs the natives in Christian doctrine through TV games including The Price Is Right and Jesus Jeopardy. Other outrageous anachronisms scattered throughout the play include references to the Spurs, Rolexes, and Julián Castro. What Padre Paddy calls their "phony Castilian accent," along with their ludicrous costumes and makeup, put Ebenazio (Elijiah Ríos) and his sister Hortenzia (Kathleen Couser) over the top in a play that is always bottoms up. Juan Canario (Mauro Garza), leader of the Canary Islanders, is a Gatling gun of malapropisms. "Here it is in a nutcase," he says when he wants to make a long story short.
Suspicions and tensions over land and water rights among Indios, Soldados, Franciscanos, and Isleños gradually metamorphose into mutual understanding and respect, and San Antonio is set to be the capital of multicultural enlightenment and empathy that we know it today. But those allergic to treacle can ignore the sentimentality lurking beneath the daffiness and simply enjoy a boisterous blend of English, Spanish, and waggish.
Ebenazio — A Winter's Tale of Old San Anto
By Kim Corbin, Robert Rehm, and Chuck Squier
Directed by Kim Corbin
$10-$15
8pm Fri-Sat; 3pm Sun
Jump-Start Performance Co.
Sterling Houston Theater
108 Blue Star
(210) 227-5867
jump-start.org
Through December 16