It's doubtful any of the audience members at Ed Sheeran's AT&T Center concert complained about his guest appearance on a certain dragon-filled HBO show.
No, these were Sheeran's people. And the sold-out crowd (a happy mish-mash of squads, couples and a handful of parents) was there to see the red-haired wonder perform tracks off his latest, ÷. He'd been here before. Not for
X
(his sophomore album), but as an opener for Taylor Swift during her Red Tour. And much like in 2013, the Londoner captivated an audience with little more than his guitar. Well, production value during a headlining tour dictates a showy video display and several more guitars.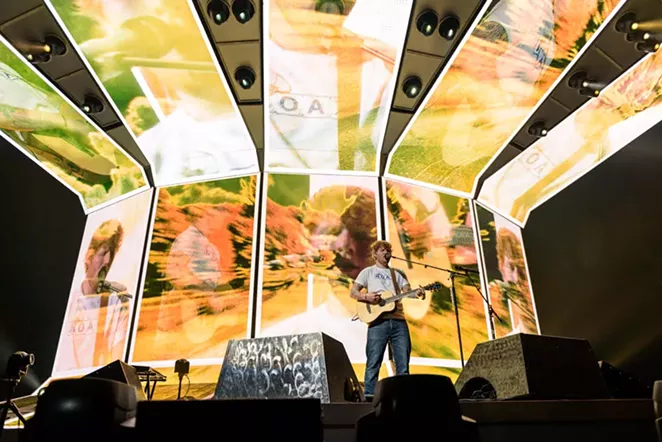 With a concise 90-minute set, Sheeran lit up the stage and the AT&T. He started things off with the nostalgia-fueled "Castle on a Hill," and indulged the audience in pleasantries (this was his last Texas date, after all). "Don't" gave way to a medley of the cheeky "New Man," an ode to all the basic fuckbois out there in Insta-land.
Though we can't deny the appeal of those heartstring-pullers, namely "The A Team," "Thinking Out Loud" and "Photograph," which included a Plaza Level-proposal, Sheeran's best work lies in the heart-pumping bangers, like "Bloodstream," "Nancy Mulligan," and show-ending "Sing." It's high-energy song-building, rapping, ad-libbing and flitting across the stage — with no assists from a band, back-up singers, dancers or elaborate sets.
Sheeran donned LaMarcus Aldrige's N0. 12 jersey as the lone wardrobe change of the night during Tuesday's encore of "Shape of You" and tongue-challenging "You Need Me, I Don't Need You." If he's not coming back for another four years, Sheeran left San Antonio with plenty to remember him by.