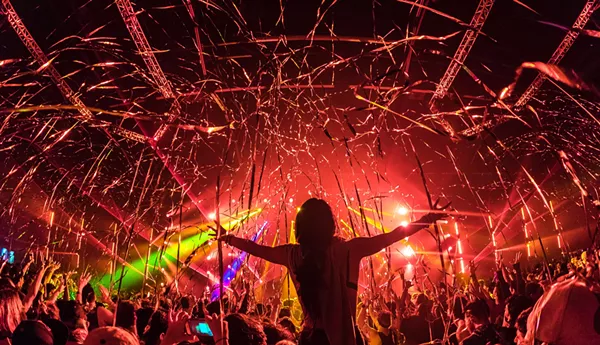 courtesy Lights All Night
To be perfectly honest, EDM is not my thing at all. But when a PR acquaintance hit me up to see if I wanted to come up to Dallas for Lights All Night, arguably the biggest EDM fest in Texas, I thought "what the hell – let's do it." After all, we threw Lights All Night on a recent blog about
shows worth traveling to in Texas
.
You might be wondering why we're reviewing something that's happening in Dallas at all, considering we're the San Antonio
Current
, which is perfectly logical. I mean, we've covered
SXSW
,
ACL
, and most recently
Day For Night
in Houston and I kinda wanted to see if the trip would be worth it for any SA folks wanting to check out the festival since we don't get too much EDM coming through SA. Low and behold, the very first day of the festival, I run into a dude rockin' a throwback White Rabbit (now Paper Tiger) T shirt – guess some of y'all were here after all.
Now in its eighth year, the two-day fest took place this past Friday and Saturday in Dallas Market Hall, a sort of warehouse spanning a massive 200,000+ square feet, with two stages, and a lineup that the folks I talked to at the event were pretty stoked for. Stoked enough that many traveled from out of state including Mississippi, Alabama, and even Alaska.
We got to the venue just in time to watch Ookay wrapping up his set on the main stage, which on top of having an enormous LED screen behind it and in front of the DJ booth, also sat between five huge vertical LED panels on each side of the stage, with lasers and lights working with the shifting color patterns to help send dancers into electronic trances. The 25 year old's performance Friday night was actually his third live set ever, pretty impressive considering dude sounded like a seasoned pro. After Ookay, we walked over to the second stage where Whipped Cream, a female DJ I had checked out during my homework for this review, was already dousing the crowd in waves of bass and lights. Besides Friday's and Saturday's headliners Bass Nectar and Marshmello, Whipped Cream was one of the sets I was looking forward to watching since her music was a little more edgier, aggressive and less poppy than some of the DJ's like Illenium and NGHTMRE.
courtesy Lights All Night
Before Bassnectar closed out Friday night with his hard-hitting mix of dubstep and drum 'n' bass and electronica on the main stage, Illenium pulled the crowd through his signature future bass and poppier EDM, but not without a few hick-ups in the sound. Like, literally before a few of his first drops – the breakdowns the crowds live for in the EDM world – the power would cut out making some of those moments probably some of the most anti-climactic music memories I've ever witnessed and I honestly just felt bad for the dude, 'cause it didn't seem like it was his fault.
Admist the costumed club kid outfits ranging from unicorns, fairy's, or just like, practically naked folks with gold flakes and glitter all over their bodies, the vibe over the two days was just friendly. There were no strangers, just friends that haven't met yet; folks complimenting each other's outfits and then going hard on the dance floor together as a techno family vibing.
The second night ran smooth all the way through with NGHTMRE, Seven Lions and Marshmello closing out the evening on the main stage. You could tell that most folks were there for Marshmello, as a good number of them were rocking his signature white outfit and head piece that looked like, well, a marshmallow. The best way I could describe this dude's music is just happy: happy, heavy, bassy dance music that sounds like someone took our most joyful dreams and through some punchy beats over it for us to experience in waking moments.
"There's nothing like a Dallas crowd, or a Texas crowd," said Marshmello who actually keeps his identity hidden because "we are all Marshmello." (Awwww).
Overall, if you dig dance music and festivals in general, this is definitely worth the four and a half hour drive up. Book a hotel or an Airbnb near the venue and half yourself a dope weekend. Coming from someone who really doesn't get down with too much dance music, I really had a blast. Lights all Night is an experience any EDM lover doesn't want to miss.