The drive to repeal the city's recently passed LGBT non-discrimination ordinance has failed.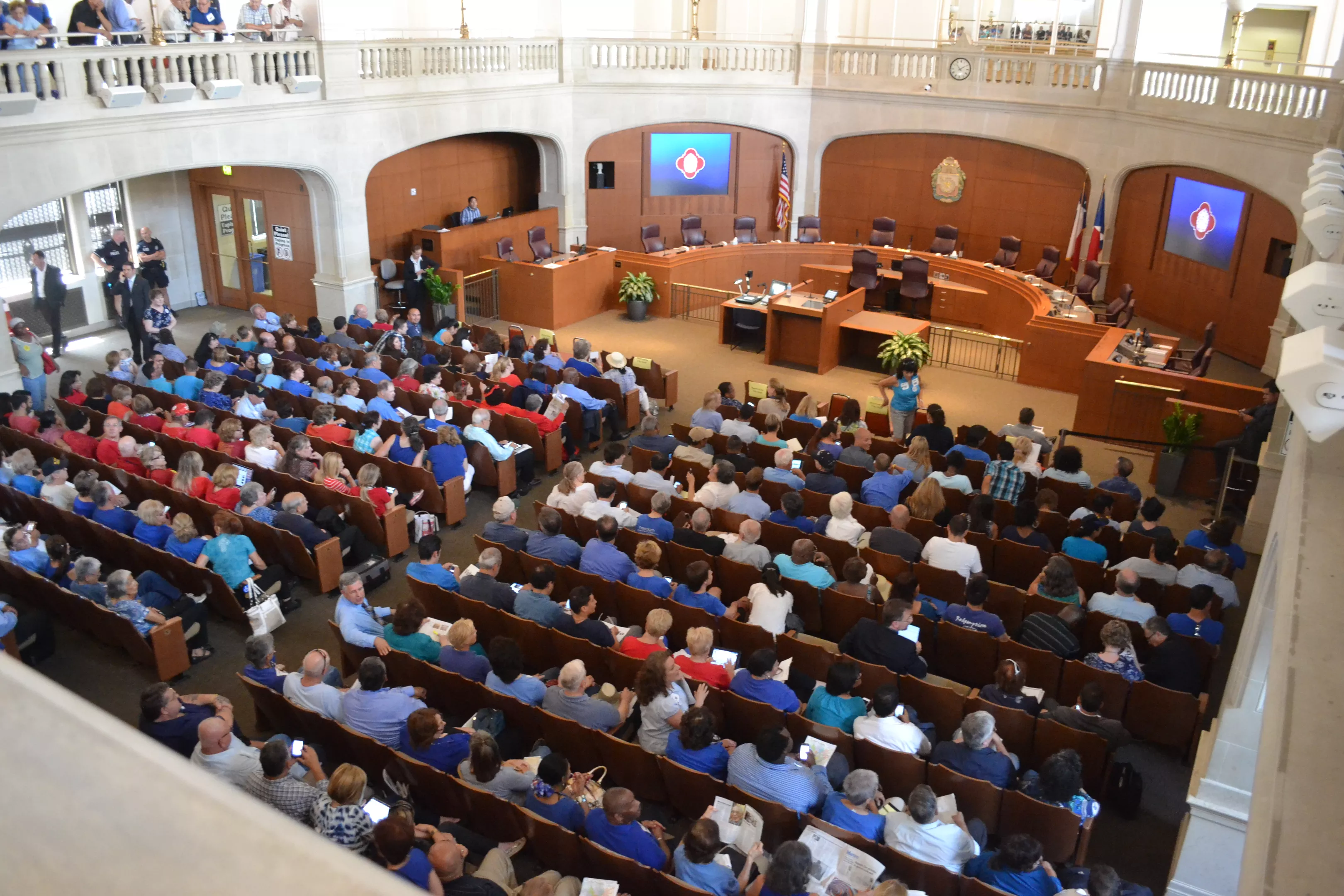 Remember this? Hundreds signed up to testify for or against the NDO at city council chambers before a final vote approved the ordinance. Photo by Mary Tuma
A group of churches opposed to the NDO sought to collect enough signatures to place the ordinance on a citywide ballot for voters turned up unsuccessful. The religious groups had until today–40 days after city council approved the measure– to meet their deadline. The effort was spearheaded by Pastor Gerald Ripley, an adamant critic of the NDO.
City Clerk Leticia M. Vacek says she received a call right before lunch from Ripley, who told her the churches were unable to get the required number of signatures. (The referendum petition needed more than 60,000 names. )
The ordinance grants gay, lesbian, bisexual and transgender residents equal protections when it comes to job hiring, firing, public accommodations, housing and city employment and contracts as well as board and commission appointments by adding "sexual orientation" and "gender identity" to the city's anti-discrimination code. San Antonio is the only major city in Texas that doesn't include protections for their LGBT residents in the municipal rulebook.
"We consider this effort a huge waste of personnel, time and money by those who are motivated solely by hatred and bigotry against LGBT people in our city," said LGBT-right group, Community Alliance for a United San Antonio (CAUSA), co-chair Dan Graney in a release delivered before the 5 p.m. petition deadline. "The vast majority of Council members voted for the NDO and over 70 percent of San Antonio voters support LGBT protections in the workplace and in housing.  Moreover, this is something that is policy in over 180 cities across the country and in 96 percent of Fortune 500 companies."
The NDO debate attracted hundreds of impassioned testifiers and protestors who flocked to city council chambers over the past few months to voice their opinion. In a 8-3 vote, council voted in the measure on Sept. 5, igniting another round of heated opposition, who have made it a mission to banish the ordinance itself as well as remove public officials– still circulating is a petition to directly recall city council members and the mayor for voting in support of the NDO, as the Current previously reported. That effort is being mounted by a local conservative group.