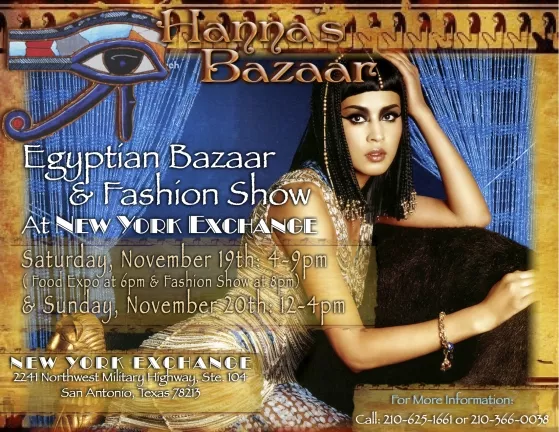 Save the Date! Just in time for Christmas!
Saturday November 19 from 4-9pm and Sunday November 20 from noon-4pm
For Saturday Only:
Food Served 6pm
Fashion Show 8pm
I am very excited to announce that Barbara Alarcon and Amanda Alarcon with New York Exchange and Mr. John & Imelda Hanna will be hosting an Egyptian Bazaar and Fashion Show. Come and shop some of the most exquisite imported dresses, blouses, shoes, scarves, jewelry, handbags, frames, original papyrus Egyptian art, and many more unique and fabulous items.
There will be an array of authentic Mediterranean food and wines. We will also be raffling off several items to the lucky ticket numbers. DJ KB* will be there to musically entertain. We will also have and Egyptian-themed face and body painting artist as well. The food will be served at 6 p.m. and the runway fashion show will begin at 8 p.m.
We look forward to seeing each and every one of you so come out and enjoy a festive day at New York Exchange and bring the kids!
If you have any questions please feel free to call 210-625-1661 or New York Exchange at 210-366-0038 or 210-367-7080, or send an email to. You can visit the store virtually at NYExchange