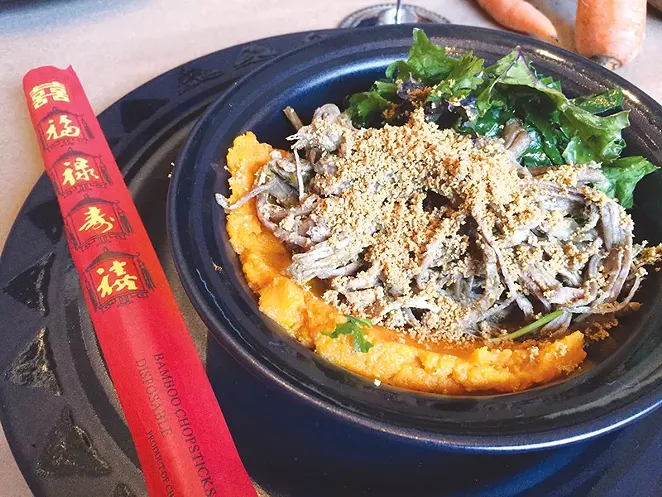 Jessica Elizarraras
The Blue Plate Special is an evolved take on the Brazilian feijoada.
There's a healthy overlap between what Pharm Table Café is trying to do and where it fits in the grand scheme of things. As the newest dining concept in downtown, the eatery is housed inside the Radius Center Building and brought to life by chef Elizabeth Johnson, a former instructor at the Culinary Institute of America-San Antonio. Johnson first launched Pharm Table, a meal-delivery concept in early 2015 with sugar-, dairy- and gluten-free foods. Don't let that turn you off.
The café opened earlier this fall with pop-up lunch available on Fridays and has grown to include Tuesdays through Thursdays from 11 a.m. to 2 p.m. Wooden tables are scattered along a roughly 500-square-foot space that's chill and airy enough without feeling empty — I'd liken it more to a library than anything else. Parking can be limited, but I'd suggest leaving your car curbside along Auditorium Circle or Lexington Street to be on the safe side.
The food menu (broken down into soups, salads, bowls and small plates) changes often, if not daily, so I can only share details on menu items I've had. They may or may not be there when this article runs. Johnson takes from her Ayurvedic lifestyle — a holistic and healing system that focuses on the delicate balance of mind, body and spirit. Whether or not you ascribe to Ayurveda, or if you're cleansing, or if you have dietary restrictions, all things that Pharm Table hones in on, a visit is in order. Johnson and her tiny staff cook seasonally, tapping into cultures across the globe for their menu.
My first visit was a hurried one — learn from my mistakes and call ahead. Order the butternut squash soup, if available, a velvety and not-too-thin starter. Bowls ($9) kept my Texan food attitudes happy, so I went with the vermicelli bowl of squash ribbons with sprouted lentils, mung bean, carrots and light Asian dressing. Meat eaters need not worry. Animal proteins are available for an additional $3-$5, and all are sourced from local farms. I happily chomped on my vegan lunch and felt great throughout.
At a later visit, I ordered the "Blue Plate Special," Johnson's take on a Brazilian feijoada (or stew of beans with beef and pork). Served with chopsticks (though traditional cutlery is available), the bowl combined a carrot and chia seed mash, garlic-rich collard greens, thin squash noodles topped with shredded Wagyu beef and crushed pepita seeds. The delicate flavors paired beautifully — extra points for winning us over with all the fiber.
Ayurveda or not, Pharm Table's "eat better, feel better" motto is spot-on in the best of ways. Get down there now.