After a standing applause from a small group of supporters, District 9 council member Elisa Chan delivered a much-awaited full-length statement regarding her homophobic comments, exposed by a secret recording last week.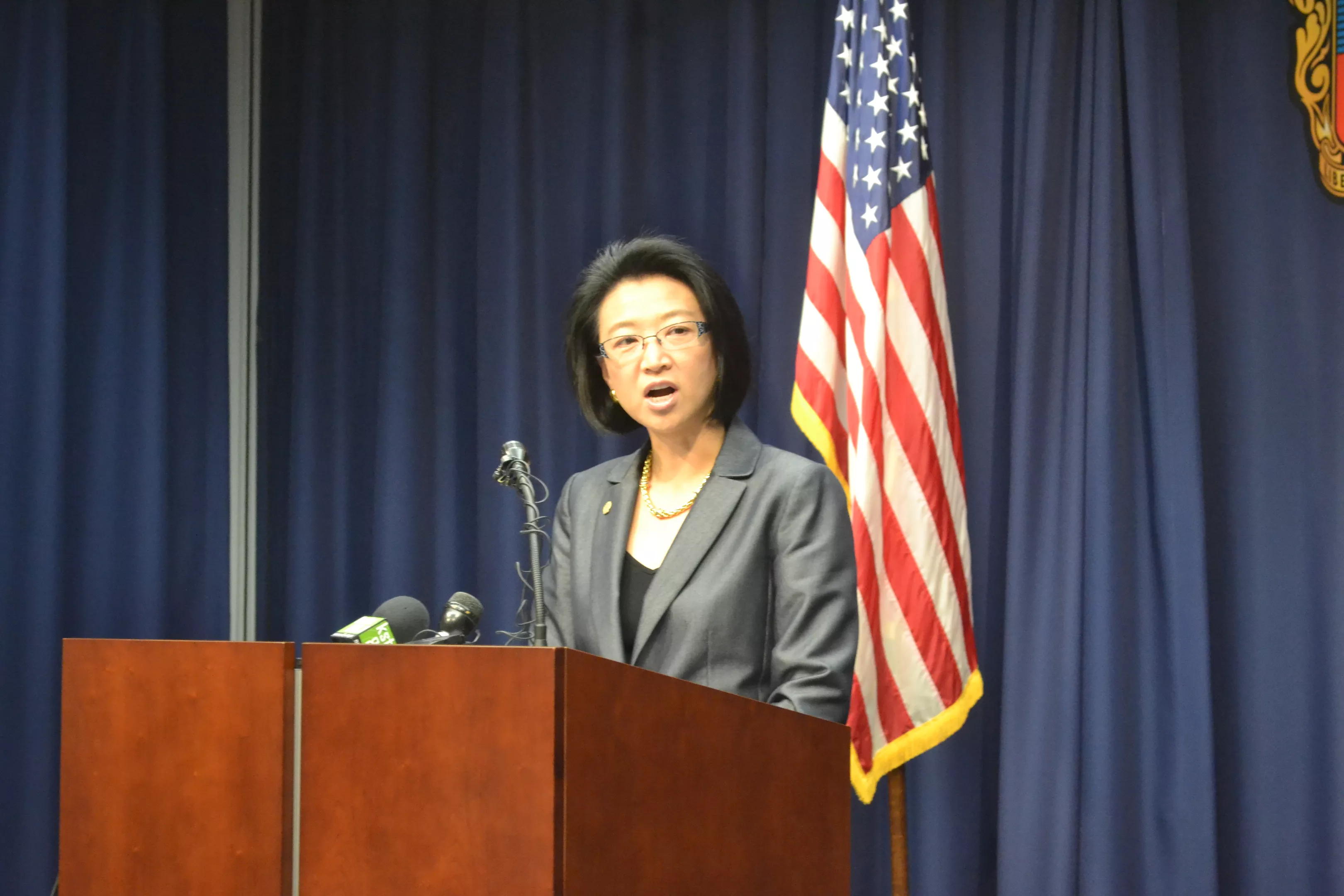 During a Tuesday press conference, council member Elisa Chan invoked privacy and free speech rights while defending her controversial remarks about the LGBT community. Photo by Mary Tuma
Strategizing about how to oppose a future vote on the city's proposed LGBT non-discrimination ordinance with staff, Chan is caught saying homosexuality is "against nature" and that gay people shouldn't be granted adoption rights, among other controversial comments. While her noticeably slow public presence had some calling into question her transparency, Chan attributed her absence in the days after the fallout to an out-of-town family trip. During the City Hall press conference Tuesday morning, Chan continued to defend her remarks as protected under free speech and privacy rights.
"I know that many people find the comments made in the meeting offensive, but again it was a confidential meeting set in the privacy of my office where none of us are supposed to worry about what we say," said Chan. "These meetings have been and will always be a free-speech zone."
Chan claimed many of the comments she made were taken out of context, pointing to her exasperated "disgusting!" as a reaction to pedophilia and bestiality not the LGBT lifestyle. She also took aim at former aide, James Stevens, who is responsible for releasing the audio recording, saying Stevens was bound to a contractual confidentiality clause and never expressed discomfort with Chan.
"There are additional comments you are aware of that reflect my belief system. My belief system is mine and it does not mean I want to impose those beliefs onto anyone else," she said. "Even though the LGBT community and I do not share the same views, I respect and support their personal freedoms and right to their lifestyle."
"I will however, not change my own values or beliefs for political gain or survival; I would not expect that of anyone else. I stand firm in my right to have my private views in a private conversation," said Chan, to loud applause from the audience, many of whom wore blue clothing– symbolizing their opposition to the LGBT equality ordinance.
"Political correctness will not win this day; standing firm as an individual in service to the whole community does," she added.
An apology was not issued.
The Current asked Chan if she would be willing to undergo LGBT education and sensitivity training, a request made by the LGBT activists during their own press conference last Friday.
"Even though we may or may not agree with each other, my beliefs, my views are mine, I do not impose that on anyone else," Chan answered. "I'm not asking anyone to agree with me, so my question is all this pressure for me to agree– I simply don't understand."
Responding to other questions from the media, Chan said she would not recuse herself from the upcoming LGBT non-discrimination ordinance vote and that she did not explicitly oppose it, despite the strategy session to come out against the NDO featured in the covert recording.
"I never said I opposed anything. The final draft of the ordinance has not come up yet," said Chan. "We have not seen the final version. We will have the opportunity in the B session to discuss that."
Following the brief conference, Dan Graney, co-chair with LGBT-rights group the Community Alliance for a United San Antonio (CAUSA), expressed his disappointment with Chan's lack of regret and reconciliation. While Chan said her expectation during the "brainstorming" session was that she and her staff would be, "safe and free to express" personal opinions and thoughts, Graney doesn't buy the defense.
"She is entitled to her own views and opinions but in this case she was on city property, with city staff, on city time and discussing city business—that makes me question if her claims of freedom of speech are really valid here," said Graney.
Graney said he and his late spouse discussed the non-discrimination ordinance with Chan in 2009, and were assured she would advocate for the measure, "I felt we made a connection, " said Graney. "I had her verbal support two times after we talked. Today, I'm shocked to learn how she really feels."
Graney says local LGBT activists, who have reached out to Chan since the audio was released, continue to be tuned out of conversations with the council woman.