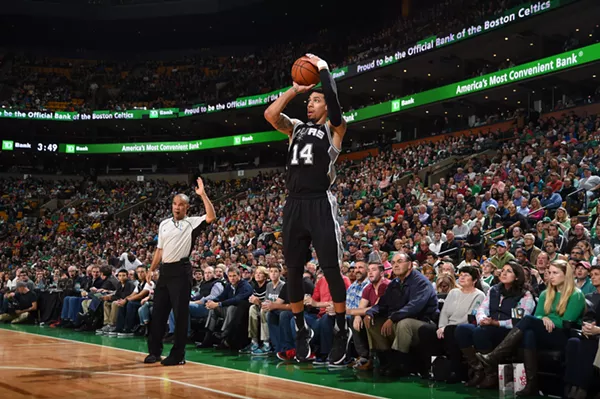 NBAE/Getty Images
Along with Jordan and Worthy, Green is one of three Tar Heels to win an NBA and NCAA championship.
As those who reside in Bexar County already know, San
Antonio is undeniably a basketball town. With the road to the Final Four ending
in Houston this year, hoops enthusiasts across the Alamo City are primed for
March Madness, where bracketology reigns supreme. Those looking for a little
Spurs mojo to spruce up their office pool brackets have a handful of options.


North Carolina alum Danny Green is the only Spur to have won
both an NCAA Championship and an NBA title. His Tar Heels enter the tournament
as the East Region's No. 1 seed and a favorite to cut down the nets. Standing
in North Carolina's path in the East should be David West's alma mater Xavier.
The No. 2 seed in the region, the Musketeers could provide a stiff challenge
for the Tar Heels should the two teams square off.


Back in '97, Spurs newcomer Andre Miller led Utah's Runnin'
Utes to the Final Four, who fell short in the championship game versus
Kentucky. As the Midwest Region's No. 3 seed and with Chris Reyes, aka the
Mexican Dennis Rodman, coming off the bench, another run to the Final Four
against Danny's Tar Heels would be entertaining.


With a total of five teams in the tournament, including
LaMarcus Aldridge's Texas Longhorns, the Lone Star State is well-represented in
the big dance. Holding the No. 6 seed in the West Region, the Longhorns would likely
have to go through rivals Texas A&M and Oklahoma just to reach the Elite 8.
Our Spurs-centric bracket has Shaka Smart sparking Aldridge's Longhorns to the
Final Four, and Green's Tar Heels ultimately capturing their sixth NCAA
tournament crown.