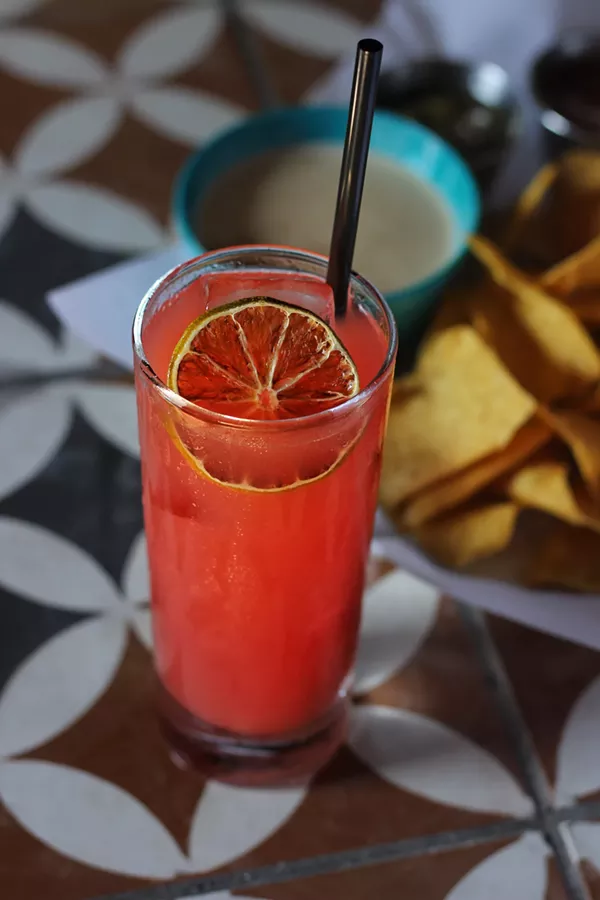 With summer right around the corner, grocery stores and raspa shops are starting to feature a favorite seasonal treat, the watermelon, a fruit so great, Luling, Texas dedicates
four days' worth of festivities
to it. The treat is not limited to just food outlets, bars are now starting to craft cocktails focusing on the sweet melon treat. I set out to find these seasonal concoctions and discovered, though most bars feature the same fruit, each has managed to use the fruit in a unique way.
The first stop was at one of my favorite watering holes,
Rumble
(2410 N. St. Mary's St.). The Sandia Sucia, is made with a watermelon-infused tequila, lime juice, Tajin syrup, and fresh cucumber. It was the brainchild of Adrian Martinez, one of bartenders for Rumble, and can be enjoyed for $7.
Take a trip across the Strip for a spiked watermelon agua fresca at
Chisme
(2403 N. St. Mary's St.). The refreshing drink was created by the bar manager Esteban Solis with a twist on your traditional recipe using watermelon, grapefruit juice, mint and sugar. The concoction goes great with any spirit of choice, opt for tequila. During happy hour these cocktails go for $5; $9 regularly.
Traveling a bit north to Main Street, the next spot featuring watermelon is
Periphery
(2512 N. Main Ave.) with their Smoke & Water cocktail. Created by bar manager Michael Miller, the drink is made using mezcal, Campari, and a house-made watermelon shrub. The result is a perfect combination of sweet, smoke and bitter, great for a complex patio drink.$9.
Finish off your watermelon libation exploration with a stop at
La Roca Cantina
(416 8th St.), their new menu rolled out about a month ago and features the Felipe de Sandia. This drink breaks the agave-forward mold established by other bars when they mix bourbon, lemon juice, and simple with muddled watermelon and mint. The drink was created by bartender Kieth Serrano, and also goes for $9 a pop.
If you're looking to continue your watermelon tour, you can always stop by the
Quarry Golf Club
, which features a watermelon mojito, or even venture outside of 1604 for
Edison Experiment
's spicy melon cocktail.
Erin Winch writes about boozin' in the Alamo City on her blog Drinking In SA. Follow her at @drinking.in.sa for more.
<!————————EndFragment————————>