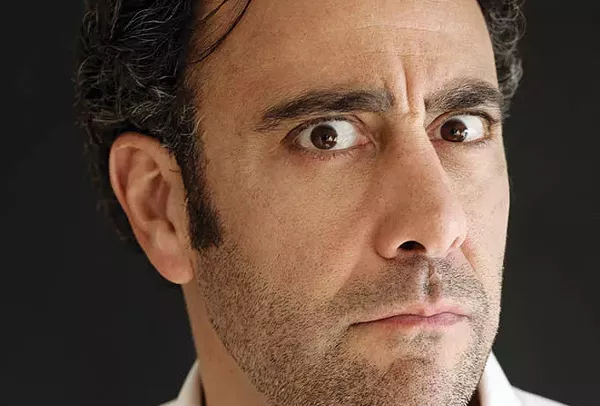 As a way to honor the military men and women of San Antonio, comedian Brad Garrett (TV's
Everybody Loves Raymond
) will serve as the Master of Ceremonies at Comedy Under the Stars, a standup comedy show sponsored by Humor for Heroes on November 9, two days before Veteran's Day. Along with Garrett, other featured comics include Bobby Henline, Raul Sanchez and Joe Kashnow. Garrett, 54, talked with the
Current
via phone a few weeks ago about what makes him such a big troop supporter.
How did you get involved with Humor for Heroes?
I have a good friend named
Bobby Henline
, who is a wounded warrior and a comedian as well. I got to know Bobby about four years ago when he came back from Iraq where he was severely burned in a Humvee accident. He was the only survivor of the accident. He lost all his fellow soldiers in this horrible crash. I heard he wanted to get into standup. He really has a knack for comedy. We talked about doing this event to honor the veterans, so that's just how it ended up.
Does it ever surprise you how Bobby can find so much humor in life after everything he's gone through?
I have a very strong feeling Bobby was a funny guy before his accident. This is just something he always wanted to pursue. His standup has literally changed him. It's amazing and inspirational to me on every level that a guy can go through everything he's been through and get up on stage every night and make people laugh. It's tough enough to do when you don't have all these other obstacles. He is the epitome of how humor starts—pain plus time equals humor. He definitely has that gift.
When I think of comedians entertaining troops, one of the first things that comes to mind are the USO shows that started back in the 1940s.
I think America has always been grateful for our men and women in the Armed Forces. Of course, Bob Hope started all this off. It has become a tradition. Many comedians I know tour abroad. We should always take care of our soldiers. I just can't imagine not helping them.
Now, back in the day, soldiers would be entertained by the likes of Marilyn Monroe and Rita Hayworth. Why are you a better headliner?
Because I have bigger tits. That's really the only reason why. I'm sure the last thing the soldiers need to see when they're away is a 50-year-old comedian, but I don't know how much Marilyn made them laugh. It's a good combo—a little T&A and humor. It's all good, right?
You started your career in standup. How has the business changed over the years, and do you still find it as fulfilling to be on stage today as you did when you were in your 20s?
I think when you get older as an artist, it should be fulfilling. When it's not, then you should stop doing it no matter if it's music or comedy or painting. Standup has changed in that there are a lot less successful clubs around the country. There are so many outlets for comedy on television and online and being able to access all kinds of media. There are so many portals for comics to be seen. But it's also given platforms to comedians who are not ready to be showcased yet. When I started, there was no YouTube. There was barely cable. Now anybody with their own iPhone can make their own movie or do their own standup and put it out there. It doesn't mean they're ready. It just means they have access. Standup is really something that is innate. I don't think you choose it. I have people come up to me after a show and say, "Hey, I'm 31 and I'm a lawyer and I'm really bored, so I want to do standup." I don't think that's how it's done. I know it's corny and cliché, but I think standup comedy is something that chooses you at an early age. You learn by the time you're 8 or 9. You have a bit of a funny bone, and it grows from there. Then you just keep evolving and taking risks. Standup comedy is one of the scariest art forms in the entertainment industry. For Bobby, it's second nature. You can't scare a guy like that.
I read somewhere that you were banned from The Tonight Show. Is that true? I couldn't find anything online to prove or disprove it.
It was really a rumor. I wasn't really banned. I did a joke that was off color that [the producers] didn't want me to do. I did it, and I wasn't asked back. I did a joke about sperm, and it was a little risqué. It wouldn't have been risqué today. The media spin on it was that I was banned. But it's totally untrue.
Someone who was really banned was comedian Joan Rivers. She was finally invited back earlier this year after 26 years by Jimmy Fallon. Do you think when things like that happen, people just need to put stuff behind them and move on?
Yeah, people have to move on. That was unfortunate with Joan. [Johnny] Carson just got pissed off that she got her own show, which is kind of odd because I would think when you mentor someone you would want them to do well and grow. But Carson was a little bit like that. It was so cool when Jimmy Fallon had her back on. I know that meant so much to her. She was so hurt because of the ban. But it's just so odd [Carson] mentored her and encouraged her and gave her her first break. You would've thought he would want her to fly. But we're in a business that has a lot of greed and a lot of envy and a lot of insecure people. Sometimes that just comes out.
I read that you're going to be traveling to Australia soon to do some standup and that this is going to be your first time performing out of the country. Would you like to go anywhere else?
Yeah, I would love to perform in maybe London or Ireland. I have my own comedy club in Las Vegas, so I'm not very big on traveling. But I do hear that Australia is really great for standup.
There was a great documentary a few years back called Exporting Raymond where Everybody Loves Raymond creator Philip Rosenthal attempts to help the Russian TV industry create a Russian version of the TV show. Did you see that?
I did. It was a great movie.
Oh, it was great, I agree! What there anything surprising to you about what that film uncovers in terms of how comedy gets lost in translation when it crosses cultures?
Yeah, I was in Europe recently and
Raymond
was playing there. It plays in over 100 countries. In most countries, it is dubbed in their language. I think the main thing the documentary asked is, "What is funny?" as opposed to what can be translated. Humor is a very personal thing. I think shows like
Raymond
and
Seinfeld
and
Friends
work well overseas is because there is a common thread—friends hanging out and relationships. The funniest thing about Phil's documentary was the way they approached the industry and comedy and how backward a lot of it was as far as the process. It was really fun to see.

Speaking of Seinfeld, any chance we can see you on the web series Comedians in Cars Getting Coffee with Jerry Seinfeld? If so, what car would you want to drive around in?
Ah, well, I have a '48 Chrysler that I would love to drive in. If Jerry asked me, I'm there. I would love to do it.
I know you got to work with Robin Williams on the TV show The Crazy Ones in the last year. Earlier you mentioned pain being a big part of a comedian's life. Do you think sadness really is an inherent thing in most comedians? What did you learn from him on the set that you can use in your own life?
Working with him was really on my bucket list. If you go to my comedy club, I have portraits painted of him. He was one of my heroes. To work with him was a dream of mine for a very long time. What I picked up on the set was his brilliance, which is unparalleled in my opinion as far as how he worked and how he was able to work in the moment and on the spot. There was never a quicker mind, and I don't ever think there will be as far as being able to go off the written page and just create. Robin had an incredible graciousness and kindness that I witnessed ever day—to the crew, the writers, the actors. He was just one of the kindest, caring and hardworking people I've met. There was zero ego and no pretense. He was the first to get there and the last to leave.
Sometimes they say when you meet your heroes it's disappointing, but when I met him it was enlightening and encouraging. He was a great force to be around. His loss was a huge shock and hard to explain. Performers have a dark side. People have a dark side. Depression is a very real thing, and I think Robin's passing has opened a lot of eyes to disease. Hopefully, we'll bring it to the forefront so it won't be so taboo anymore.
Comedy Under the Stars, $20 advance, $25 door, 8:30 p.m. November 9, Floore's County Store, 14492 Old Bandera, (210) 695-8827, liveatfloores.com