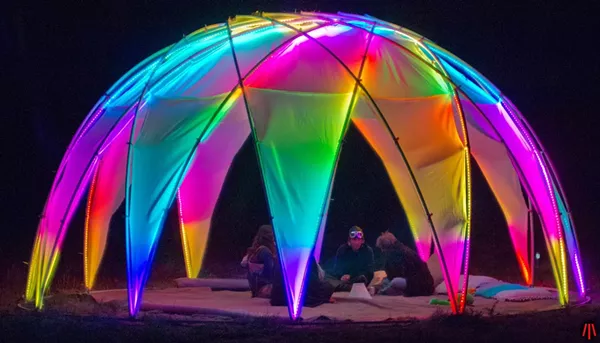 The Alamo City's answer to illuminated nighttime festivals in Europe — Paris' Nuit Blanche and Madrid's La Noche en Blanco in particular — Luminaria has done considerable shape-shifting since its 2008 launch via former San Antonio Mayor Phil Hardberger. Under the direction of curator Kathy Armstrong since 2015, the ambitious, multidisciplinary undertaking has weathered storms and inevitable criticisms throughout its evolution, admirably seeking to outdo itself each year while taking over rambling footprints anchored by the Southwest School of Art, the San Antonio Museum of Art and Dignowity Park. Among the more game-changing adjustments Armstrong has made are the reinstatement of an open call for artists and the creation of a multidisciplinary Curatorial Committee that's reconfigured each year.
Last year saw the festival returning to still-evolving Hemisfair (where it operated from 2011 to 2013) for an outing featuring unusual performances, projections and full-on productions in and around Yanaguana Garden, the Magik Theatre, the Mexican Cultural Institute, UNAM–San Antonio and several of the historic structures that dot the park. For its second year back in what some consider its most user-friendly home, this year's Luminaria, set for Saturday, November 10, will showcase commissioned projects by more than 50 artists and groups.
Selected by a committee that includes curator Alana Coates, fashion designer/activist/DJ Agosto Cuellar, Alamo Music Center Vice President Adriana Flores, UTSA New Media program director Mark
McCoin
, spoken-word artist/hip-hop vocalist Andrea "Vocab" Sanderson and filmmaker Guillermina Zabala, the 2018 roster leans strongly toward San Antonio and Texas artists but also welcomes visitors from Michigan, Arizona, Colorado, California and New Jersey as well as Buenos Aires and Mexico City.
Standing out among the more intriguing highlights are eclectic, wide-ranging and Tricentennial-themed projects by San Antonio creatives, including a psychedelic film by Albert Alvarez; a theatrical piece about crossing the Rio Grande by Anna De Luna; a flamenco concert by the troupe Arte y Pasión; live tattooing by David Alcantar; a "Fractal Forest" light installation by Hilal Lalo Hibri; an animated short about zine culture by Jesse J. Ruiz; a gender-challenging performance and installation by Jose Villalobos; a collaboration between glass artists Justin Parr and Adam Smolensky; an "interactive DACA installation" by Patty Ortiz; experimental films curated by SAFILM; and a tribute to late percussionist Bongo Joe by Xavier Gilmore — not to mention live music courtesy of indie darlings Buttercup, alternative orchestra Deer Vibes,
tejano
/conjunto legend Juan Tejeda, former Girl in a Coma frontwoman Nina Diaz, singer-songwriter Azul Barrientos, guerilla opera maestro Nathan Felix and Latin orchestra Volcán, among others. (Click
here
for the complete list of this year's featured artists.)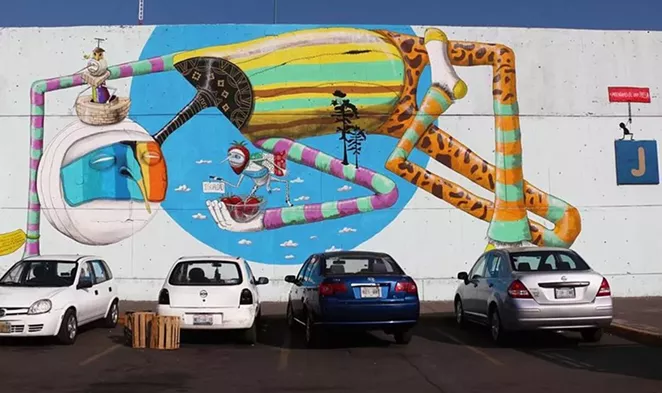 Courtesy of Atentamente una Fresa
On the non-local front, the program promises an "architectural traveling sculpture recreating homes destroyed for Hemisfair '68" by the Austin-based quartet of Rosa Nussbaum, Kevin Choi, Trent Tunks
and
MaKayla Rutt; light-focused installations by Jeff Zischke (Scottsdale, Arizona) and Justin Eastman (Lakewood, Colorado); and a collaborative mural created by Mexico City-based UNEG and Atentamente
una
Fresa.
As if that's not enough to absorb, Luminaria 2018 introduces an Open Stage/Open Gallery inviting creative contributions from local artists of all disciplines, a "Light Up the Night" outfit contest (7pm-midnight Saturday, November 10) and an Artist Market with works for purchase from Luminaria participants (11am-3pm Sunday, November 11); reprises intimate artist brunches ($35) and workshops ($5 suggested donation); and culminates with a Closing Performance at Mission San Jose (4-7pm Sunday, November 11).
Get our top picks for the best events in San Antonio every Thursday morning. Sign up for our Events Newsletter.