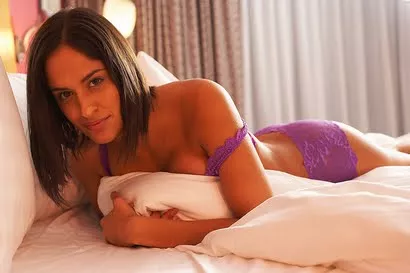 Evlove Intimates makes shopping for sexy lingerie easier, thanks to its online design studio. Bralets, camis, and thongs are just a few of the pretty little things available for purchase, with one twist — each garment is designed by you!
Who isn't tired of the one-size-fits-all products online these days? Perhaps you'd like to order a pair of butterfly soft ivory panties sewn with panels of lace while exposing full back coverage, or, a simple, yet low-cut, racy thongs.
Right now I'm sporting the lounge pants I designed from their loungewear line, which also happens to be one of their best-selling products. With several colors and fabrics to choose from, the ultra-comfortable pants can be stitched and delivered to your door (or someone else's) for a flat shipping fee of $5, no matter how many you order! Keep this site in mind, because Evlove's items also make perfect gifts for birthdays, Valentine's Day, and anniversaries.
However, don't be shy to treat yourself every once in a while. "Buying lingerie is a very personal and intimate purchase, and for the most part you're buying it for yourself," Evlove owner Jenny Dombroski says. "It's a celebration of your body and your sensuality and sexuality, and when you have the ability to design it yourself, it's also a celebration of your individuality."
For more information, or to begin designing your own lingerie, log on to Evlove Intimates.