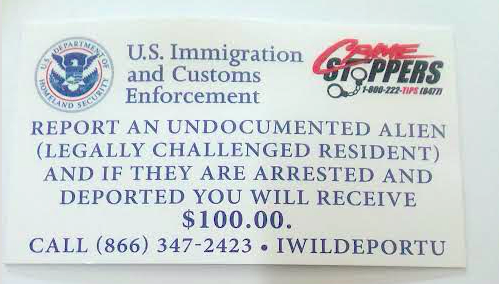 An unknown group has distributed official-looking business cards in San Antonio offering $100 to anyone who reports an "undocumented alien" who is successfully arrested and deported. A stack of these cards were discovered on top of a newstand in a San Antonio Exxon station (the person who discovered them asked to remain anonymous). The card bears the official U.S. Immigration and Customs Enforcement seal and the Crime Stoppers logo. And the phone number on the card? It goes straight to the Homeland Security tip line.
"That is bogus," said Carl Rusnok, communications director for ICE's Central Texas Region. He told the
Current
that fake documents similar to these have been popping up across the country in the past few months.
Apparently, the card's creator believes the Mexican government will foot the promised bill. The card's back asks readers to call the tip line in order "to bill the Mexican government for the life saving efforts that the American government...is forced to provide the legally challenged."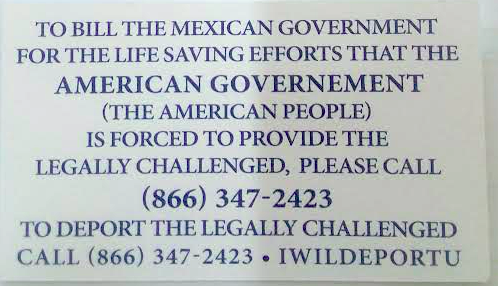 "While the phone number displayed is the correct contact information for ICE's actual tip line….this is NOT a poster issued by our agency," wrote Nina Pruneda, a San Antonio spokeswoman for ICE, in an email to the
Current
. "These fake flyers are similar to the recent rash of false reports involving purported ICE checkpoints and random sweeps; these reports are dangerous and irresponsible."
In Texas, fliers like these have mostly been found on college campuses. Like the December 2016 poster found on the Texas State University campus informing students how to report undocumented immigrants to ICE. It was also emblazoned with the official ICE seal, and the message: "We are entering an era of law and order in this country. Do you part to make such a change for good!"
Other printed fliers on various Texas campuses have
spewed anti-Semitic
and overtly racist messages. One poster called for
"tar & feather vigilante squads"
to round up and torture "deviant" people on campus "spouting off all this Diversity Garbage."
This is the first time we've seen these notes off-campus in Texas.